Baker Street Station
Introduction
Now an event venue called Baker Street Station, the former Pennsylvania Railroad Station is a historic railroad depot in downtown Fort Wayne. Built in 1914 at a cost of over half a million dollars, it served as a new gateway to the city and had a strong influence on the city's economic growth and architecture. Philadelphia architect William L. Price designed it in the Arts and Crafts style. The most notable feature of the building is the vaulted ceiling, where passengers once purchased train tickets. Passenger service (Amtrak) ended in 1990 and the building was renovated in the late 1990s to become Baker Street Station. It was added to the National Register of Historic Places in 1998.
Images
The former Pennsylvania Railroad Station, built in 1914, is now an event venue called Baker Street Station.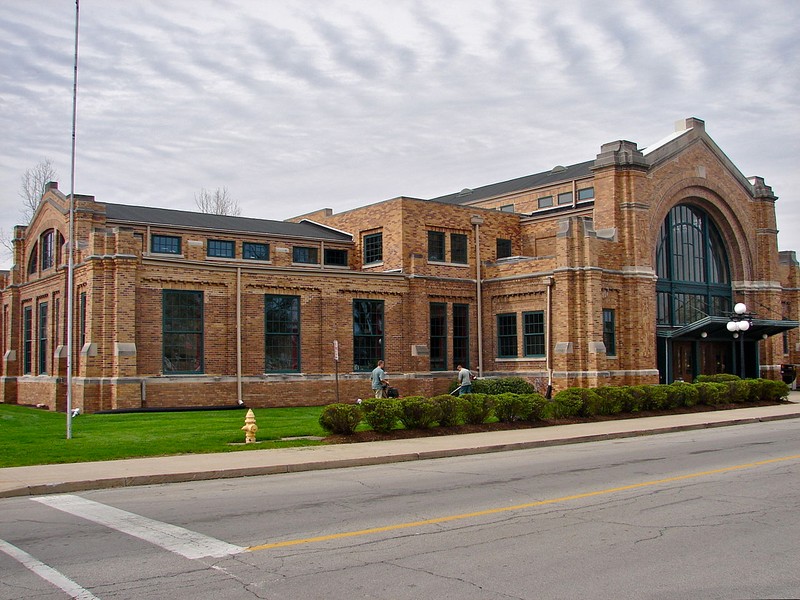 Backstory and Context
Fort Wayne's location at the confluence of three rivers (St. Joseph, St. Mary's, and the Maumee) made it ideal for railroads. In fact for a long time it was a key trade and travel point for Native American and later European settlers and travelers. The rivers provided access to the Great Lakes, Ohio, and much of northern and central Indiana. It was also possible, via a 7-8 mile portage over the continental divide from the St. Mary's River to the Little Wabash River, to travel from the Great Lakes to the Gulf of Mexico by way of the Mississippi River.

During the 1800s, Fort Wayne continued to grow and thrive. The Wabash and Erie Canal played a key role in this city's development. Completed in 1853 after over a decade of construction, it stretched from Toledo, Ohio to the Ohio River, running through Fort Wayne. In the 1850s, railroads arrived in Fort Wayne, which furthered the city's growth. As railroads were faster, they soon overtook business from the canal, eventually making it obsolete.

Passenger travel peaked at the station during World War II; around 3,000 people passed through every day. Numerous political and social events took place at the station over the years including presidential campaign whistle-stops, and the annual arrival of Santa Claus.

Passenger service began to steadily decline in the 1950s as people used cars trucks more and more. As stated above, Amtrak was the station's last tenant, ending operations in 1990. The building remained vacant until 1996 when work to renovate it began.
Sources
"History." Baker Street Station. Accessed April 5, 2019. http://www.bakerstreetstation.com/history.htm.

Smith, Creager. "Pennsylvania Railroad Station." National Park Service - National Register of Historic Places Nomination Form. August 14, 1998. https://secure.in.gov/apps/dnr/shaard/r/21c1e/N/PA_RR_Station_Allen_CO_Nom.pdf.
Additional Information