Garcia Soccer Complex
Introduction
Garcia Sports Complex in Garden City has been an integrated part of life in southwest Kansas for many Hispanic sports enthusiasts and alike since its dedication and opening on Friday, April 9, 2004. Garcia Soccer Complex was dedicated to D.C. and Irene Garcia, a celebrated couple who lived their lives with purpose in their community.
Images
Photo of Dionisio Campos Garcia Kansas Historical Society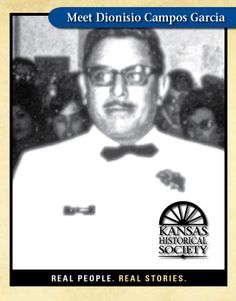 D. C. Garcia Elected Mayor Garden City Telegram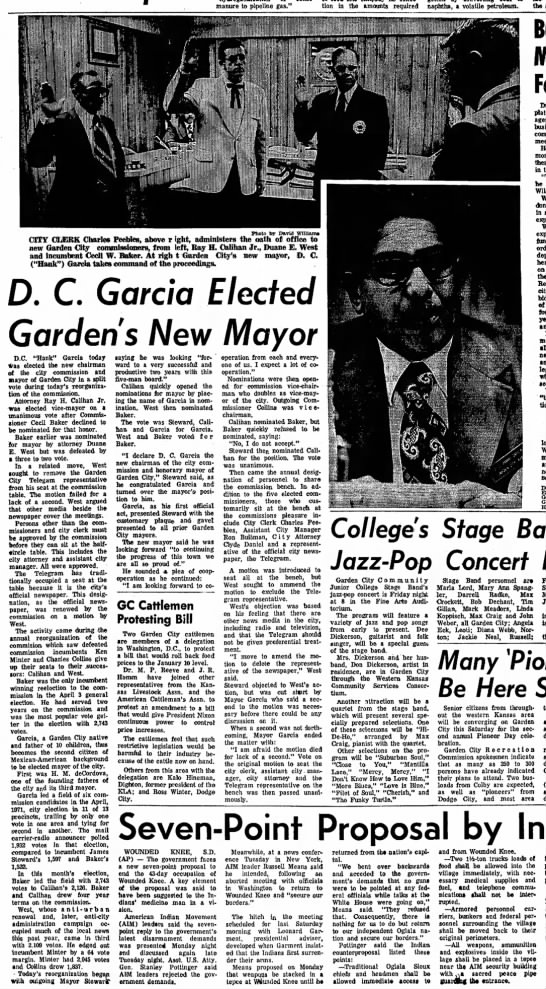 Irene Garcia Newspaper Clip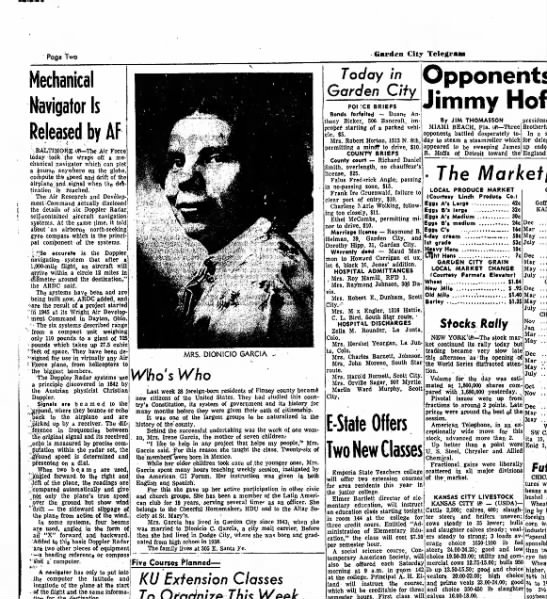 Backstory and Context
The Soccer Complex is named for Irene and D.C. Garcia, who lived in the community of Garden City. They were both community leaders and D.C. Garcia became the first Hispanic mayor.


Irene Garcia was born on October 19, 1920 in Dodge City, Kansas just 45 miles east of Garden City. Mrs. Garcia was an active community member who dedicated her time and efforts to helping many people, especially in the Hispanic community. She worked with migrants and helped them toward gaining U.S. citizenship. She was also a devoted Catholic and active church member, and was a member of the American G.I. Forum. Her community efforts did not stop there she was also an important figure in the education of others, she worked in early childhood development at the local Head Start and was a part of the Garden City School Board. 


D.C. Garcia was born in Holcomb, KS just west of Garden City. Mr. Garcia was a veteran who felt passionate about his fellow veterans and felt they should be recognized and respected in the community. He voiced his opinion on an issue in a newspaper editorial regarding Veterans Day stating that veterans are only allowed one day for recognition and that businesses in the community should be urged to celebrate and recognize the day in observance. He was a strong voice along with his wife regarding the education of young Hispanics and he spoke in front of the school board on the issue of bilingual education. Mr. Garcia is highly regarded and known for being the first Mexican-American Mayor of Garden City, he broke down barriers and made way for much of the Hispanic community in Garden City. 


The couple married on September 22, 1943 and their family grew. They raised 10 children and today have a large extended family full of grandchildren and great grandchildren. The Garcia's were pillars of the Hispanic community in Garden City and were exceptional examples to their colleagues and to each other. Just ask around town about the Garcia's and there's a guarantee that the short introduction included here is just a small portion to summarize the legacy that they left for Garden City.


Sources
"DC Garcia Speaking to School Board on Bilingual Education.'" newspapers.com
https://www.newspapers.com/clip/1576704/dc_garcia_speaking_to_school_board_on/
"Letters to the Editor: Just Another Day?'" newspapers.com
https://www.newspapers.com/clip/1517921/dc_garcia_letters_to_the_editor/
"DC Garcia" kshs.org
https://www.kshs.org/p/dionisio-campos-garcia/19422
Oppenheimer, Robert. Acculturation or Assimilation: Mexican Immigrants in Kansas, 1900-World War II. Western Historical Quarterly: Oxford University Press, 1985
DOI: 10.2307/968607
https://www.jstor.org/stable/968607
https://newspaperarchive.com/garden-city-telegram-apr-10-2004-p-2/
https://www.genlookups.com/ks/webbbs_config.pl/read/1402
Additional Information