Sod House Museum
Introduction
The Sod House Museum preserves the last remaining sod house that was built by the earliest settlers of European descent in this region of Oklahoma. The museum offers exhibits that demonstrate the materials and methods used by these early pioneers to construct temporary houses along the Southern Great Plains. While most sod houses were abandoned after settlers acquired the means to construct more permanent homes, the sod house built by Marshall McCully is preserved at this museum in Aline, Oklahoma.
Images
"Cherokee Strip Pioneer Marshall McCully suns himself at the corner of the old sod house he built when he settled the land in 1883."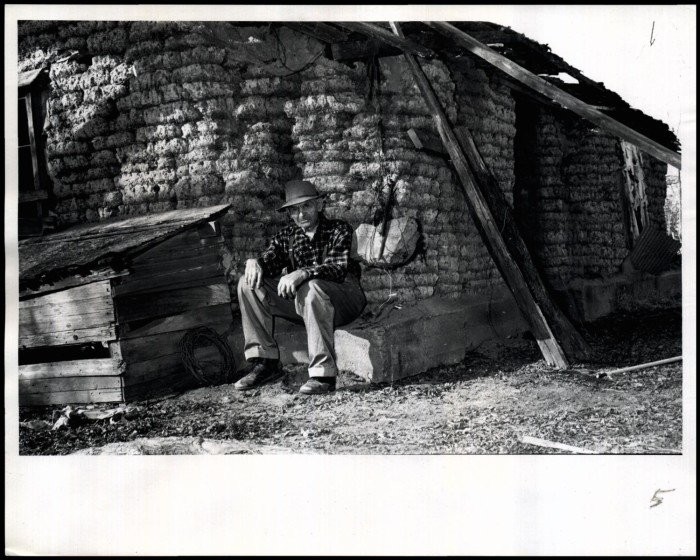 Backstory and Context
On September 26, 1893, the federal government declared that lands that had been promised to Native peoples in perpetuity in an area that would become known as the Cherokee Outlet were now available to settlers. Timber was scarce so the settlers turned to the land to construct their unique houses. The typical sod house was around fourteen by sixteen feet and seven feet tall. The walls cut from the hard ground and covered in plaster or with newspaper. The homes had a low pitched roof and a central door along with one or more gaps for windows. Inside, the homes were decorated with the furnishings the settlers brought with them. Sod houses had many shortcomings, including ceilings that caved in and walls that were full of insects and even snakes.

Marshall McCully built the sod house preserved at this museum. He acquired a certificate of homestead for his land on April 15, 1902. After "improving" the land, a euphemism for creating a house and cultivating fields, McCully received a patent on December 31, 1903. The McCulley family lived in the house until 1904. They constructed a two-story house and continued to use the sod building for storage until 1963 when ownership was turned over to the Oklahoma Historical Society.
Sources
1. Heisch, Melvina. Sod House Museum. Cheyenne, Southern | The Encyclopedia of Oklahoma History and Culture. . . www.okhistory.org/sites/sodhouse.php..
2. Prepelka, Ben. McCully Sod House. Scenic USA - Oklahoma. . . https://www.scenicusa.net/110412.html.


Additional Information