Oklahoma Czech Festival
Introduction
The Oklahoma Czech Festival is the "largest outdoor free festival in Oklahoma." This festival is extremely important to the people that emigrated from Czechoslovakia to Oklahoma during the 1800s and 1900s. The Czech Festival itself offers plenty of things to do for the whole family, such as traditional Czech food, music, clothes, shoes, and most importantly the parade. The parade is a unique event that has happened every year for 53 years. The parade includes many people of Czech descent. The Czechs lead the parade on bikes and floats, but there are over 100 floats in the parade each year. These floats include high school sports teams, the pom and cheer squads, along with many different groups and organizations from the city of Yukon.
Images
Yukon Czech Hall Link: https://www.radio.cz/en/section/panorama/czechs-in-oklahoma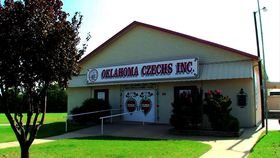 Yukon Czech Festival 1977 Link: https://www.okhistory.org/publications/enc/entry.php?entry=CZ001.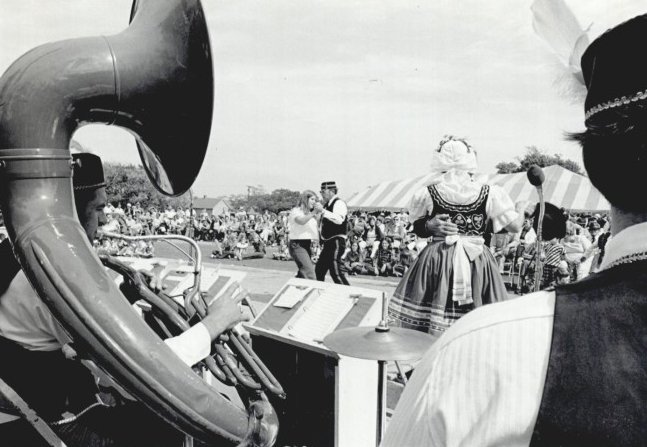 Yukon Czech Hall ballroom Link: http://www.metrofamilymagazine.com/April-2015/Discover-Yukon-Czech-Hall/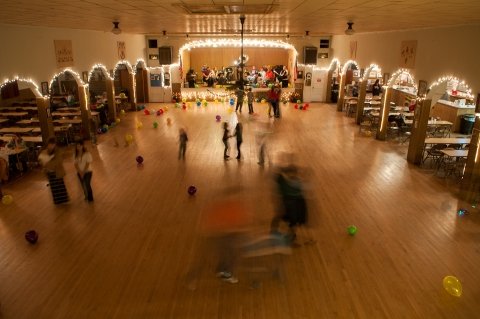 Yukon Czech Hall Link: http://www.polkabeat.com/blog/336
Backstory and Context
The Czechs play an important role in the history of Oklahoma. Thousands of people from Czechoslovakia migrated to the United States from the mid-1800s to the early 1900s. Their history in Oklahoma is quite unique. As they moved to Oklahoma, some of the Czechs were known as "sooners" because they tried to stake land in the land run before the event occurred. Many of these people were arrested and sent to jail. According to the Oklahoma Historical Society, the first major Czech settlement in Oklahoma developed in the location chosen by the Caha party. Laying west of Oklahoma City, the site incorporated the Canadian County townships of Yukon, Mustang, and El Reno." [1]
This migration of Czechs to Canadian County influenced other groups of Czechs to move to Oklahoma. Groups of Czechs continued to move into Oklahoma from surrounding states like Texas, Kansas, Nebraska, and Iowa. A coupe of the most prominent Czechs, who came from Nebraska, were John F. Kroutil and his brother Frank L. Kroutil. They purchased the Yukon Mill and Grain Company from A. N. Spencer in 1902. This became an economic force throughout the early to mid 1900s. The Kroutils were part of the early Czech settlement group in Canadian County, and they helped the city grow into what it is today.
The Czechs brought with them a unique sense of style and culture. Czechs were quick to make an imprint of their culture on the region. In Yukon, members of "Lodge Sokol Karel Havlicek and WFLA Lodge Jan Zizka No. 67 joined together and built a hall where Czech people could meet and socialize. According to The Encyclopedia of Oklahoma History and Culture, "another popular Czech cultural institution in Oklahoma and other parts of the United States was the Sokol (Falcon). Founded in Bohemia in 1862 by Miroslav Tyrš, it was a gymnastic society that, in addition to athleticism, promoted Czech nationalism and educational ideals. The first Sokol club in Oklahoma was organized in Yukon in 1898." [1]
In 1901, the Yukon Czech Hall was built on land donated by local Czech immigrants."[2] Czech Hall has been an important piece to Czech culture since the early 1900s. Czech Hall "is recognized as a State and National Historic Site."[1] The original Czech Hall was destroyed and rebuilt in 1925. Czech Hall is also "recognized as a State and National Historic Site." [2]

Religion was also important to many Czechs. The majority of Czechs "had been nominal Catholics in their homeland, loyalty to the church was often associated with the oppressive Hapsburg monarchy that had persecuted native Czech Protestants after defeating their forces at the decisive 1620 Battle of White Mountain." [1] The Czech Freethought movement was fairly popular during the late 19th century, which was brought by many Czechs to the United States during their migration. Despite most of the Czechs in Oklahoma being associated with Freethought, there were still many that believed in Catholicism. "Although they were in a minority, Oklahoma Czech Catholics founded some distinctive and enduring parishes, including St. Wenceslaus in Prague (1891), St. John Nepomuk in Yukon (1894), St. Martin's in Mishak (1905), and St. John in Bison (1909)." [1]
After all of this influence that Czechs have had on the community of Yukon and the state of Oklahoma, there were only two ways to honor this ethnic group - the Prague Kolache Festival and the Oklahoma Czech Festival held in Yukon. "The Oklahoma Czech Festival had its beginning in October 1966, when the lodges of Yukon Czech Hall, WFLA Lodge #67 and Sokol Lodge Karel Havlicek, sponsored a festival to celebrate the City of Yukon's 75th anniversary." [3] This reunion marked the beginning of a yearly tradition that celebrates every member of the Czech community. This tradition has been going steady for over 50 years. "The goal and purpose of the Oklahoma Czech Festival is the preservation and sharing of the old Czech customs so dear to the people of Czech descent. These customs, including recipes, kroje, songs, and dances, have been handed down from generation to generation." [3] The Oklahoma Czech Festival is one of the most unique experiences one can imagine. Should someone find themselves near Yukon on the first weekend of October, they should definitely make the trip to experience this celebratory occasion.
Sources
[1]"Czechs."Cheyenne, Southern | The Encyclopedia of Oklahoma History and Culture. Accessed February 21, 2019. https://www.okhistory.org/publications/enc/entry.php?entry=CZ001.
[2]"History." Yukon Czech Hall. July 06, 2018. Accessed April 03, 2019. https://czechhall.com/about/.
[3] "Oklahoma Czech Festival Yukon OK." Czech Festival Yukon Oklahoma. Accessed May 07, 2019. http://www.czechfestivaloklahoma.com/history/.