Childhood Home of Colonel John Mosby
Introduction
Childhood home of Confederate Colonel John Mosby
Images
Though no photos of the home site exist, the historical marker is located near the original site of the home of Confederate John Singleton Mosby.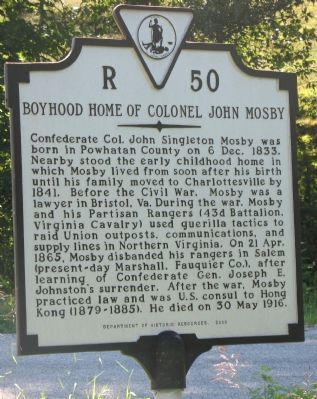 John Singleton Mosby was infamously known as the "Gray Ghost" of the confederacy for his raids on Union territory using guerrilla tactics and the elusiveness of his Partisan rangers
After the American civil war. John Singleton Mosby continued his work as a Virginia Lawyer. He also became close confidant of Ulysses S. Grant and a consul to Hong Kong.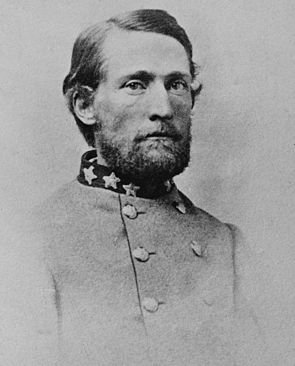 Backstory and Context
Located on Thomas Nelson Highway 29 in Virginia, between Wood Mill and Coversville, is the childhood home of John Singleton Mosby (1833-1916). John Singleton Mosby is most famously remembered for his activity in the American Civil war as a Confederate colonel and his service as the American Consul to Hong Kong.

Before the American Civil War

Prior to his years serving in the American Civil War, John Singleton Mosby attended the University of Virginia and excelled in areas of literature, language, and debate. Mosby would later be expelled from the University following a confrontation that involved a non-lethal shooting. Mosby would spend a short stent in Prison. Once incarcerated, Mosby found success in studying Law with his mentor and former prosecutor, William Robertson. Mosby would eventually be pardoned for his crimes and began a career as a Lawyer in Albearle County, Virginia.

Despite his service as a Confederate colonel, Mosby initially rejected succession ideology and was a supporter of the Union. As southern states begain to succeed, Mosby offered volunteer service in a local, pro-union Militia. Non uncommon to many Virginians, Mosby found himself a member of the Confederacy when Virginia succeeded from the union and Mosby's militia was grafted into the Confederate army.

American Civil War

John Mosby is most famously remembered for his command of the 43rd Battalion Partisan rangers who conducted numerous raids of Union territory and supply line. Mosby began his military career as a Confederate scout but gained recognition for his success harassing union troops through guerrilla warfare tactics. Mosby would become known as the "Grey Ghost" of the confederacy as he and his Partisan rangers continued raids disrupted supply and communication. Mosby's Rangers operated in unconventional methods as they did not camp but logged in homes of local citizens in an area that would become known as "Mosby's Confederacy". Despite the success of Mosby's efforts in his numerous raids in several parts of Union Controlled territories in Virginia, West Virginia, and Pennsylvania, Mosby would disburse his troops as the Confederacy surrendered to the Union troops.

Post Civil War career

Following his service in the American Civil War, John Singleton Mosby returned to his home state of Virginia and continued his career as a lawyer. John Mosby also became close confidence with President Ulysses S. Grant. Eventually John Singleton Mosby would serve the United States as the U.S Consul to Hong Kong from 1879 - 1885.
Sources
Duncan, Richard. The Journal of Southern History 50, no. 4 (1984): 651-52. doi:10.2307/2208492.


Coski, Ruth Ann. John Singleton Mosby (1833–1916). Encyclopedia Virginia. March 01, 2014. Accessed April 06, 2019. https://www.encyclopediavirginia.org/mosby_john_singleton_1833-1916#contrib.
Boyhood Home of Colonel John Mosby. www.hmdb.org. . . https://www.hmdb.org/marker.asp?marker=10231.
Additional Information