Smith-Buntura-Evans House
Introduction
This historic two-story brick house was once built in the 1850s for the family of Robert D. Smith, a free Black businessman who operated a livery service that transported residents throughout the city in the years leading up to the Civil War. The back of the house features the original wide arch openings and the front contains a two-story cast iron porch that was added in the 1890s. The Smith-Buntura-Evans House is a rare surviving residential architecture from the 1800s and a reminder of the role that a small but historically significant number of Black business owners played in the late antebellum period.
Images
Smith-Buntura-Evans House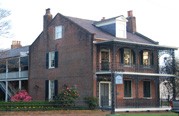 The Majesty of Natchez. For more information, click on link below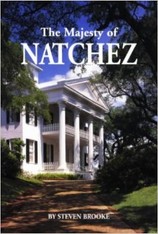 Backstory and Context
Built between 1851-1858, the Smith-Buntura-Evans House served as both residential and commercial property for Robert D. Smith. Overlooking the Mississippi River, this two-story brick building once served as a carriage service. Smith was a free Black citizen and entrepreneur living in Natchez which was home to a small number of former slaves prior to the war.

After the completion of the residence, Smith brought aboard a subsequent owner by the name of Joseph Bontura. He opened the living quarters to the public and used it as an inn as well as adding the cast iron balconies to accommodate visitors with viewing the Mississippi. The house was later bought by Mr. and Mrs. Hugh Evans and entertained notable people such as Mark Twain and Stephen Foster. After their ownership, the house was momentarily viewed to the public as a museum until it's privately owned purchase to H. Hal Garner and Dr. Harold Hawkins.




Sources
Smith-Buntura-Evans House, National Register of Historic Places Nomination Form, 11/18/77 accessed 3/17/18 https://npgallery.nps.gov/pdfhost/docs/NRHP/Text/78001585.pdf
Additional Information