McCurdy Building
Introduction
Listed on the National Register of Historic Places, the McCurdy Building is historically significant for being the location of the first Sears store in the country. The store, which opened in 1925, marked the company's transition into direct retail, which was independent of its catalog department. The building was constructed in 1920 by its namesake and owner William McCurdy (1853-1930), who at the time was the president of Old National Bank. The four-story building is actually comprised of three structures—separated by common walls—which were later constructed as additions. In terms of architecture, the building itself is significant as it was constructed with reinforced concrete, which was a relatively new development at the time. As of April 2019, it appears that the building is unused.
Images
The McCurdy Building was built in 1920 and is significant for the location of the first Sears retail store.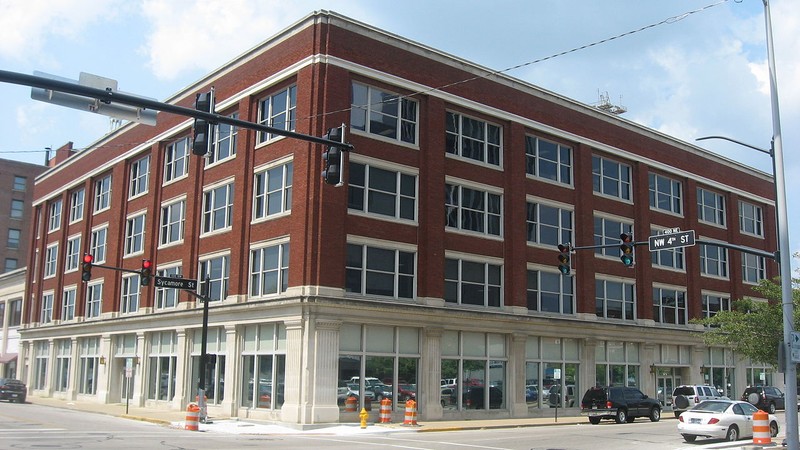 Backstory and Context
Initially, it appears that the building housed the main offices of the Hercules Corporation, which McCurdy owned, and two hardware and automobile accessories companies. Hercules Corporation was comprised of a group of factories: The Hercules Body Manufacturing Company, The Hercules Gas Engine Company (this was located in the building), and the Indiana Color and Varnish Company. The Hercules brand continues today as the Hercules Manufacturing Company and is based in Henderson, Kentucky.

McCurdy was friends of Richard Sears and Alvah Roebuck, the founders of Sears, and produced engines under the Sears brand. Sears was unhappy with the contract with the Hercules Corporation and began negotiations to terminate it. During this process, McCurdy agreed to end the contract if Sears agreed to open a retail store in the building. Sears agreed and the store opened on October 5, 1925.

The timing was right for this move. More and more people were living in cities around the country as advances in agricultural technology made farming less labor intensive. Factories were being built in cities as well, producing an increasing amount of consumer goods. Some within Sears feared that the store would take business away from the catalog department, which was very profitable.

It took some time for the store to get going, as the company was learning how to best make it run efficiently. Eventually, the store became very successful and served as the basis by which other Sears stores would operate. As stated above, the building was expanded to provide more space.
Sources
Hagan, Paige. "A look at the history of Sears in Evansville." 14 News. January 5, 2018. http://www.14news.com/story/37196866/a-look-at-the-history-of-sears-in-evansville.

"Hercules Buggy Company – Evansville, Indiana." Carriage Museum of America. Accessed April 2, 2019. http://carriagemuseumlibrary.org/home/library-archives/carriage-manufacturers/hercules-buggy-company-evansville-indiana.

Lyman, Jill. "On this day in 1925: First Sears retail store opens in Evansville." October 5, 2017. 14 News. http://www.14news.com/story/36530400/on-this-day-in-1925-first-sears-retail-store-opens-in-evansville.

"McCurdy - Sears Building." The Historical Marker Database. Accessed April 2, 2019. https://www.hmdb.org/marker.asp?marker=47820.

Snitzer, Morton. "McCurdy Building." National Park Service - National Register of Historic Places Nomination Form. October 1, 1979. https://secure.in.gov/apps/dnr/shaard/r/1d020/N/McCurdy_Sears_Bldg_Vanderburgh_CO_Nom.pdf.

Photo: Wikimedia Commons
https://en.wikipedia.org/wiki/McCurdy_Building#/media/File:McCurdy_Building.jpg

Additional Information