Historical Marker: Ohio River Levee
Introduction
This historical marker describes the levee system that protects Evansville and Vanderburgh County from floods. The marker is located on the Riverside Plaza and is just north of the Four Freedoms Monument. The levee system consists of 17 miles of earth and concrete flood walls, 19 pumping stations, and gated structures that protect water from flowing into city pipes and roadways. It was built in response to a disastrous flood in January and February 1937, which extended from Pittsburgh, Pennsylvania to Cairo, Illinois. In Evansville, the water rose up to 57 feet. The levee system was built in 1944.
Images
The marker is located on the Riverside Plaza.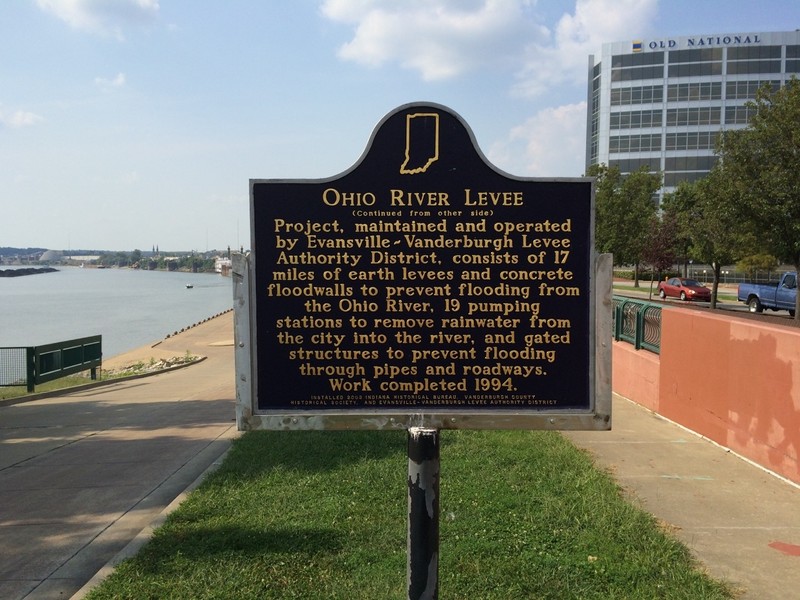 Backstory and Context
Remarkably, thanks to the rescue efforts of 4,000 Works Progress Administration workers, no one in Indiana died during the 1937 flood. However, over 100,000 people lost their homes. The Red Cross spent $11 billion in today's money to help Evansville residents. In order to prevent and manage future floods, the state created the Indiana State Flood Commission, which established the
Evansville-Vanderburgh Levee Authority District. The District designed and built the levee system.
Sources
"The Levee Project." City of Evansville. Accessed March 31, 2019. https://www.evansvillegov.org/city/topic/index.php?topicid=777.

"Ohio River Levee." The Historical Marker Database. Accessed March 31, 2019. https://www.hmdb.org/marker.asp?marker=88987.

Photo: The Historical Marker Database

Additional Information