Jacqueline Cochran Marker
Introduction
Jacqueline Cochran was a trailblazer for female aviators. She participated in a number of long-distance races such as the Bendix Transcontinental Air Race and the London, England to Melbourne, Australia race. In addition to this, Cochran was the first woman to break the sound barrier and reach mach 2.
Images
Marker/Monument of Cochran in Coachella Valley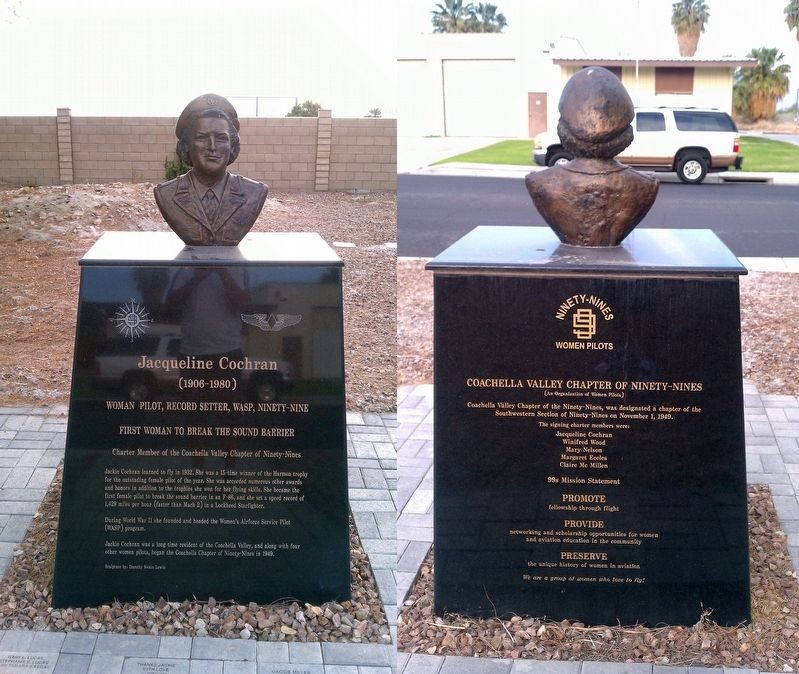 A young Jacqueline Cochran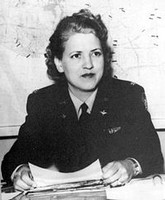 Cochran talking to famous aviator Chuck Yeager.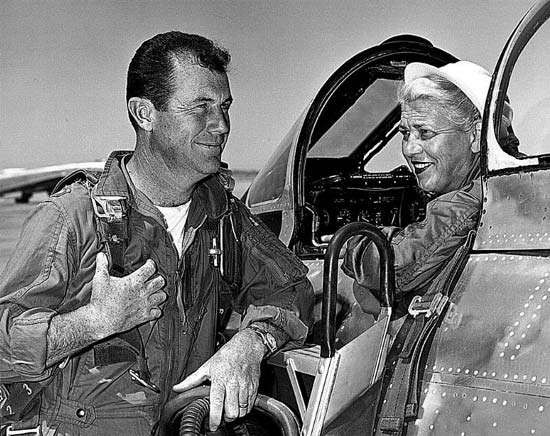 Backstory and Context
Jacqueline Cochran, originally named Bessie Lee Pittman, was born into poverty in a depressed southern community. However, with hard work and a strong will, she became a licensed aviator in 1932. For the next two years, Cochran grew into a well-rounded aviator by trial and error. By 1934, Cochran's competitive spirit forced her into her first aviation race, the London-to-Australia race, which ended poorly for Cochran due to a life-and-death crash which could have killed her. This didn't stop Jacqueline though, as she continued to fly and race up until the 40s, during which time she became the first woman pilot to make a blind instrument landing (1937).
In addition to her groundbreaking involvement in pilot racing, Cochran was also founder of the legendary WW2 group WASPs (Women's Airforce Service Pilots), which primarily ferried planes around the United States during WW2, and were later granted true military status in the 70s. In addition to the creation of WASPs, Cochran was also the creator of Coachella Valley's chapter of ninety-nines, which is a nationwide group of female aviators that use their platform for charity and the advancement of aviation.
For the remainder of her time as an active aviator, Cochran broke over 70 aviation records through the 50s and 60s, including the accomplishment of becoming the first woman pilot to break the sound barrier. A few years after breaking the sound barrier, Cochran became the first female pilot to reach Mach 2. With the vast amount of advancement in aviation and women's aviation rights happening due to Cochran's efforts, the Coachella Chapter of ninety-nines erected this marker for Jacqueline Cochran, who was one of the most influential women of her time.

Sources
Halvorsen, Douglass. "Jacqueline Cochran Historical Marker." Historical Marker. March 05, 2018. Accessed March 29, 2019. https://www.hmdb.org/marker.asp?marker=114556.
NAHF. "Cochran, Jacqueline." National Aviation Hall of Fame. 2018. Accessed March 29, 2019. https://www.nationalaviation.org/our-enshrinees/cochran-jacqueline/.
"Jacqueline Cochran." Encyclopædia Britannica. August 05, 2018. Accessed March 29, 2019. https://www.britannica.com/biography/Jacqueline-Cochran.
Additional Information