Cornelia Clark Fort Historical Marker
Introduction
Dedicated in 2000, this marker shares the history of Cornelia Clark who served within the Women's Auxiliary Ferrying Squadron (WAFS). Clark was a pilot who transported military aircraft and an instructor for President Roosevelt's civilian training program during 1942 and part of 1943.
Images
The marker for Cornelia Clark Fort. Located near Merkel, Texas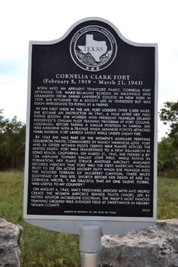 Picture of Cornelia Fort (second from the left) and a group of fellow female flyers.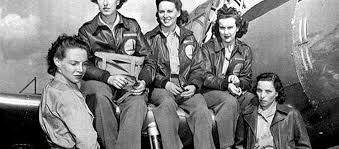 Backstory and Context
Born and raised in Tennessee, Fort attended the Ward-Belmont school in the area, and then went to graduate from Sarah Lawrence College in New York in 1939. Shortly after her education, Fort became interested in flying thanks to a close friend. By 1940, Fort was enrolled in flight school and became an instructor just a year later. During her time as an instructor, she moved from Colorado to Hawaii for a similar position with President Roosevelt's civilian training program. During her time in Hawaii, she was airborne with a student when the Japanese attacked Pearl Harbor; she was able to safely land the plane.
Also in 1942, Fort became a member of the Women's Auxiliary Ferrying Squadron (WAFS, the precursor to WASP), which consisted of 27 members who ferried war planes across the United States during WW2. During this time, Fort was transferred to California. When ferrying a BT-13A airplane toward Dallas' Love Field on March 21, 1943, Fort collided with another BT-13A, resulting in her plane losing control and her untimely death. Fort became the first American female pilot to die on active duty. Shortly before her death, Fort wrote a memorable quote: "I am grateful that my one talent, flying, was useful to my country."
Cornelia Fort's story is particularly important to American history for a number of reasons; the emergence of women in military service and as the first wave of female pilots in the Army Air Force. Fort's involvement in WAFS and the Women's Air Service Pilots (WASP) helped create a pivotal moment in women's aviation history, as well as American military history.
Sources
Latinović, Jessica. "Leaving a Legacy – Cornelia Clark Fort." Ancestry Blog. March 06, 2018. Accessed March 28,2019. https://blogs.ancestry.com/ancestry/2015/03/06/leaving-a-legacy-cornelia-clark-fort/.
Hall, Duane. "Cornelia Clark Fort Historical Marker." Historical Marker. June 16, 2016. Accessed March 28, 2019. https://www.hmdb.org/marker.asp?marker=77737.
Beigel, Bill. "WW2 Casualties Database | Military Records Research." Women in WWII: Cornelia Clark Fort. February 22, 2019. Accessed March 28, 2019. https://www.ww2research.com/cornelia-clark-fort/.
Additional Information