First Baptist Church, Marshall Texas
Introduction
While the current church building for Marshall's First Baptist Church was completed in 1953, the history of this congregation predates Texas statehood. The congregation was founded by several men who played a role in support of the United State's annexation of Texas. In those early years, the congregation met at a schoolhouse until the first structures specifically for the church were completed in the late 1800s. To this day, the church continues to reach out to the community through multiple programs, including support of East Texas Baptist University.
Images
The main entrance, steeple, and sanctuary.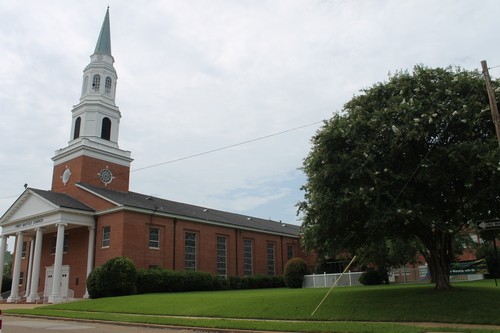 The back end of the main building, containing the children's ministries.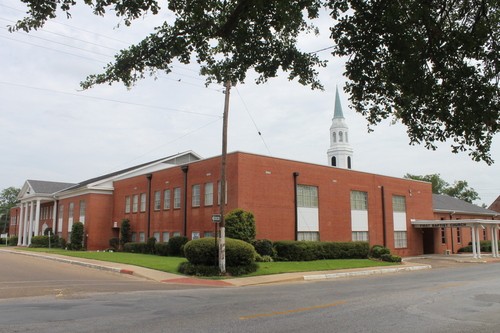 The addition to FBC, the Family Life Center, houses the gymnasium as well as the youth and college ministries.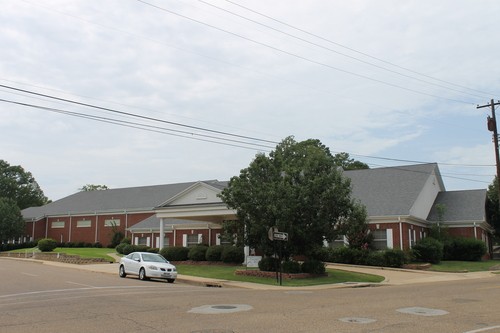 Backstory and Context
The congregation of First Baptist Church was founded in 1845 by Baptist missionary John Bryce who also served as an agent of President John Tyler in support of Texas becoming part of the United States. Bryce was assisted by George Washington Baines and others who lived in this area shortly before Texas joined the United States. The church held some of their first services in a brush arbor and then secured use of a local log schoolhouse. The school was the meeting place for the congregation until 1849 when state legislator James McCown donated a small wood frame structure. This building was replaced in 1892 with a larger building. The church continued meeting at that 19th-century building until 1953 when the current sanctuary and children's building were completed.
First Baptist Church was led by Reverend George Tucker following Bryce's service. Reverend W. T. Tardy succeeded Tucker as pastor and his term saw the founding of the College of Marshall, now known as East Texas Baptist University.
Some of the biggest changes came to the church beginning in the 1980s. During this era, Dr. Jack Fritts established the Capital Improvements Campaign to raise money for renovations and repairs. Following Fritts' resignation in 1984, Dr. H. Hollie Atkinson took leadership and continued making major renovations to the campus, including a new roof for the sanctuary, new pews, and stained glass windows. In 1996, Dr. Atkinson pushed the congregation to construct a new Family Life Center, which was completed across the street from the main building in 1998. He also started the "Meals on Wheels" ministry in Marshall, in which members of the church deliver pre-made meals to those who can't get around well. This ministry continues through the church. Dr. Atkinson resigned in 2000, and following several other pastors, Ryan Berryhill began his service as pastor in 2012.
Sources
"Details for First Baptist Church." Texas Historic Sites Atlas. Accessed March 27, 2019. https://atlas.thc.state.tx.us/Details/5203010156.
"First Baptist Church - Marshall." SFASU. Accessed March 27, 2019. http://www.sfasu.edu/heritagecenter/4945.asp.
Additional Information