Historical Marker: Albion Fellows Bacon
Introduction
Located outside the YMCA building, this historical marker commemorates the life and legacy of Evansville writer, social activist, and housing reformer, Albion Fellows Bacon (1865-1933). The daughter of a Methodist minister, Bacon became well known in Indiana and around the country for her commitment to improving the poor living conditions of tenement housing. She played a key role in the passage of housing reform legislation in Indiana in 1909, 1913, and 1917, and was appointed to the President's Conference on Home Building and Home Ownership in 1931. Bacon was also a member of other organizations such as the Indiana Child Welfare Association; the Women's Section of the Indiana State Council of Defense; the Indiana Conference of Charities and Corrections; and the Juvenile Advisory Commission of Indiana's Probation Department. She also a prolific writer of books, journals, and pamphlets, focusing most of her attention on housing reform. She also wrote poetry and children's stories. In 1907, she founded the precursor to the YMCA of Evansville—The Working Girls Association—which is why the marker is located here.
Images
The historical marker is located just outside the YMCA building. Photo: The Historical Marker Database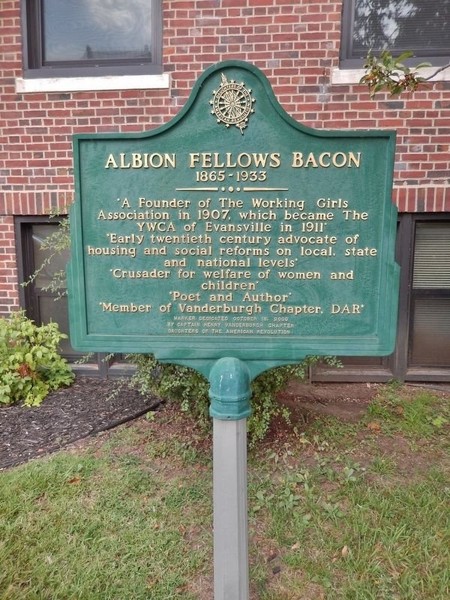 Albion Fellows Bacon (1865-1933)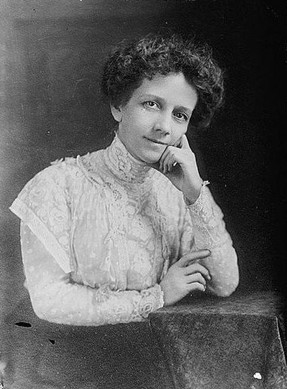 Backstory and Context
Albion Fellows Bacon was born on April 8, 1865 in Evansville. She and her older sisters grew up in McCutchanville, Indiana, their mother's hometown. Sadly, her father died shortly before she was born. One of her sisters, Annie Fellows Johnston (1863–1931), would become a well-known author of children's fiction. After graduating from high school, Bacon worked as a legal secretary and court reporter for a few years. During this time, she also toured Europe with Annie. In 188, she got married to Hilary Bacon and they had four children, all girls. In the coming years, Bacon contracted an illness, perhaps depression, which lasted a long time but was able to publish a poetry book—Songs Ysame—with Annie in 1897.

Her social activism began around 1900 after she went to visit Evansville's tenement housing slums, which were located along the Ohio River at the time. Appalled by the poor living conditions she witnessed, Bacon found a new purpose in her life, coming to believe that substandard housing was the source of all social problems. As a result, she established a number of local organizations including the Men's Circle of Friendly Visitors, the Flower Mission for poor working girls, a Working Girls' Association, an Anti-Tuberculosis League, and the Monday Night Club.

After failing to get tenement regulation included in the Evansville's building code, Bacon decided to take her efforts a step further in 1908 when drafted a model state housing law. She spent a year lobbying for it to the state legislature and, as stated in the overview, the legislature passed the housing legislation in 1909. Amendments to the law, however, reduced housing regulations in Evansville and Indianapolis. In response, she organized the Indiana Housing Association 1911, which lobbied the legislature to pass another bill in 1913. Bacon's efforts were also instrumental in getting the 1917 law passed, which authorized local officials to condemn unsafe or unsanitary housing.

Bacon passed away on December 10, 1933 of heart failure. She is buried in Oak Hill Cemetery.
Sources
"Albion Fellows Bacon." Encyclopedia Britannica. Accessed March 30, 2019. https://www.britannica.com/biography/Albion-Fellows-Bacon.

"Albion Fellows Bacon." The Historical Marker Database. Accessed March 30, 2019. https://www.hmdb.org/marker.asp?marker=116887.

Barrows, Robert G. Albion Fellows Bacon: Indiana's Municipal Housekeeper. Bloomington and Indianapolis, IN: Indiana University Press, 2000. http://www.iupress.indiana.edu/product_info.php?products_id=19970.

Barrows, Robert G. "'The Homes of Indiana': Albion Fellows Bacon and Housing Reform Legislation, 1907-1917." Indiana Magazine of History 81, no. 2 (December 1985): 309-350.
https://www.jstor.org/stable/27790924?seq=1#page_scan_tab_contents.

Additional Information