Evansville African American Museum
Introduction
Founded in 1999, the Evansville African American Museum is dedicated to preserving and educating the public about the African American experience in Evansville and the rest of the country. To this end, the museum explores the "history and traditions of African American families, organizations, and communities." The museum's exhibits explore what life was like for Evansville's African Americans in the 20th century. Numerous items are on display including clothing, photographs, radios, and sporting equipment. A number of exhibits describes the lives of notable figures such as musician and record producer Timmy Thomas (b. 1944) who is a native of Evansville. There are also traveling exhibits and gallery space for local artists to display their work.
Images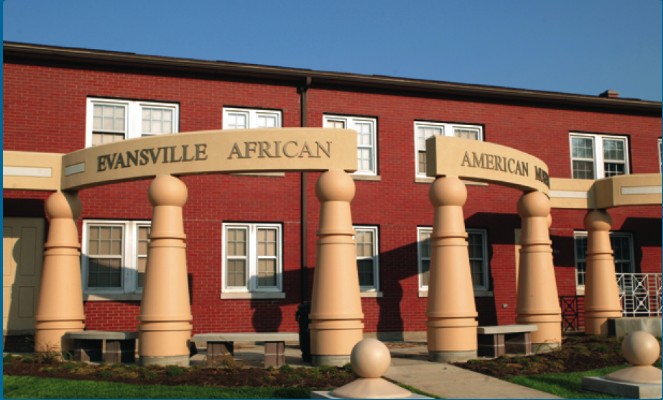 Backstory and Context
The museum is located inside the only building left of what was once a housing project built in 1938 called Lincoln Gardens, which was the second federal housing project constructed under President Franklin Roosevelt's New Deal Program. Lincoln Gardens was built to provide housing for African American residents of Evansville, specifically a part of the city—called Baptistttown—where a thriving community of African Americans lived. At the time, Evansville had the largest concentration of African Americans in Indiana and most resided in Baptisttown. Eleanor Roosevelt came to Evansville for the grand opening celebration of Lincoln Gardens. During the early 20th century, residents of Baptisttown built schools, businesses, a hospital, and churches.
Sources
"About Us." Evansville African American Museum. Accessed March 24, 2019. https://evvafricanamericanmuseum.org/about-us.

Blackford, Nathan. "Museum honors Evansville's African-American community." Evansville Living. January/February 2015. http://www.evansvilleliving.com/articles/preserving-history.

"Evansville Workshop Focuses on Revitalizing Historic African American Places." Indiana Landmarks. Accessed March 24, 2019. https://www.indianalandmarks.org/2017/08/evansville-workshop-focuses-revitalizing-historic-african-american-places.

Photo: Visit Evansville
https://www.visitevansville.com/attractions/evansville-african-american-museum

Additional Information