Old Chinatown
Introduction
Chicago's Chinatown is a major attraction in the city, but a lesser-known, earlier Chinatown was once located even closer to downtown and within the Loop. As early as the 1870s, Chinese Americans began arriving in Chicago from the West Coast of the US. They set up businesses such as tea houses, restaurants, dry goods stores, and laundry shops along South Clark Street, clustering near Van Buren Street. By the late 1910s, many of the city's Chinese residents were pushed out of the neighborhood through racial discriminatory practices. Today, almost nothing remains of the Old Chinatown that was once occupied by the earliest Chinese Chicagoans.
Images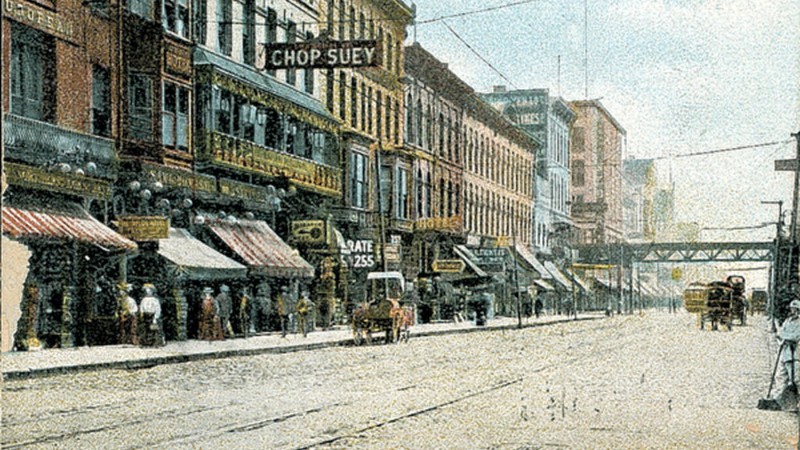 Moy Dong Chow was once of the city's earliest Chinese residents.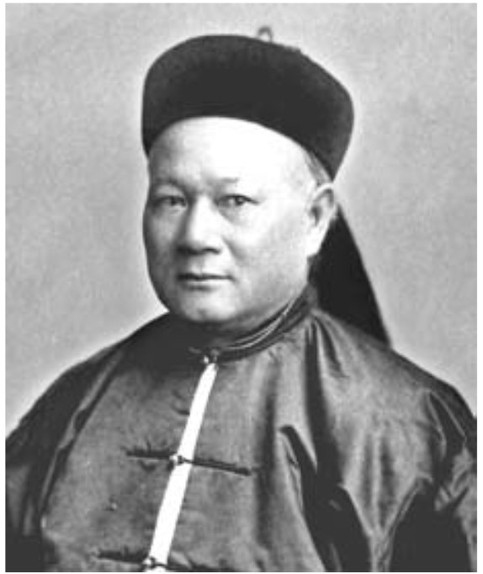 A sketch of a Chinese-owned Chicago business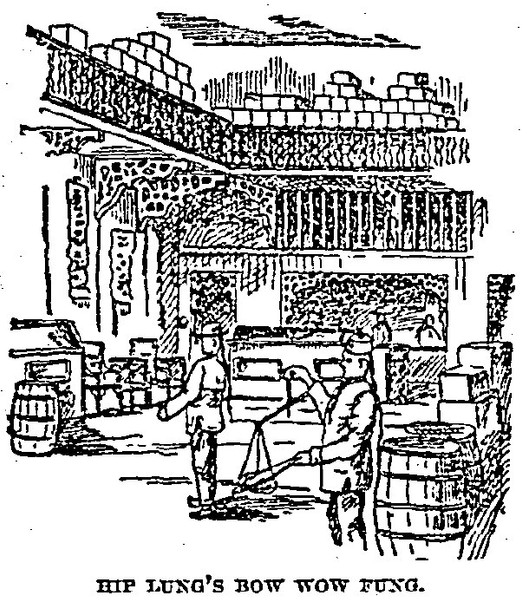 Sketch of an early Chinese restaurant in Chicago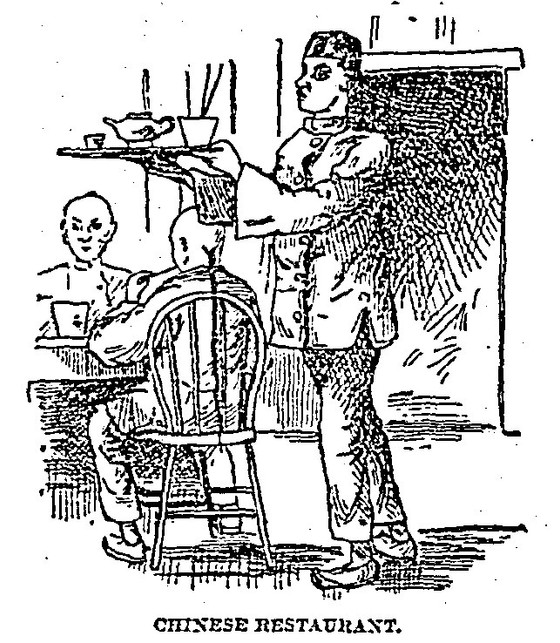 The Chinese-American Society was located in the second story of this building in Old Chinatown, circa 1907. Notice the Chinese characters above the door.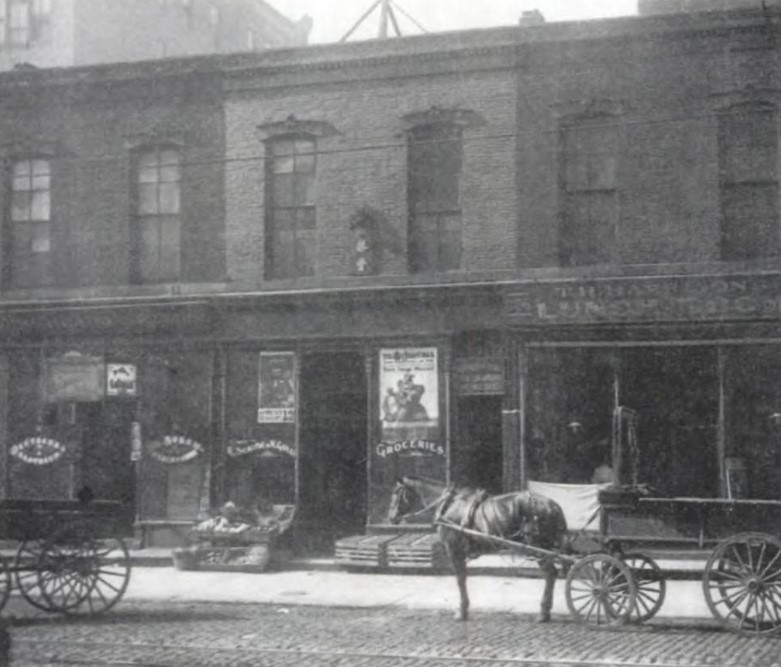 Photography businesses in Old Chinatown would take family portraits like this one for residents to send back to their relatives in China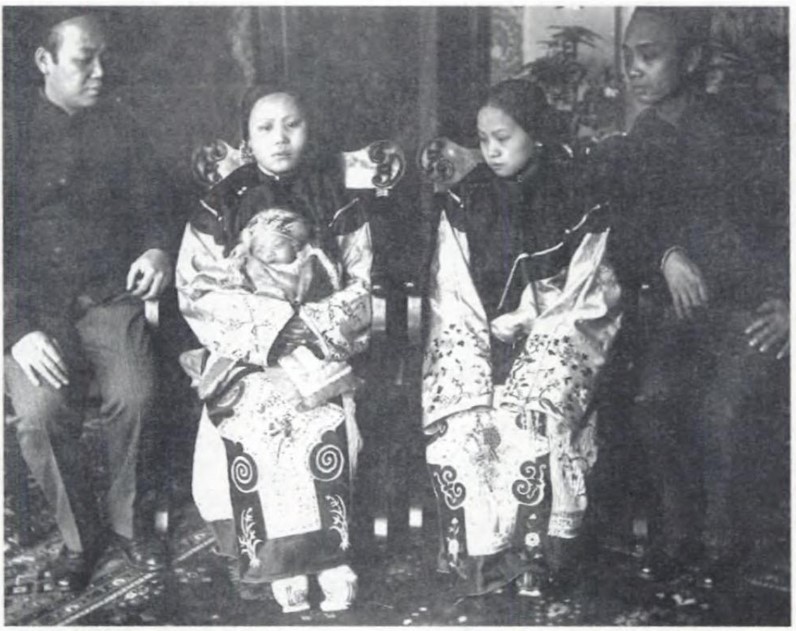 Almost nothing remains of Old Chinatown today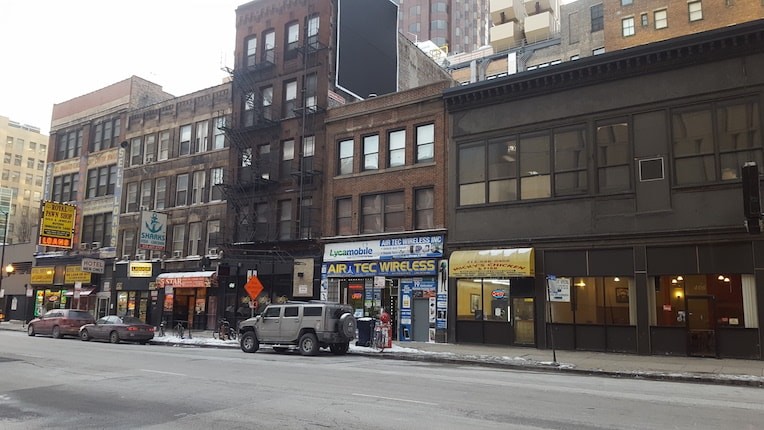 The only remnant of Old Chinatown can be found in the pagoda over this Mexican restaurant on Clark Street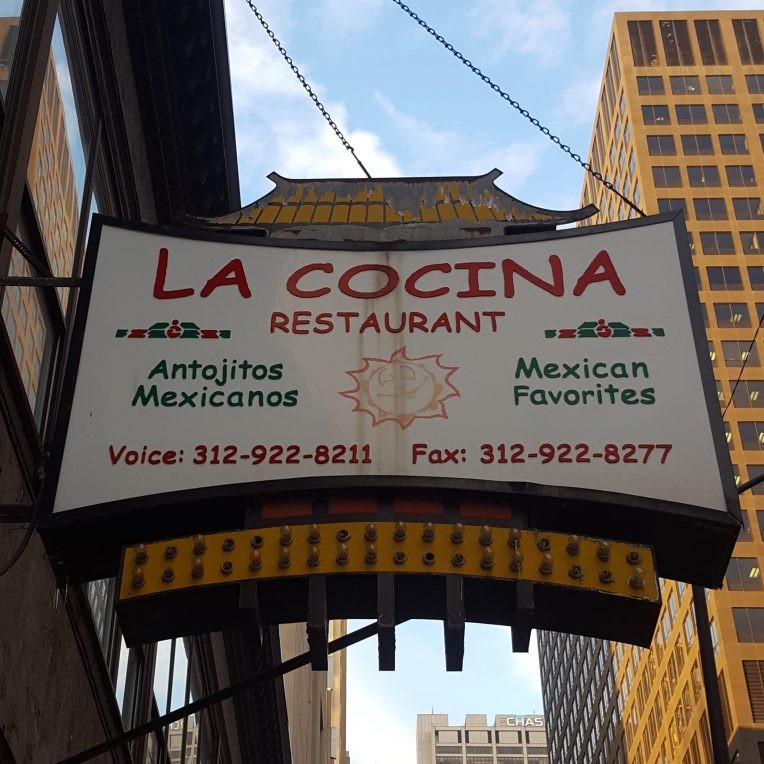 Backstory and Context
The first Chinese immigrants arrived in Chicago just after the transcontinental railroad was completed in 1869.[1] The majority of early Chinese Chicagoans had ancestry in the Taishan area. [2] Previous generations had worked along the West Coast of the US as miners and eventually many Chinese Americans became urban business owners. Growing anti-Chinese sentiments in California prompted many of these workers to move east. In Chicago, they settled within the Loop, around South Clark Street, near Van Buren and Harrison Streets. This area was located near Chicago's main train stations and was therefore a prime place to do business.[3] It became known as Chicago's first Chinatown.
In 1878, three brothers, Moy Dong Chow, Hoy, and Lee, arrived in the city. The Moy brothers are often mistakenly cited as the first Chinese immigrants in Chicago, but they did certainly become some of the most influential and prominent members of the community. Encouraged by the relative lack of discrimination they faced in Chicago compared to out west (at least in those early years), a trickle of family and friends followed the Moy brothers to Chicago, and the Moy surname became synonymous with the Chinese community in the city. [2]
It is believed that the first Chinese-owned business in Chicago (and probably in all of Illinois) was a tea shop on West Madison, an early advertisement of which dates to 1874. [4] Many of the early Chinese settlers in Chicago opened laundry shops. It is estimated that by 1890, over 260 laundry shops were managed by Chinese Americans. [4] This is especially remarkable considering that only around 500-600 Chinese were counted in the 1890s census. In reality, the population may have been closer to 2000. [2] Other businesses included about a dozen grocery stores, several restaurants, drug stores, butcher shops, and barber shops, as well as a cigar factory. [2,3].
As the Chinese entrepreneurs became more visible in the Chicago area, they began to face discrimination, just as they had out west. The fact that Chinese businesses were the first thing for visitors arriving at nearby train stations to see gave an impression that many white European Chicagoans didn't want. In the 1910s, building owners began to raise rent on their Chinese tenants in an effort to push them out. According to John Russick, curator of an exhibit about Chinatown at the Chicago History Museum:
"The Chinese were priced out of the Loop. […] While they generated income and were taxed like any other citizens, they didn't have a lot of political clout because they didn't integrate. So when their territory was desired by others, they didn't have the ability to push back. […] There was a desire to move the Chinese out of downtown because they were seen as unclean or unsightly, and Chicago wanted to have a different image of itself." [3]
They moved further south and a new Chinatown grew up around Cermak Road and Wentworth Avenue, which exists today (see other Clio entries). The Metropolitan Correctional Facility was constructed in the area in the 1970s, and many of the original buildings with Chinese influence were torn down. [5] A smattering of Chinese restaurant owners managed to hang on to life in Old Chinatown though; an interesting relic of Chicago's first Chinatown is found in a sign for La Cocina Restaurant at Clark and Van Buren Streets. Although the restaurant serves Mexican fare, the sign outside has a Chinese pagoda, and the space was occupied by a Chinese restaurant called The Shanghai Restaurant less than a generation ago. [5] It is the only symbol of Old Chinatown left today.
Sources
1.      Ho, Chuimei and Soo Lon Moy. Chinese in Chicago, 1870-1945. Mount Pleasant, SC: Arcadia Publishing, 2005. Accessed January 3, 2020. https://books.google.com/books?id=UbfaQka-QVsC&newbks
2.      Ling H. Chinese Chicago: Race, Transnational Migration, and Community Since 1870. Stanford, CA: Stanford University Press, 2012. https://www.google.com/books/edition/_/g64qYga5hwcC?hl=en.
3.      Malooley, Jake. Chicago's Original Chinatown. Time Out Chicago. April 27, 2010. Accessed January 3, 2020. https://www.timeout.com/chicago/things-to-do/chicagos-original-chinatown.
4.      Chinese American Museum of Chicago. "Collections: Research Before 1900". Chinese American Museum of Chicago Website. 2018. Accessed January 3, 2020. https://ccamuseum.org/category/research-before-1900/.
5.      Bean, Alex. "The Forgotten Chinatown in Downtown Chicago". Chicago Detours Tour Company Website. February 7, 2018. Accessed January 3, 2020. https://www.chicagodetours.com/forgotten-chinatown-chicago/.
Image Sources
https://www.timeout.com/chicago/things-to-do/chicagos-original-chinatown

Collection of Ruth Moy, Chinese American Museum of Chicago: https://www.google.com/books/edition/_/g64qYga5hwcC?hl=en

Chinese American Museum of Chicago: https://ccamuseum.org/2018/05/17/1889-the-clark-street-chinatown-reaches-maturity/#

Chinese American Museum of Chicago: https://ccamuseum.org/2018/05/17/1889-the-clark-street-chinatown-reaches-maturity/#

Susan Lee Moy: https://books.google.com/books?id=2JbU1d9Xil0C&newbks

Susan Lee Moy: https://books.google.com/books?id=2JbU1d9Xil0C&newbks

Alex Bean: https://www.chicagodetours.com/forgotten-chinatown-chicago/

Alex Bean: https://www.chicagodetours.com/forgotten-chinatown-chicago/

Additional Information