Flight 553 1972 United Airlines Plane Crash
Introduction
United Airlines Flight 553 was scheduled to leave from the Washington National Airport to Omaha, Nebraska. The flight crashed into 7 bungalows on the south side of Chicago while approaching its destination to Midway Airport on December 8, 1972; the pilot was instructed to carry out a "missed approach." When attempting to go around for a landing attempt, the aircraft hit two tree branches resulting in the plane losing control and plowing into seven bungalows. The home of Maggie Cuculich was destroyed, sadly she and her daughter Theresa Cuculich died as a result of the accident. Maggie's daughter Dorothy was at work at this time when she lost her immediate family and after being left without a home had to stay with relatives.
Images
This is the area where the plane crashed into bungalows.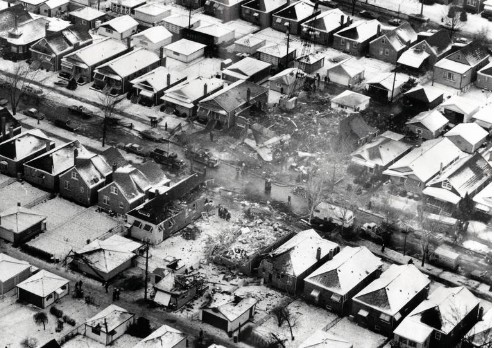 Firefighters and pedestrians helping the injured.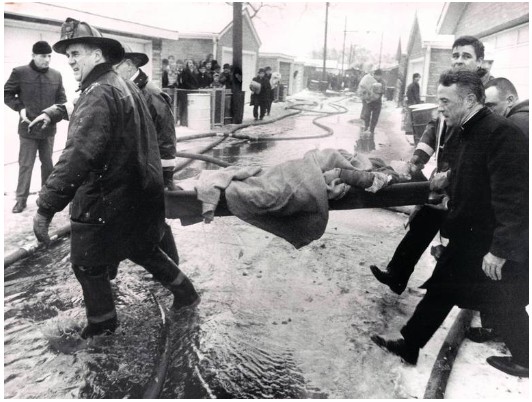 The home of a resident and where it used to lie.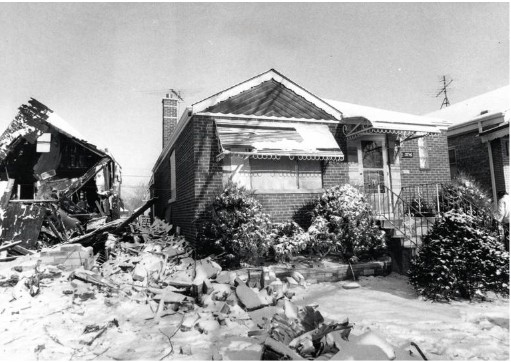 A different perspective of homes destroyed by the crash.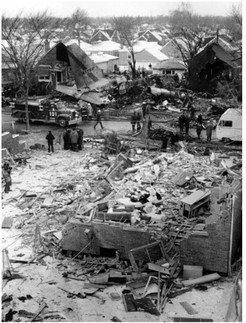 United Airlines plane on fire and community members helping find survivors.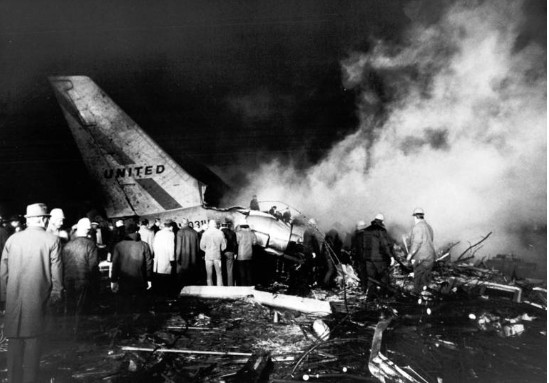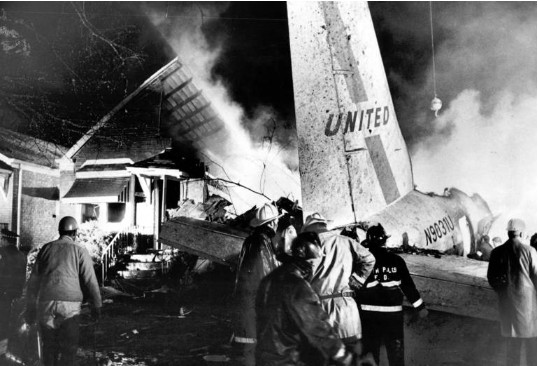 Firefighters searching for survivors.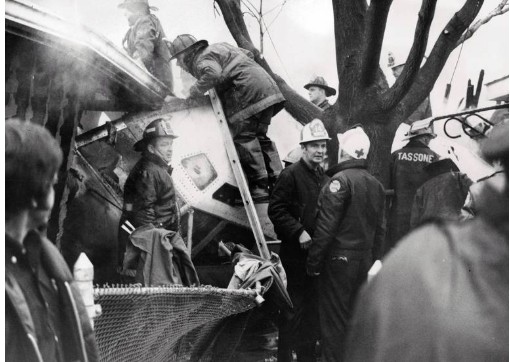 Local Firefighters fighting to put out the fire on both homes and plane.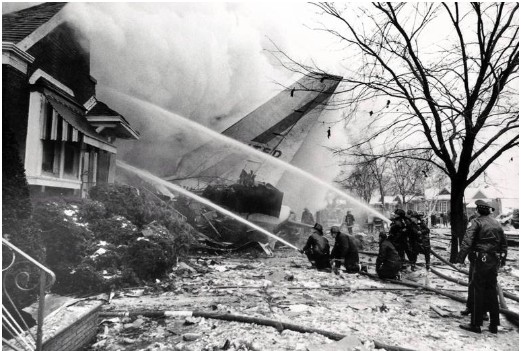 Debris of Flight 553. December 1972.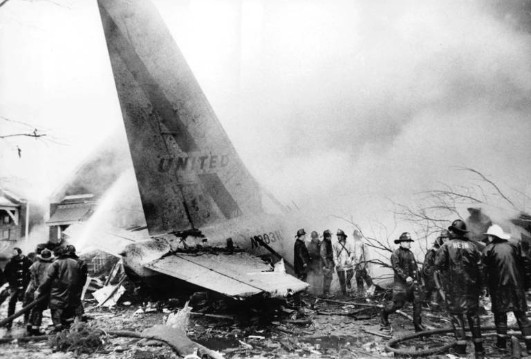 Backstory and Context
Captain Wendell Lewis Whitehouse was a pilot and officer for United Airlines. He had an almost clean record in 17 years since 1968. Flight 553 was expected to land at Midway Airport when Captain Wendell Lewis Whitehouse called in that his plane was "in trouble." The pilot avoided crashing into two schools, Harper High school, and Hurley Elementary school, and instead had no choice but to land into the residential area of West 70th Pl and Lawndale destroying six homes and killing forty-five people.
It was said that Whitehouse made several mistakes while going down into Midway. The choice he was forced to make was a "non-precision instrumental approach" that ended in a catastrophic disaster. The first house destroyed was the home of a widow named Mrs. Maggie Cuculich and her two daughters at the address of 3722 W 70th pl, whose house was consumed in flames when the plane landed on it. The Southside family of three was decimated by the fire the plane had caused. Flight 553 left residents without homes and were forced to stay at the Ford City Holiday Inn. The second family that was affected by this event was a family of six whose three children and their father were missing. The mother and daughter, Linda and Laura West, were taken to Holy Cross Hospital in fair condition. The South Economist Newspaper stated that their family was on "the plane returning home [ at the address of 6635 S Kilpatrick ave] from a tour of duty as volunteers with the Peace Corps in Africa" (Joyce & Kelly, 1972). Real estate agents and firms were contacted to help with accommodations of other residents that were left without homes: Zigmund Marowski, Romaulda Marowski, and their two daughters Sophie, 26, and Mary, 22, Mrs. Ann Busch and her 17-year-old son Michael, Frank Cotter, wife Rosemary, Daughter Christine, 10 and son Evan, 13, and John Sladewski, his wife Cynthia, and two other adults.
The Crash sparked tons of attention when a Chicago West Side Representative George Collins was killed. Cardiss Collins, George's wife, then took his seat in Congress. It was speculated that the Government had a lot to do with the crash due to the Watergates Scandal that happened around the same time. A Watergates conspirator, Howard Hunt's wife was one of the victims that died and who was carrying $10,000 cash, in a briefcase. As a result of the money being found in the ashes, there sparked concerns that it might have been connected to the financial dealings encircling the president Richard Nixon "Slush'' funds to which the accused in the Watergate's scandal had access. There had been a theory that the crash was not an accident, but that there might have been sabotage to keep whatever was being hidden a secret. The NTSB had cleared to the public that the crash was due to the pilot's mistakes.
The significance of this event has an effect on the local community. The community has been rebuilt due to damage flight 553 had caused. According to the Southtown Economist, "United Airlines [had] offered to pay for all of the property damage" (Masson). Other companies like United Savings and Loan Co. gave low-interest rates for the families that were repairing their homes since financial assistance was not available because the area affected was only a few of the community and did not fall under the category of a disaster area. People's lives changed after this event making it one of the biggest historical events that happened in this community that still resonates with older generations. Till this day, Edward N Hurley Elementary still continues to tell this historical event to their students to carry on the remembrance of flight 553.
Sources
"1972's United Flight 553 Crash." Chicago Tribune. December 8, 2012. Accessed February 24, 2019. http://galleries.apps.chicagotribune.com/chi-121203-united-airlines-flight-553-crash-1972-pictures/.
Chermak, Steven, and Frankie Y. Bailey. Crimes of the Centuries: Notorious Crimes, Criminals, and Criminal Trials in American History. ABC-CLIO, 2016.
Joyce, Patrick, Ed Kelly, and Janet Wilbur. "Southtown Economist." 3 Area Residents Reported Dead, 4 Missing, 7 Homes Destroyed in Crash That Killed 45(Chicago), December 10, 1972.
Masson, Ken, and Rose Cahill. "Southwest Economist." Seek Housing for 5 Families Routed by Crash(Chicago), December 13, 1972.
Stich, Rodney. Unfriendly Skies: 20th and 21st Centuries. Alamo, CA: Silverpeak Enterprises, 2005.
Stich, Rodney. History of U.S. Aviation Disasters--1950 to 9/11: Politics, Incompetence, and Hard Corruption. Alamo, CA: Rodney Stich and Silverpeak Enterprises, 2010.
Additional Information