Palmer House
Introduction
This beautiful Second Empire home was once the home of innovative chiropractor B.J. Palmer (1882-1961). It was built in 1874 by local lumber mill owner Louis C. Dessaint. Palmer lived in the house from 1912 to 1961 (his wife, Mabel, died in 1949). His father, Daniel D. Palmer (1845-1913), founded chiropractic medicine and, in 1897, the Palmer College of Chiropractic—the first and still the largest such school in the world. B.J. Palmer expanded and made several alterations to the house over the years including building a wrap-around one-story addition. The house is one of several buildings that comprise the college. The Palmers once owned a large art collection and a portion of it is on display. Visitors can tour the first floor on weekdays when classes are in session. Given the house's architecture and association with the Palmers, it was added to the National Register of Historic Places in 1984. Throughout the campus, visitors can see a number of exhibits that comprise the Palmer Family and Chiropractic History Museum.
Images
The Palmer House was originally built in 1874 and was the home of developer of chiropractic medicine B.J. Palmer.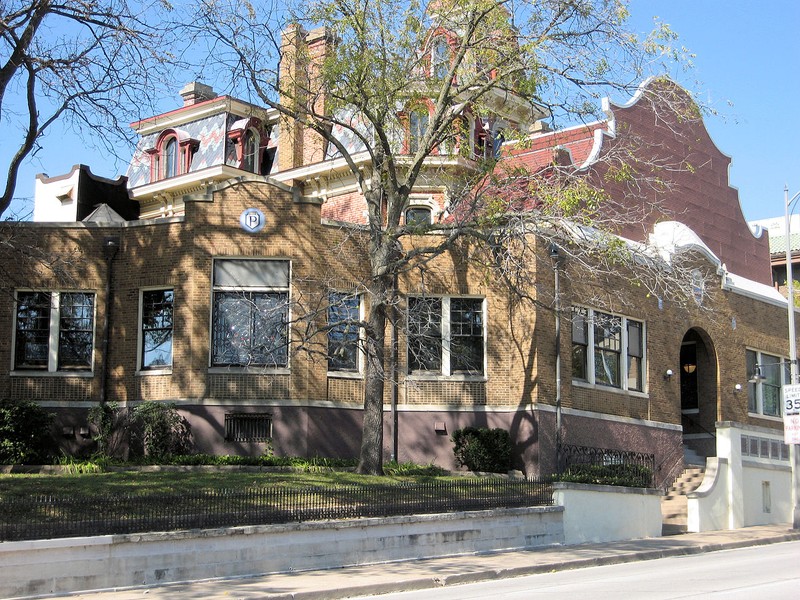 Backstory and Context
Whereas Daniel played a crucial role in establishing the medical treatment to manipulate the spine to improve health outcomes, B.J. Palmer developed the scientific philosophy and techniques underpinning it. As such, B.J. made critical strides in chiropractic medicine. During his career, he wrote 35 books that continue to serve as the foundation of the discipline today.

B.J. Palmer was an eccentric man and this is reflected in the house. The wrap-around addition, which he built to entertain guests in 1921, features a variety of interesting elements including lead beveled glass. The first floor also features several thematic rooms including an organ room, log room, and an oriental room. Items from around the world are on display including an Aeolian pipe organ, several ivory chess sets, and several exotic stuffed animals. Palmer also built a courtyard that he called "A Little Bit 'O Heaven" in which he displayed art and artifacts; a small chapel used for weddings was there as well. People could visit the courtyard but is now closed off to the public and used by students. A large portion of the art collection is now housed in the Putnam Museum.

Sources
Gaul, Alma. "Home reflects B.J. Palmer's peculiar personality." Quad-City Times. November 14, 2012. https://qctimes.com/home-reflects-b-j-palmer-s-peculiar-personality/article_cff9564a-2e8d-11e2-90fe-0019bb2963f4.html.

Mozingo, Todd R. "B.J. Palmer House." Davenport Community Development Department - Architectural/Historical Survey. 1980. https://npgallery.nps.gov/GetAsset/c270722e-fdbd-427a-be37-2915f647054d.

"Palmer Family Residence." Palmer College of Chiropractic. Accessed March 23, 2019. http://www.palmer.edu/about-us/history/palmer-family-residence.

Photo: Wikimedia Commons
https://en.wikipedia.org/wiki/B.J._Palmer_House

Additional Information