Brigham Young Historic Park
Introduction
This Salt Lake City park was dedicated in 1995 and is located on land that was once part of Brigham Young's small farm which extended from the Beehive House and the present-day Eagle Gate to the south side of the state capitol complex. The farm included numerous outbuildings, including a carpenter and Blacksmith shop. The park includes a walking path with historical markers, bronze sculptures of pioneers, and a waterwheel. The park is home to public events including lectures and free musical performances in the summer.
Images
The park was once part of Young's farm and is located at the corner of State Street and North Temple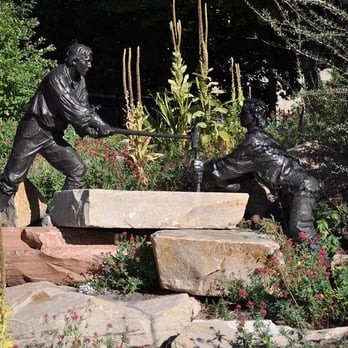 Backstory and Context
Brigham Young was born in Vermont in 1801 and succeeded Joseph Smith as the leader of the Church of Jesus Christ of Latter-Day Saints. Young is best-known for selecting the Wasatch Valley as the home of church members after they faced persecution and even violent threats in Illinois and Missouri. Young was the territorial governor of Utah in the early 1850s and oversaw the growth of Salt Lake and the LDS Church. He died in Salt Lake City in 1877.