Mont Calm
Introduction
Located just outside of Abingdon's historic district, the house known as Mont Calm has housed some of Abingdon's most prominent families. Completed in 1827 for David Campbell, Governor of Virginia from 1837-1840, the two-story brick house is one of Southwest Virginia's finest examples of the Federal style of architecture. After Campbell's death in 1859, Colonel Arthur C. Cummings purchased the property. Cummings was a former Mexican American War veteran and commanded a regiment under Stonewall Jackson during the Civil War, he also served in the Virginia House of Delegates after the war. After Cummings death in 1904, his heirs sold the house and property to Frances T. Mingea. Her husband, Wilton E. Mingea, was heavily involved with the lumber industry in Southwest Virginia and later established the Virginia-Carolina Railroad, more commonly known as the Virginia Creeper. The Mingeas made significant alterations to the house, such as modernizing the interior and adding the Colonial Revival front porch and two-story addition. The Mingea family still retains possession of the property. Mont Calm was designated a Virginia Landmark on January 15, 1974 and added to the National Register of Historic Places on July 18, 1974.
Images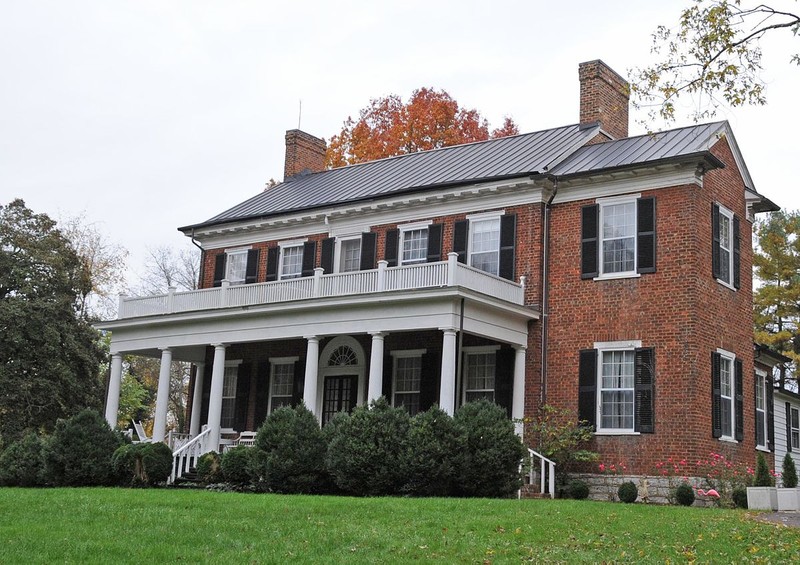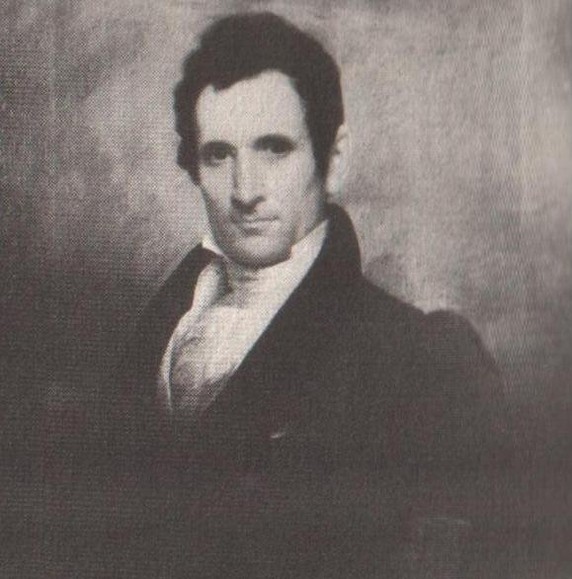 Backstory and Context
Neatly perched atop a ridge overlooking the bustling town of Abingdon, Mont Calm was David and Mary Campbell's escape from the public eye of David's very public life. Born into a prominent political and military family from what is now Marion in Smyth County. At fifteen, he joined the Virginia militia and rose to the rank of Captain. During the War of 1812, David joined the U.S. Army and eventually served Governor James Barbour as his aide-de-camp. He also served as Brigadier General of the Third Brigade of Virginia and Colonel of the Third Virginia Cavalry. David also acted as the Deputy Clerk to Washington County 1802-1812, and maintained a successful mercantile business. In 1800, David Campbell married Maria Hamilton, known as Mary.
In 1820, David Campbell was elected to the Virginia State Senate and served in that capacity for the next four years. He remained in the Senate for only one term and returned to Abingdon. After his return, David assumed the role as Washington County Clerk and construction on Mont Calm began shortly thereafter. Completed in 1827, Mont Calm was a grand two-story, formal Federal style house. Unable to have children of their own, David and Mary raised his niece and nephew, David H. R. Campbell and Virginia Campbell. One unusual aspect of the Campbell's life is the way in which they interacted with their slaves. Instead of constructing separate living quarters for the slaves, the Campbells lodged many of these individuals in the basement of Mont Calm, which was an unusual arrangement for the time.
In 1837, the Campbells lives were uprooted when David was elected Governor of Virginia. David, Mary, and their niece Virginia moved to the Executive Mansion in Richmond along with several of their slaves. For the next three years, the Campbells resided in Richmond while two of their slaves remained in Abingdon at Mont Calm. Hannah Valentine, Mary's personal slave, and Lethe Jackson remained in Abingdon, while Hannah's husband Michael accompanied the Campbells to Richmond. The Campbells returned to Abingdon after David's three-year term as Governor. With them came a new slave that David purchased while in Richmond. Mary Burwell was a literate slave who, along with Virginia Campbell, was allowed and encouraged to teach the Campbell's other slaves to read and write.
Duke University Special Collections Library acquired David Campbell's papers in the 1960s, and in those papers are found letters from the Campbell's slave to and from each other, likely transcribed by a literate individual. These invaluable letters reveal the intimate relationships and daily lives of and between the Campbell's enslaved members. The Campbells and their slaves at Mont Calm lived a surprisingly incorporated existence, functioning more like a family than society would expect, such as attending funerals and church services together. Because the Campbells remained childless, they would often dote upon the young Black children and genuinely seemed to enjoy their presence in the household.
David Campbell's heirs did not retain Mont Calm after he and Mary's deaths. Colonel Arthur C. Cummings purchased the property shortly thereafter. Born in Abingdon in 1822, Arthur came from another prominent family of Washington County. He attended the Virginia Military Institute and graduated in 1844 to begin a career practicing law. When the Mexican-American War occurred in 1846, he was called for duty and rose to the rank of Brevet Major. After the war, he continued serving in a military capacity in the Virginia state militia and earned the rank of Colonel. When the Civil War broke out in 1861, Arthur joined the Confederacy and from 1861-1862 led the 33rdVirginia Infantry Regiment under Stonewall Jackson's Stonewall Brigade. The 33rdconsisted of men from ten counties within Western Virginia and engaged in battle at the First and Second Battles of Manassas, Kernstown, Seven Day's Battles, Cedar Mountain, Antietam, Fredericksburg, Chancellorsville, Gettysburg, Jackson's Valley Campaign, Overland Campaign, Valley Campaigns of 1864, and the Appomattox Campaign. Cummings left the 33rdafter one year and returned to Abingdon to lead the Home Guard. After the war, Cummings served several terms in the Virginia House of Delegates, and passed away in 1905 at the age of 82.

The next family to own Mont Calm made significant contributions to Southwest Virginia: the Mingeas. Wilton E. Mingea acted as an agent for the Norfolk & Western Railroad during the late-1890s and early-1900s. Seeing a business opportunity in front of him, Wilton purchased a sixteen-mile tract of right-of-way between Damascus and Abingdon in 1898 and began constructing a railroad. The Virginia-Carolina Railroad, becoming more commonly known as the Virginia Creeper, was completed in 1907. The aim of this new railroad was to make the virgin timber in and around Grayson County more accessible, so Wilton partnered with the Hassinger Timber Company to expand the railroad into the Konnarock community and into Elkland, North Carolina. By 1918, the Virginia Creeper ran for 75 miles between Abingdon and Elkland, and transported passengers, timber, iron ore, and other supplies; Norfolk & Western bought out Wilton the following year. The Virginia Creeper ran for most of the 20th-Century, stopping operations on March 31, 1977.
Wilton Mingea's wife, Frances, purchased Mont Calm from the Arthur C. Cummings heirs around 1904. Together, the couple made several notable alterations to the house, particularly the addition of the Colonial Revival front porch and the two-story side addition. The interior of the house was also updated and modernized. Mont Calm continues to be owned by the Mingea family today and remains a private property.
Mont Calm was designated a Virginia Landmark on January 15, 1974 and added to the National Register of Historic Places on July 18, 1974.
Sources
National Register of Historic Places Inventory - Nomination Form. Virginia Department of Historic Resources. July 18, 1974. March 22, 2019. https://www.dhr.virginia.gov/VLR_to_transfer/PDFNoms/140-0018_Mont_Calm_1974_Final_Nomination.pdf.

140-0018 Mont Calm. Virginia Department of Historic Resources. April 4, 2018. March 22, 2019. https://www.dhr.virginia.gov/historic-registers/140-0018/.

Virginia Foundation for the Humanities. Montcalm. African American Historic Sites Database. March 22, 2019. http://www.aahistoricsitesva.org/items/show/275.

Virginia-Carolina Railroad. Belk Library Special Collections. March 22, 2019. http://www.collections.library.appstate.edu/vancrailroad.

Virginia Creeper Trail Club. About the Trail. Virginia Creeper Trail. March 22, 2019. https://www.vacreepertrail.org/the-trail-experience/about-the-trail/.

Boyd, Lydia, Ginny Daley, and Paul Mangiafico. Hannah Valentine and Lethe Jackson Slave Letters, 1837-1838. Special Collections Library at Duke University. December, 1996. March 25, 2019. https://library.duke.edu/rubenstein/scriptorium/campbell/.

Schneider, Gregory. The forced absence of slavery: Rare letters to a Virginia governor give voice to the faceless and forgotten. The Washington Post. September 13, 2017. March 25, 2019. https://www.washingtonpost.com/news/retropolis/wp/2017/09/13/the-forced-absence-of-slavery-rare-letters-to-a-virginia-governor-give-voice-to-the-faceless-and-forgotten/?utm_term=.adb3eafe0c86.

Thomason and Associates. Architectural Survey Report: Abingdon, Virginia. Virginia Department of Historic Resources. December, 1998. March 25, 2019. https://www.dhr.virginia.gov/pdf_files/SpecialCollections/WG-060_AH_Survey_Abingdon_1998_THOM_report.pdf.

Governor David Campbell. National Governors Association. 2015. March 25, 2019. https://classic.nga.org/cms/home/governors/past-governors-bios/page_virginia/col2-content/main-content-list/title_campbell_david.default.html.