Bledsoe Building
Introduction
Built during West Asheville's economic boom of the 1920s, the Bledsoe Building remains a catalyst for economic development on Haywood Road. Though the area faced economic decline as new routes of transportation directed traffic to other areas of the city, the renovation of the Bledsoe Building has helped to revitalize the community. The building was constructed in 1927 by the JT Blesdoe & Company.
Images
Photo of the Bledsoe Building courtesy of Matthews Architecture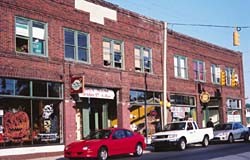 Backstory and Context
The Bledsoe Building is the largest commercial building on Haywood Road in West Asheville. Built in 1927, the Bledsoe Building was built at the height of the areas commercial growth in the 1920s. Haywood Road was lined with a variety of businesses and the Blesdoe building was designed to house these new businesses. The structure was built by James T. Bledsoe. Bledsoe was the owner of JT Blesdoe & Company which was a local real estate and insurance firm. In a commercial style, the building is two stories high and the edifice is brick. The original tin ceiling remains intact in several places in the building. Other buildings in the area were built during this period of growth: the fire station (1922), West Asheville Bank & Trust Company (1927), and Palace Theater (1928) among others. James T. Bledsoe also built a number of single-family homes across the street from the Blesdoe building; some of these remain standing.
After the trolley service from East to West Asheville was stopped in 1934, business growth was drastically slowed on Haywood Road. The introduction of the Crosstown Expressway (I-240) in 1960 further diverted the flow of traffic into other parts of the city. The area saw a rapid decline as businesses began to close or relocate. The building traded hands several times from its construction to today, but it was bought by the current owners, West Asheville Development, LLC in 2001. In recent years, the building has been renovated and has become home to a number of new businesses. The building hosts a variety of companies like a grocery store, retail shop, restaurant, and some professional services. Development of the building has been a catalyst for economic development in the community.
Sources
Bledsoe Building. National Register of Historic Places Travel Itinerary: Asheville, NC. Accessed March 19, 2019. https://www.nps.gov/nr/travel/asheville/ble.htm.

Bowers, Sybil Argintar. Bledsoe Building. National Register of Historic Places Registration Form. November 08, 2002. Accessed March 19, 2019. https://files.nc.gov/ncdcr/nr/BN1415.pdf.


Additional Information