The McConaghy House
Introduction
In 1888, Scots-Irish immigrant Neal McConaghy built this Eastlake-style Victorian home on part of his nearly 200 acres, upon which he also farmed and operated a successful gristmill in modern-day San Lorenzo. McConaghy's youngest son John lived to the age of 100 in the house; upon his death, plans to demolish the historic home for a retail development were halted by concerned area citizens in 1972. At their behest, the property was purchased by the Hayward Area Recreation Department the following year, and in 1976 it reopened as a museum curated and managed by the Hayward Area Historical Society. The home, grounds, and carriage house are open to the public for tours and field trips.
Images
A recent photograph of the McConaghy House--an East Bay examplar of the Stick-Eastlake architectural style (HAHS).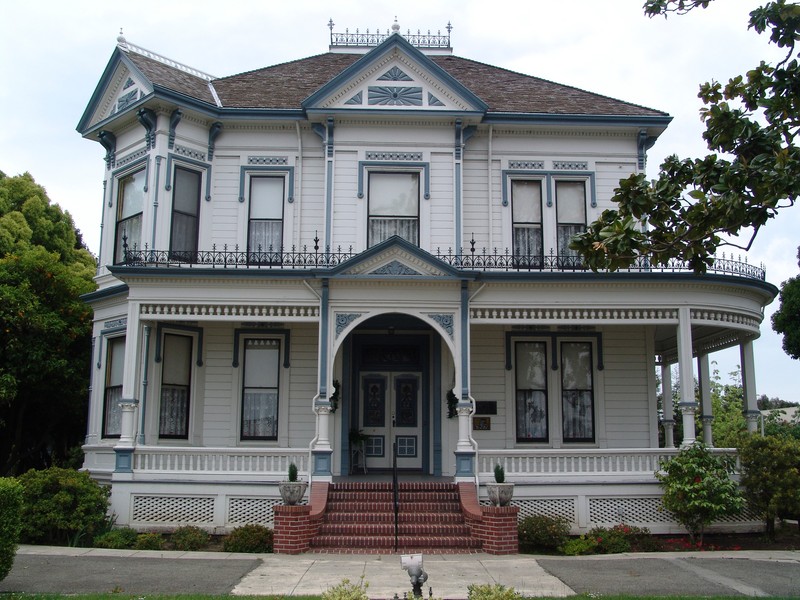 Sarah and Neal McConaghy (top) with their children on the steps of the house. Like many others, though Neal intended to make his California fortune in gold, his living was eventually secured through agriculture (HAHS).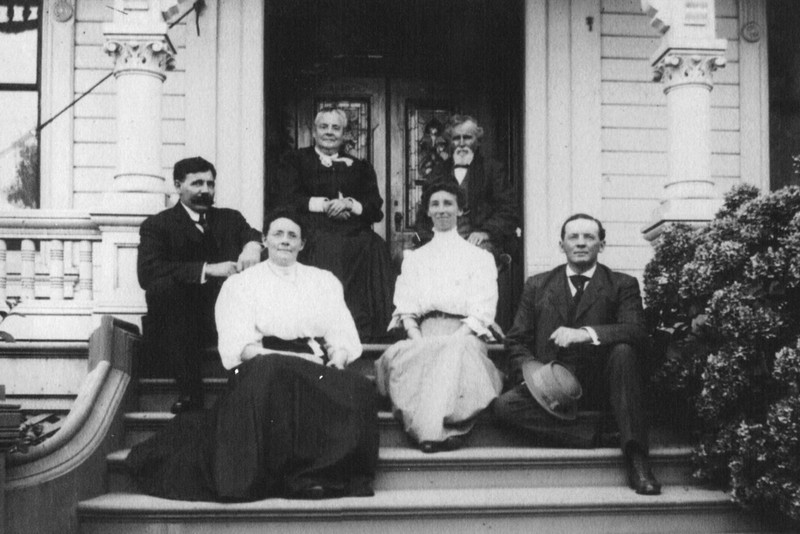 A plaque on the estate grounds.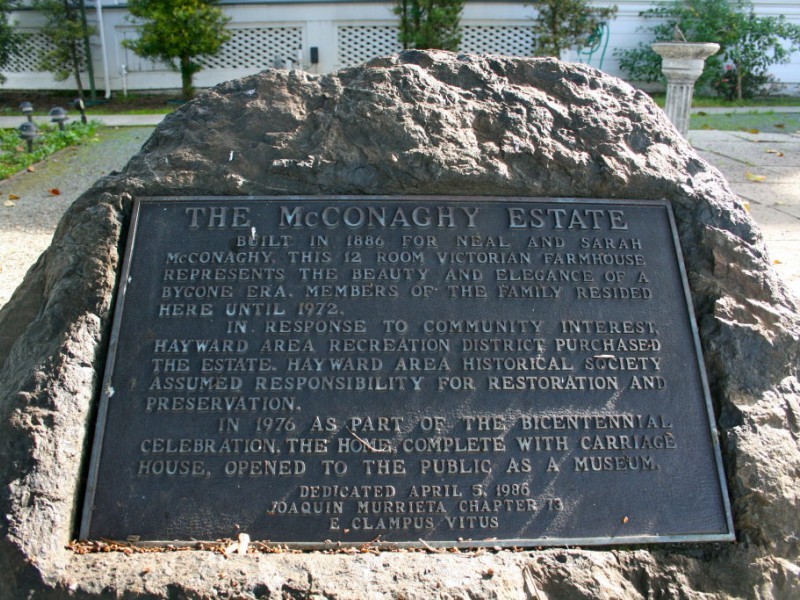 A graphical explanation of the Queen Anne architectural style of the Victorian Age. The McConaghy House is a hybrid of Queen Anne, Stick, and Eastlake styles (Coldwell-Banker).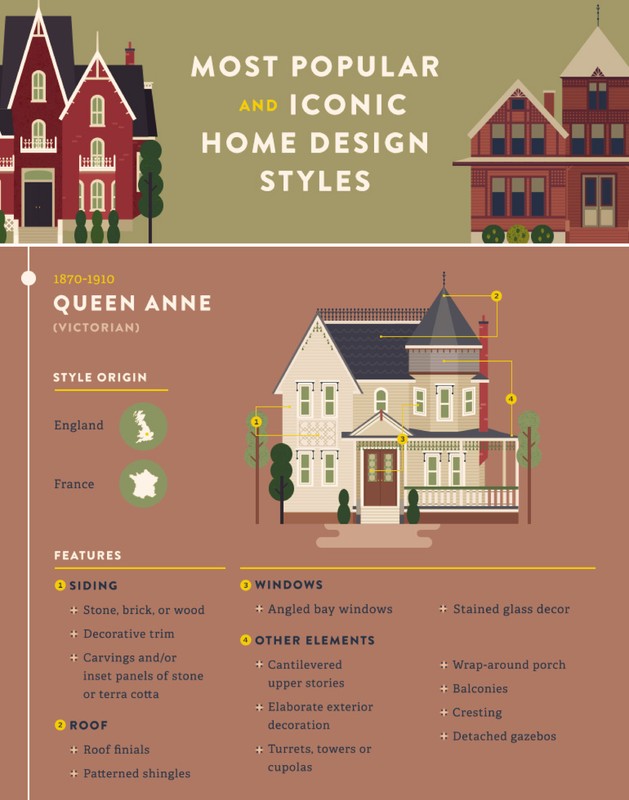 A graphical explanation of Stick-Eastlake (Coldwell-Banker).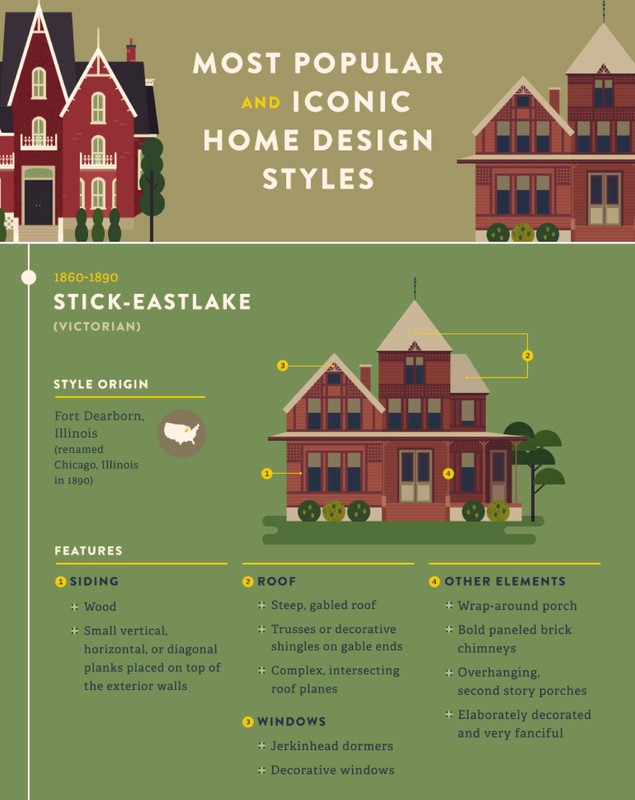 Backstory and Context
Born in 1828 in Antrim County, Ireland, to Scottish parents, Neal McConaghy and his family moved back to Scotland when he was eight years old. There he remained until 1848, when Neal and two of his brothers sailed to the United States to find new fortunes. Neal worked in Philadelphia for a grocer and a shipping company until 1853, when he sailed to San Francisco by way of the Isthmus of Panama and arrived in San Lorenzo in the late stages of the Gold Rush.
Unsuccessful for four years in the gold mines on the Salmon River, McConaghy returned to San Lorenzo, eking out a living as a ranch hand. As the Civil War broke out in 1861, he had at last saved enough money to build a gristmill at the foot of Grant Avenue in San Lorenzo. The business quickly began to prosper, and 1863 brought more good news: McConaghy married Sarah McCaw--a fellow Irish immigrant from Antrim County, who also arrived in the Bay Area via Philadelphia and the Isthmus of Panama. Together they would have five children, though the first son, Archibald, was killed in a farming accident at age 27, and the third, John, died at age 3. Their gristmill business grew as Neal acquired more land (topping out at 197 acres) to grow his own grain, and also sold tomatoes, cucumbers, and other fruits and vegetables at markets in San Francisco--transported across the Bay by steamboat.
In 1888, Neal and Sarah began construction on the large Queen Anne Victorian house that the family would call home for 84 years. The house had 14 rooms, and was built in the Eastlake style, then at the height of its popularity in America in the 1880s after the initial publication of English architect Charles L. Eastlake's influential book, Hints on Household Taste in Furniture, Upholstery, and Other Details in 1868. Eastlake Victorians often feature large amounts of intricate woodwork: oversized columns and balustrades, curved brackets and scrolls at every corner, and lattices and perforated gables or pediments to offset the heavier elements and achieve a more three-dimensional visual impression.
Of Neal and Sarah's three surviving children, two lived permanently in the home with the couple until their passing in 1914 and 1912, respectively. Mary McConaghy (the eldest after Archibald's death) never married, and assisted in the administration of the farm and other family properties until her death in 1939. Though the youngest, John (named after the third child who passed away), married his wife Florence in 1903 and intended to make a home of their own, by then his parents needed daily assistance. After their deaths, Mary, John and Florence shared the home together, while middle brother Neal Alexander lived with his wife two miles away.
When John McConaghy died without heirs at the age of 100 in 1972, he willed the house and the small remaining amount of property to the Shriners Hospital of San Francisco. Of the original 197 acres belonging to McConaghy's farm and mill/, roughly 2.47 acres remained. The majority had been sold during the post-World War II housing boom in the San Francisco Bay. Shriners soon announced its intention to sell the property for retail development. The house, now nearly a century old, would be demolished.
Local citizens rallied to save the local landmark, finally enlisting the help of the Hayward Area Recreation Department (HARD) to block the transaction and purchase the land for public use on July 30, 1973. HARD also purchased the property of a neighbor and close friend of the McConaghys, which was later turned into a city park. The Hayward Area Historical Society (HAHS) was given the responsibility of refurbishing and maintaining the estate's buildings and keeping the McConaghy House available for public benefit. HAHS opened the new house museum, which retains much of the McConaghy families original furnishings and personal effects, in 1976, after significant restoration and interpretive work.
HAHS closed the house for much of 2015 for further restoration--the first major work performed in over 40 years. Today, the McConaghy House remains open year-round for tours and field trips. In addition to a carriage house complete with Victorian Age carriages, the house also features countless glimpses into the daily life of the late 19th Century.
Sources
McConaghy House and Family History. Hayward Area Historical Society. . Accessed March 19, 2019. http://www.haywardareahistory.org/mcconaghy-house-and-family-history.

Conway, Lani. A peek into history at the McConaghy House. Patch. February 08, 2011. Accessed March 19, 2019. https://patch.com/california/castrovalley/a-peek-into-history-at-the-mcconaghy-house.

McConaghy House: Teacher Packet Grades 3 & 4. Hayward Area Historical Society. . Accessed March 19, 2019. https://static1.squarespace.com/static/55d50499e4b0b8db603593d1/t/56521112e4b0991ab314f3ec/1448218898770/McConaghy+Teacher+Packet.pdf.

Hayward: Historic McConaghy House to reopen this weekend. East Bay Times. November 05, 2015. Accessed March 19, 2019. https://www.eastbaytimes.com/2015/11/05/hayward-historic-mcconaghy-house-to-reopen-this-weekend/.

Eastlake Style. Noe Hill. . Accessed March 19, 2019. https://noehill.com/architects/style_eastlake.aspx.


Additional Information