Tom Mix Museum
Introduction
The Tom Mix Museum is a museum in Dewey, Oklahoma devoted to Tom Mix, a former sheriff of the town who went on to have a long career as an actor in early Western films. Known as "King of the Cowboys," Mix served as an inspiration for later actors of the twentieth century such as Ronald Reagan and John Wayne. The museum was started in 1965 by local businessmen who wanted to increase tourism, and was later acquired by the Oklahoma Historical Society, the current operators of the museum. The museum displays a collection of Mix's personal artifacts acquired from one of Mix's former neighbors.
Images
Actor Tom Mix, photographed in 1925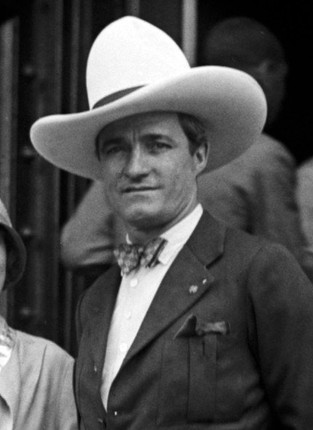 Backstory and Context
Tom Mix was born on January 6, 1880 in Mix Run Pennsylvania and grew up in DuBois Pennsylvania, where his father worked as a stable master. In 1898, Mix enlisted in the Army during the Spanish-American War, but was never deployed and went AWOL in 1902.

Subsequently, Mix moved to Oklahoma and worked a number of different jobs. During this period, he worked for Miller Brothers 101 Ranch, appearing in its touring Wild West show and winning national roping and riding contests in 1909 and 1910. He briefly served as sheriff of Dewey County in 1911.

Mix began to appear in films in 1910, making his debut in the short film The Cowboy Millionaire produced by the Selig Polyscope Company operating of out of a studio in the Edendale district of Los Angeles (now the neighborhood of Silver Lake). He would go on to perform in hundreds of films for Selig. When Selig began to encounter financial difficulties, Mix signed with Fox Film Corporation, who had taken over the Edendale lot. Working for Fox in the 1920s, Mix made over 160 cowboy films and became the biggest Western star of the period. At Edendale, Mix built a 12-acre shooting set known as Mixville, modeled after a frontier town.

Mix continued to appear in films into the 1930s, making the transition from silent film to "talkies." His final film was The Miracle Rider (1935). On October 12, 1940, Mix died in a car accident in Arizona at the age of 60. Mix served as an inspiration for later actors such as Ronald Reagan and John Wayne, helping the latter to begin his career in film by finding him a job moving props at Fox. Mix also inspired a radio series, Tom Mix Ralston Straight Shooters, popular from the 1930s until the early 1950s and a series of comic books in the 1940s and 50s.

Mix was married five times, most notably to his fourth wife, the silent film actress Victoria Forde, whom he met while performing for Selig. The pair were married in 1918, and Forde subsequently gave up her career in film to take care of the couple's daughter, Thomasina. Mix and Forde were divorced in 1931.





Sources
Birchard, Robert S. King Cowboy: Tom Mix and the Movies. (Burbank, CA: Riverwood Press, 1993).

Katchmer, George A. A Biographical Dictionary of Silent Film Western Actors and Actresses. (Jefferson, NC: Mcfarland, 2002), 261-2.

Image 1: https://commons.wikimedia.org/wiki/File:Tommixportrait.jpg


Additional Information