Davenport Bank and Trust Building
Introduction
At 255 feet tall, the former Davenport Bank and Trust building is the tallest structure in Davenport. It was built in 1927 by the American Commercial and Savings Bank, which was established in 1869 and originally called German Savings Bank. Its architecture combines Beaux Arts and Neo-Classical styles and the building is topped by a three-story clocktower, which features four six-foot tall statues of eagles. The main lobby is two-stories tall and features murals, wrought-iron teller cages, ornate Black walnut woodwork, and a marble floor. A modern parking structure was built next to the building in 1971. Today, the old building is a luxury residence known as the Davenport Bank Apartments. It also houses office and retail space. It was added to the National Register of Historic Places in 1983.
Images
The former Davenport Bank and Trust Building was built in 1927. It is now an apartment building.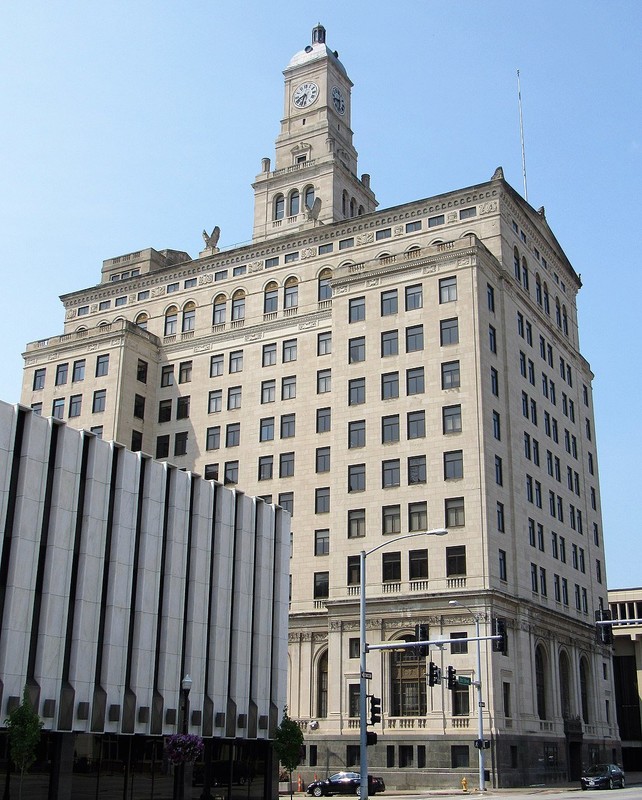 The parking structure was built in 1971 and was added to the bank building's National Register listing (as a boundary increase) in 2016.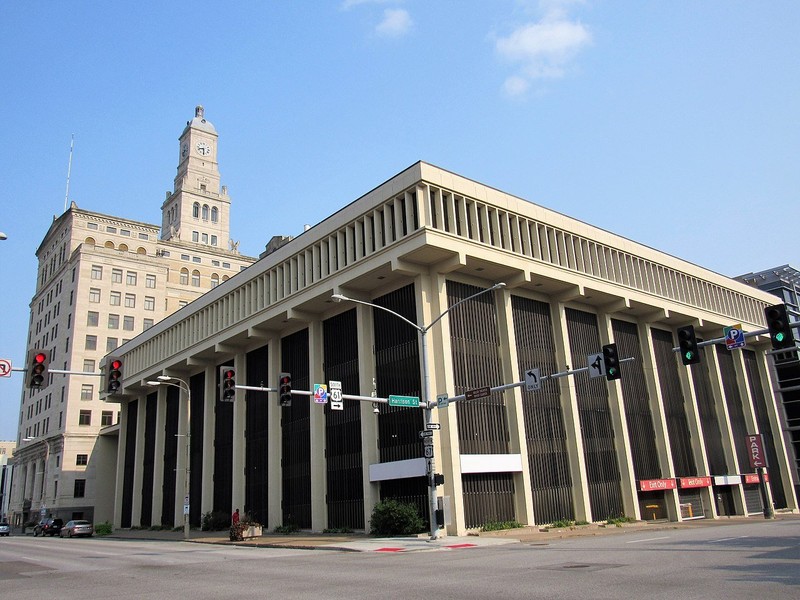 Backstory and Context
German Savings bank was established in 1869 by Henry Lischer and H.H. Anderson. It was successful and became an integral contributor to Davenport's economic growth in the coming decades. It acquired Citizen's National Bank in 1906 and ten years later, German Savings Bank was the largest in the state. It was forced to change its name to American Commercial and Savings Bank during World War II as anti-German sentiment was very high. The bank continued to prosper and grew in size after acquiring more banks.

A major change to the bank occurred in 1931, when the country and the world were in the midst of the Great Depression, which began on October 29, 1929 with the collapse of the U.S. stock market. Almost exactly two years later on September 29, 1931, the stock market crashed again. People panicked and pulled their funds from the bank. To save the bank, the bank chose a new leader by the name of V.O. Figge, and renamed it Davenport Bank and Trust Co. Figge who would eventually become CEO and remain with the bank for 60 years. During his tenure, the bank grew to become the biggest and most profitable bank in the state.

The bank was sold to Norwest Bank in 1993. Five years later, the two banks merged to form Wells Fargo Bank. A few floors were converted into apartments in 2013. The building's time as the location of a bank came to a close in 2016 when Wells Fargo moved to a new location. It was at this point became the Davenport Bank Apartments building.
Sources
"American Commercial and Savings Bank." Davenport Community Development Department - Iowa Division of Historic Preservation. July 7, 1983. https://npgallery.nps.gov/GetAsset/9494d2c0-e896-4e2a-8f10-327efed1709f.

Gaul, Alma. "Bank building has storied past." Quad-City Times. January 26, 2014. https://qctimes.com/lifestyles/home-and-garden/bank-building-has-storied-past/article_d0987579-578f-53ec-b4b1-87bcce4f4409.html.

Photo: Wikimedia Commons
https://en.wikipedia.org/wiki/Davenport_Bank_and_Trust

Additional Information