St. Mary's Catholic Church and Steeple Square
Introduction
This building served as the place of worship for members of St. Mary's Catholic Church from 1867 to 2010. The building reflect's Dubuque's Catholic heritage and is one of the city's largest and most recognizable landmarks. Designed by John Mullany, the structure was built in 1867 and serves as a fine example of Gothic Revival architecture. The building's most prominent feature is its tall steeple which rises to a height of 252 feet. The church and the other buildings next to it are contributing properties to the St. Mary's Catholic Church Historic District, which is listed on the National Register of Historic Places. All of the buildings are now part of a multi-purpose, community-oriented site called Steeple Square. It features affordable apartments, a women's shelter, and a child care center. The first floor of the church building features space events, art exhibits, and cultural programs, and the basement is used for education and certificate programs.
Images
Built in 1867, the old St. Mary's Catholic Church is now the centerpiece of Steeple Square.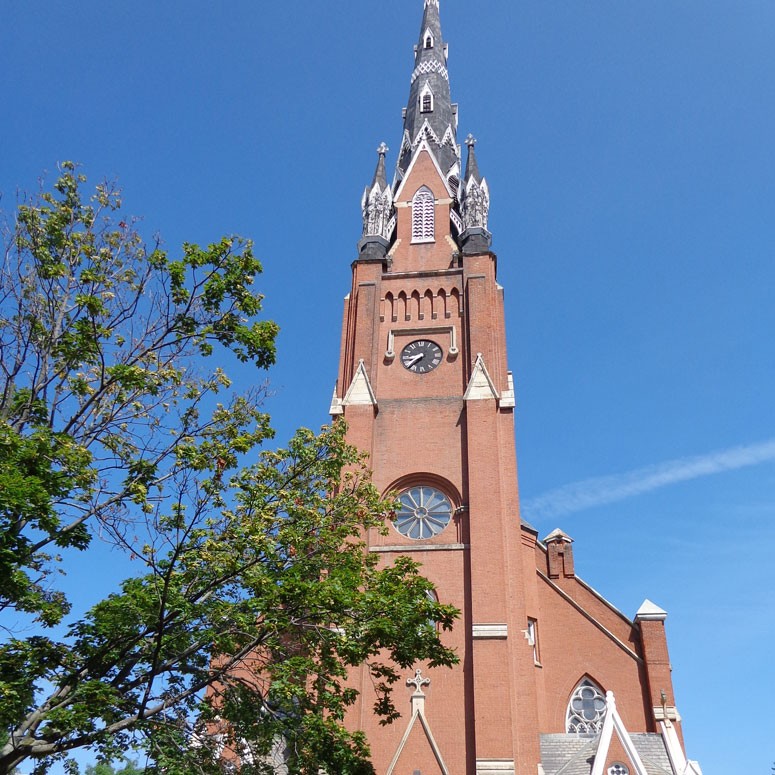 The interior of the former church is used for various events and art exhibits.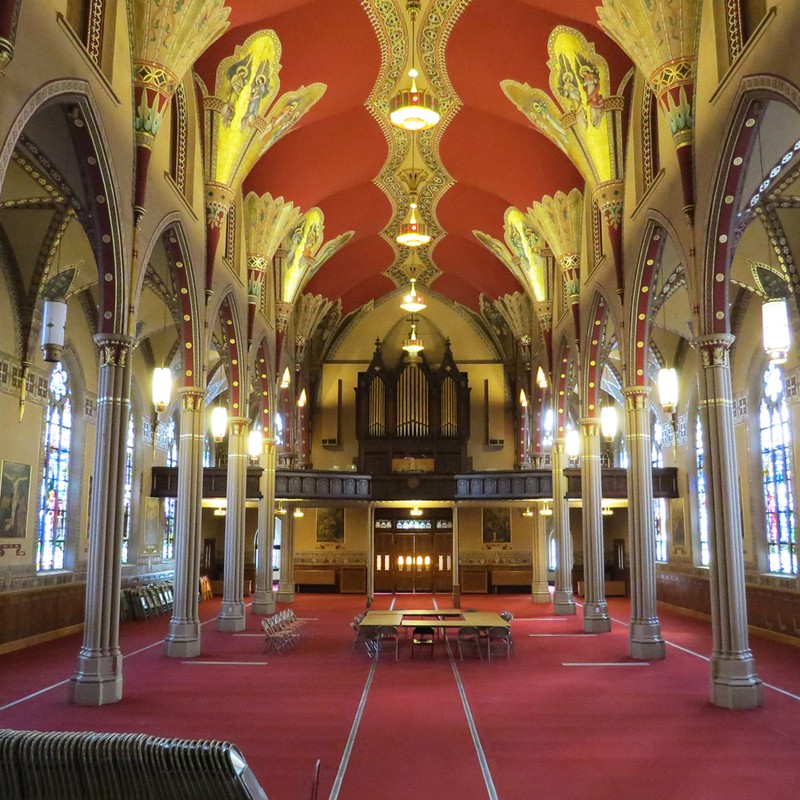 Backstory and Context
In the 1840s, German immigrants began to arrive in Dubuque. They worshipped in the first Catholic church built in the city, St. Raphael's Church. By the late 1840s, the church was no longer able to adequately support the growing German Catholic community. The local bishop granted them permission to form a new church, Holy Trinity, in 1850.

A decade later, however, Holy Trinity then became overcrowded as more German immigrants arrived in Dubuque. Congregants formed an organization to build a new church in 1863. They bought a piece of land from a local estate in 1864 and construction began that year. After three years, the church was dedicated on February 10, 1867.

By the late 2000s, the St. Mary's was experiencing financial difficulties and church membership had been in decline. This prompted church officials in 2009 to recommended selling the building. The final mass was held on May 10, 2010. For several years afterward, the church sat vacant. In 2014, local residents and members of the business community established the Friends of St. Mary's organization with the purpose of developing ideas for the former church site. In 2016, they finished this work and announced the creation of Steeple Square.
Sources
"About Us." Steeple Square. Accessed March 17, 2019. https://www.steeplesquare.com/about.

"St. Mary's Catholic Church." Encyclopedia Dubuque. Accessed March 17, 2019. http://www.encyclopediadubuque.org/index.php?title=ST._MARY%27S_CATHOLIC_CHURCH.

Photos: Steeple Square
Additional Information