Altus High School:
Introduction
In the south west corner of the great state of Oklahoma, in Jackson county, located at the intersection of U.S. Highway 62 and 283, is the City of Altus. A city with a rich history to share, involving its school facilities beginnings. Starting from its origins in 1891, creating four different school buildings for the generations of students all the way until its current location on the eastern edge of town, Altus has provided multiple students numerous was to be better educated. The city of Altus, a city with a future to share.
Images
The first school for Altus which was also a church, housed around 40 students at a time. This particular building would later be desimated by a flood storm. With the community coming together this would not be the end of their school facilities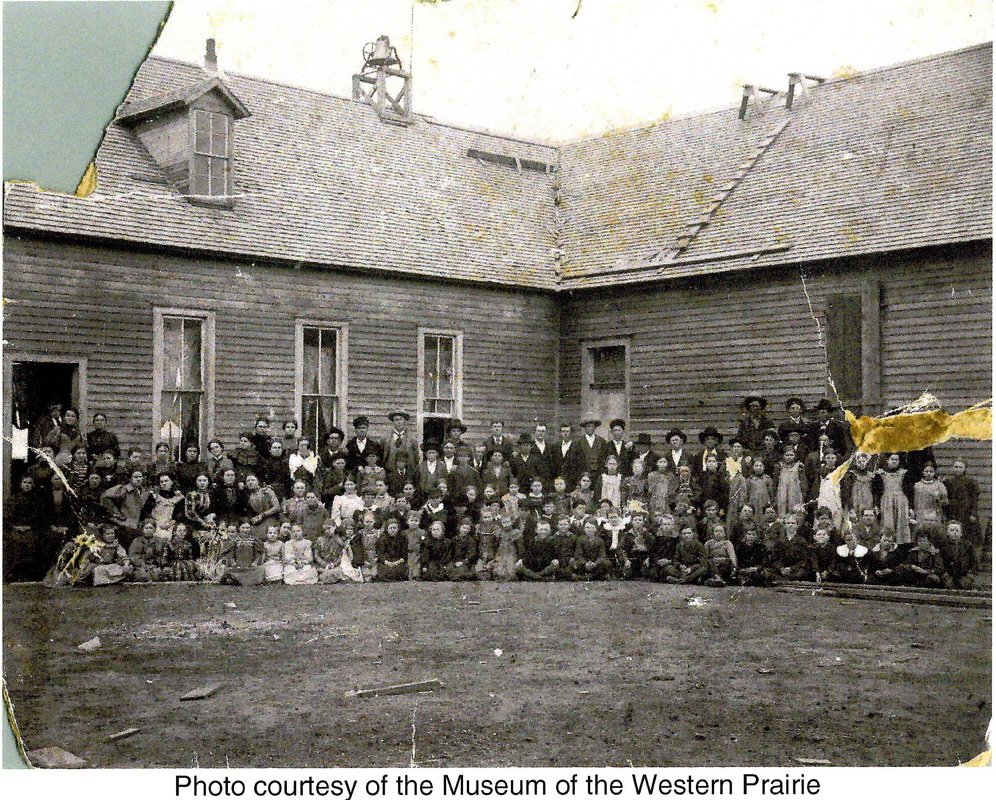 The fourth and final facility for Altus public schools (1930)

Present day of the front side of the school. This is where many students gather before class starts at 8:00 a.m.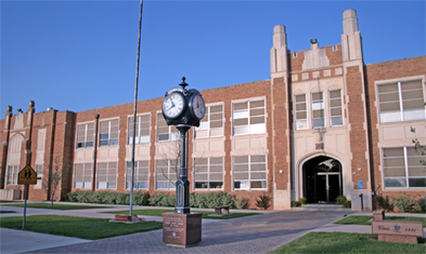 Centinial Clock over looking the front of Altus high school. This beautiful piece was donated by the First State Bank of Altus in December of 2007.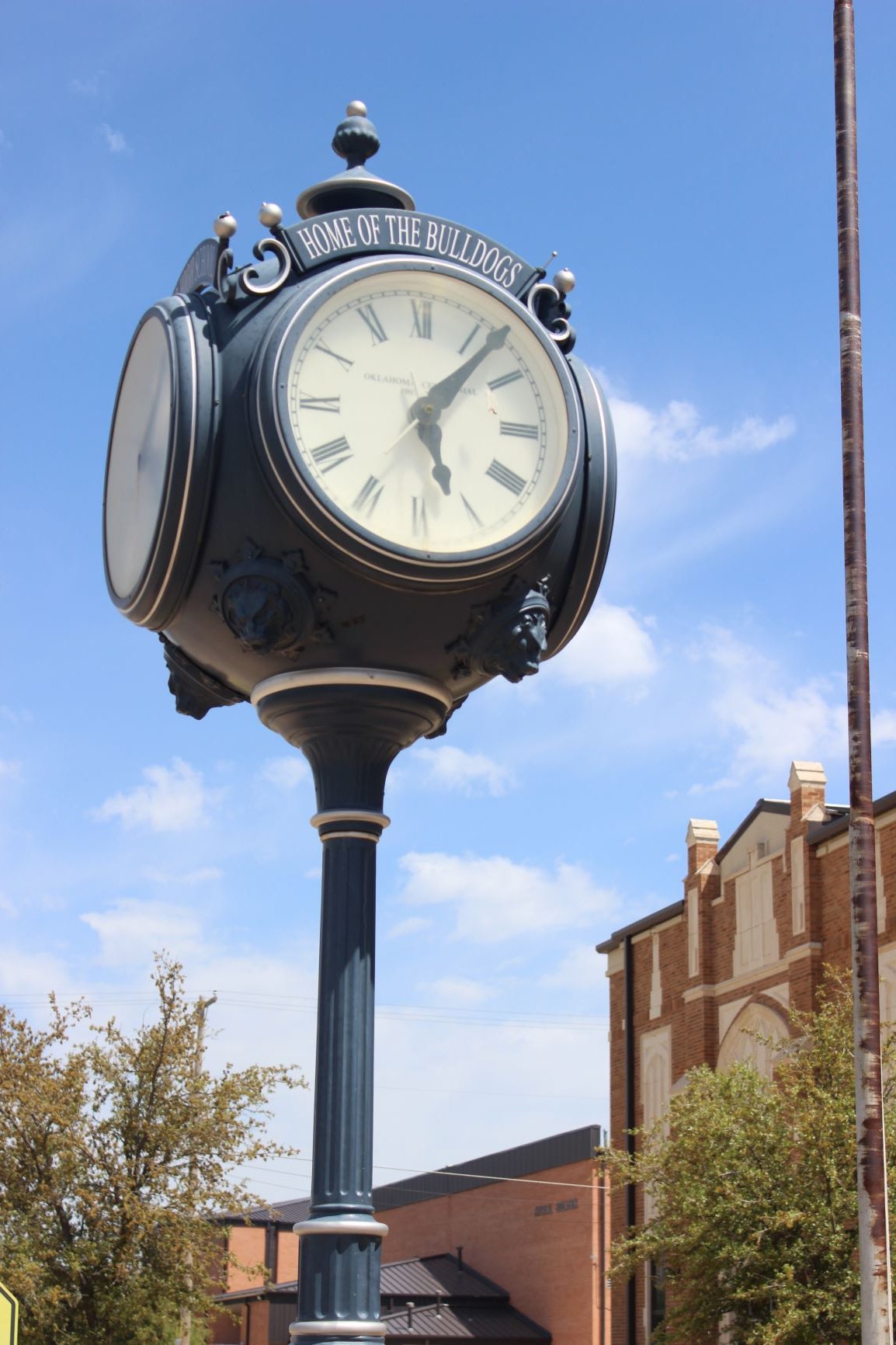 Hightower Memorial Stadium, a grand football arena where families all over the community come on friday nights to cheer on their bulldogs.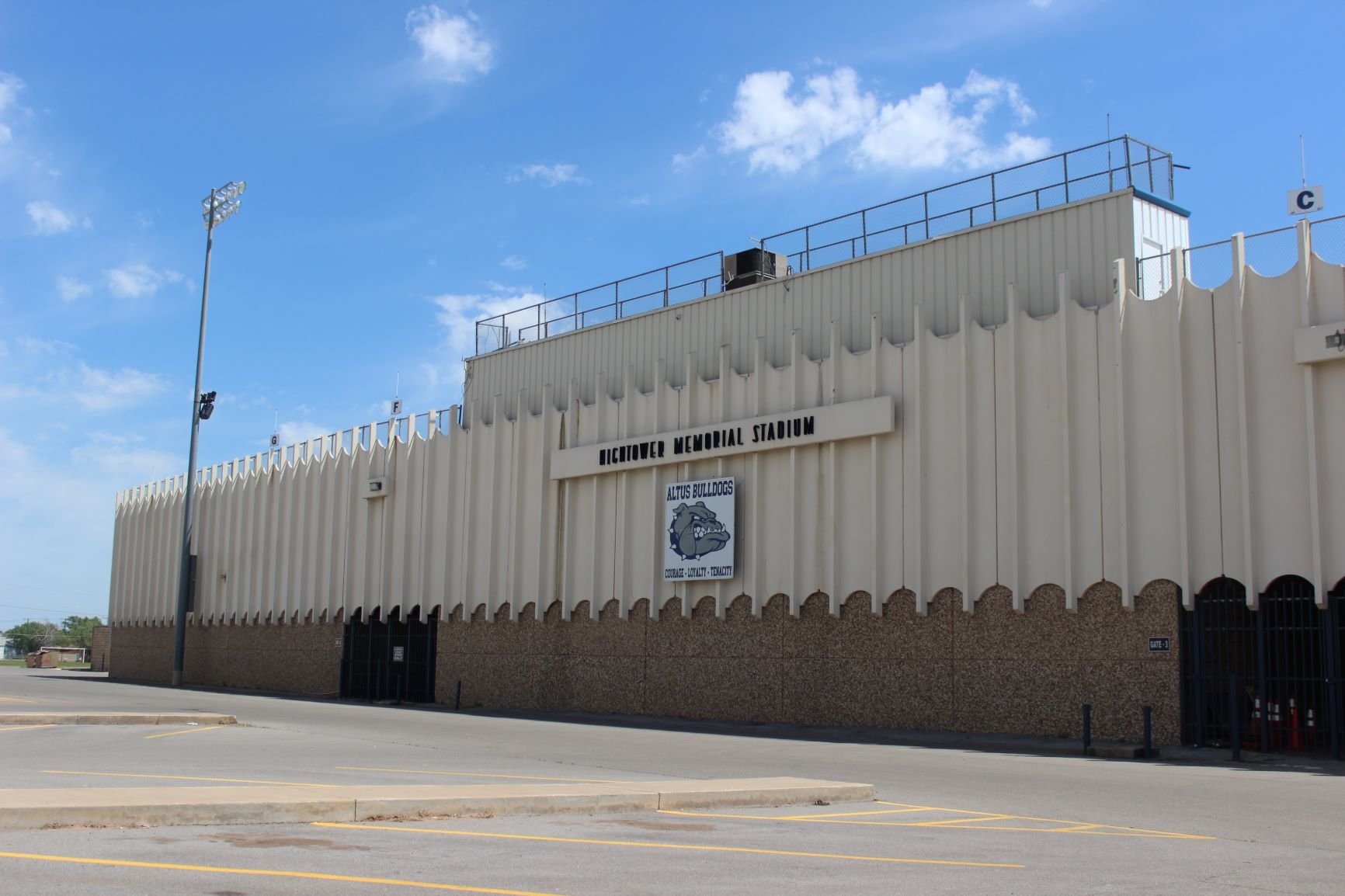 Washington Elementary School which was once the housing of altus high school students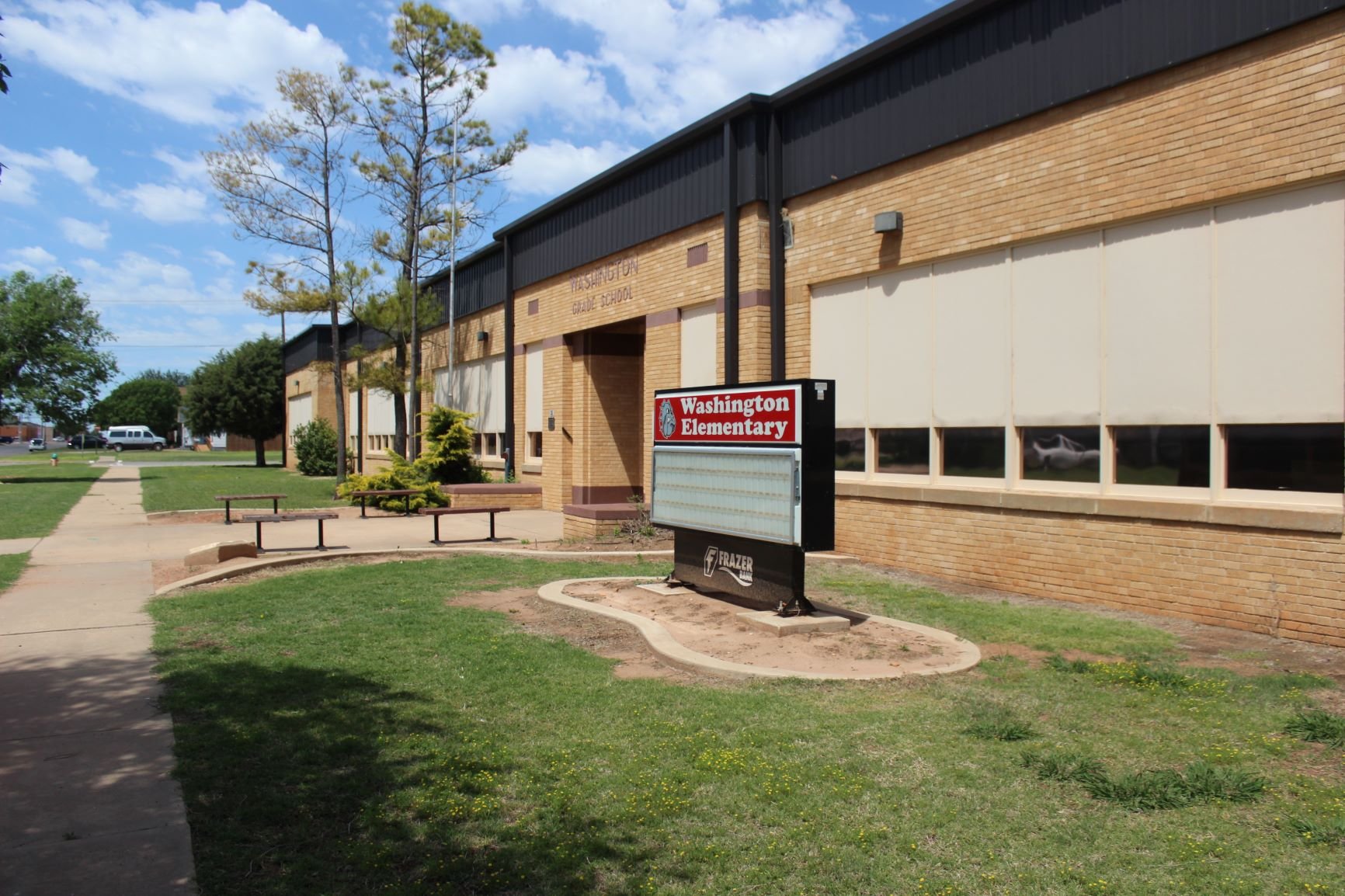 Backstory and Context
Providing numerous opportunities for students of all kinds to be expressive, be creative, and to challenge themselves. Preparing many generations with the skills they would need in real world situations. This barely scratches the surface of what Altus Public Schools has done for its community. To appreciate this particular public schools' history, lets first take a look at where it all began. In the year of 1891, where the winds come sweeping down the plain had not become mainstream just yet, Oklahoma was not yet a state. Families who were living in what is now called Altus, were apart of Old Greer County, Texas. Those settlers would be in for quite the adventure when a flood storm decimated the nearby town of Frazer. Citizens of Frazer came together to find a new and safer home. This is where the story of Altus begins.
With a bright future ahead, settlers headed east to find higher ground to avoid any possible future flooding problems. What they came across was a land of endless possibilities. The new land would be called Leger; however, it would later be changed to Altus. In the very beginning of its origin, the new public school on the 600 block of North Hudson St, housed around 40 children that attended the newly constructed building. With it's unique history, this wouldn't be the only building to house the community's newest generation of students. Unfortunately, this would be a reality that violently came too soon. With the destructive tendencies that come with being in "Tornado valley", a strong windstorm destroyed the school building. With the start of the 20th century Altus/Leger still had a bright future ahead. The new building was constructed on the plot of land between Elm and Cypress street in 1900. This is the current location of the Washington Elementary School building.
As the town increased its population count, around September in 1903, the town would pull together to generate a 9,500-dollar bond that would be utilized for building another school. It would only take one year for the new facility to be built. However, as this town's story progresses, this building would soon be overfilled with the next generation of students.
As Altus continued growing in size the demand for another school building became a priority. However, when the town held another meeting to discuss pulling together it's resources to generate another bond for building a new facility, it was dismissed. This would not stay permanent, with the thanks to a re-election and more participation from certain voters. Specifically, at this time women were given the right to vote in school related elections. From this Altus would begin a new chapter in its public-school history. Additional classrooms made from brick were added to the school's original structure.
Fast forward to 1930 and we begin to see the full picture. Altus needed another bond to construct it's fourth school facility. This project took 240,000 dollars to create the current building for high school students in the city of Altus. It was set on the eastern edge of the town, on 400 Park Avenue. This is where current students continue their education and seek windows of extracurricular opportunities. With close to 900 students enrolled today, Altus high school continues its tradition with providing their community a safe place to educate the next generation of world changers. With the average graduation rate being 83%, AHS teachers set up a path of success for its students who attend and go on to do bigger things to benefit society. Teachers continue to produce bright and well-educated students. With the average ACT scores setting the bar at a 24, many students go on to further their education at other facilities such as the University of Oklahoma in Norman. Another one of their top choices for starting off their college career is a smaller institution locally found in Altus called Western Oklahoma State College; a local junior college located on 2801 N Main St. Other popular universities choices include Southwestern Oklahoma State college in Weatherford, Oklahoma, and Oklahoma State University located in Stillwater, Oklahoma.
Sources
Altus History. The City of Altus. . Accessed March 14, 2019. https://www.altusok.gov/197/Altus-History..

The History of Altus High School. Altus High School. . Accessed March 17, 2019. http://ahs.altusps.com/history.html..

Altus High School. Public School Review. . Accessed March 23, 2019. https://www.publicschoolreview.com/altus-high-school-profile.

Altus High School. Niche. . Accessed April 26, 2019. https://www.niche.com/k12/altus-high-school-altus-ok/academics/.


Additional Information