Oklahoma Capitol Grounds: 2018 Teacher Walkout
Introduction
The Oklahoma State Capitol grounds is where Oklahoma educators assembled during the April 2018 teacher walkout, demanding increased state investment in public education. When people think of government buildings they often think of governmental work and bureaucracy, but there is another side to these locations. Government buildings, like capitols, can also be viewed as symbolic spaces for the public to use in order to address their grievances. With the example of the Oklahoma Teacher Walkout, one can see how the capitol was used as a home base to locate and demand change, making it a space that brought power to the people. While there is room for debate surrounding the successes of the walkout, there is a lot to say for the scale of the protest. Educators took over the capitol grounds for 9 days to demand that their public officials listen and support increased investment in public education. Capitols can be powerful spaces for political and social change to occur, highlighting their significance as more than just a building.
Images
"The rally on the south side of the state Capitol during a walkout by Oklahoma teachers, in Oklahoma City, Monday, April 2, 2018." Photo by Nate Billings, The Oklahoman.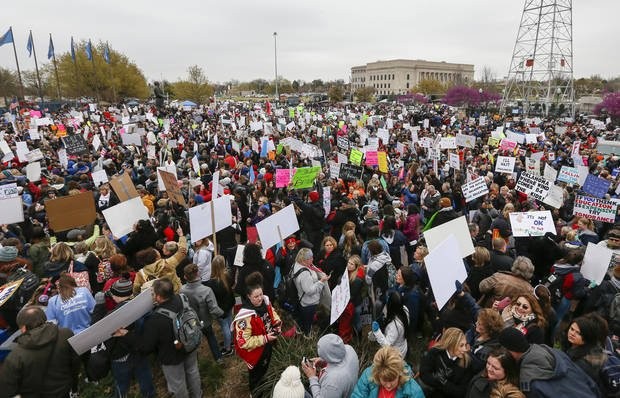 "Teachers from throughout the state converged at the Capitol to bring their concerns about education funding to the attention of legislators and state officials... on Monday, April 2, 2018." Photo by Jim Beckel, The Oklahoman.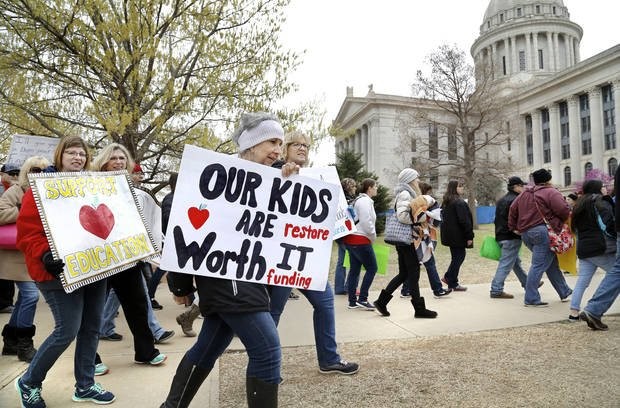 "View of the crowd during a rally and walkout by Oklahoma teachers at the state Capitol in Oklahoma City, Monday, April 2, 2018." Photo by Nate Billings, The Oklahoman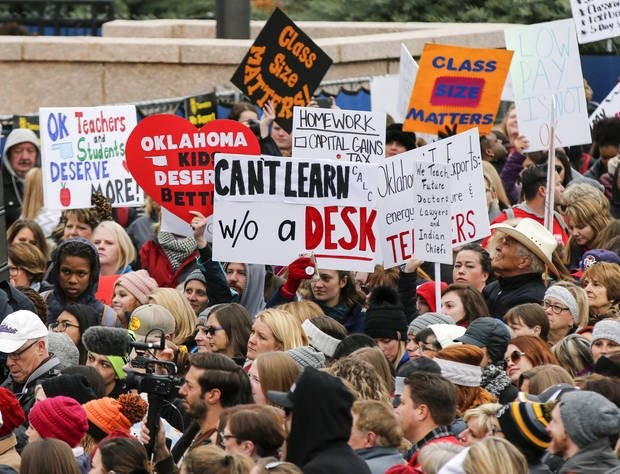 Backstory and Context
In 1914, construction began in Oklahoma City to officially move the capital from Guthrie to Oklahoma City, where it has remained ever since.1 This location is significant because it functions as a hub for government activity, such as the debate and passage of laws; but, perhaps more important is that citizens can come here to address any grievances they have with their government. Within the US democratic system, the people have a right to protest and petition their government when they believe it is acting outside of the public's interest. Thus, the Oklahoma State Capitol stands as both a symbol and a location where citizens can ascend to make demands for change.

One of the most significant demonstrations to take place on these capitol grounds would be the Oklahoma Teacher Walkout in April 2018. Starting on April 2nd, and for 9 days, 30,000 teachers from around the State of Oklahoma took to the State Capitol to advocate for better, restored levels of educational funding that had continuously been cut from the state's budget in previous years.2 These educators specifically focused on ending capital gains tax exemptions for the oil and gas industry as a means to bridge the funding gap. The week before the teacher walkout, there was a bill passed by the Oklahoma legislature that provided "an average pay raise of $6,000 for educators and $50 million dollars more in education funding. A $1,250 increase for support staff, and a raise for state employees was also a part of the bill." While the Oklahoma Education Association thought this was a good first step, they decided to continue with the walkout, demanding "a $10,000 pay increase over three years for every teacher, a $5,000 increase for support staff and a pay raise for state employees, as well as $200 million dollars in additional funding for schools."3 These demands were made in hopes to combat issues occurring within the Oklahoma education system, one that has been ranked among the worst in the nation for several years not only in funding and teacher pay but also the general quality of education.
Some legislators were publically unwilling to vote on anything during the walkout. Kevin McDougle, a Republican House member, made statements on his Facebook page during the walkout that he would "not [vote] for another stinking measure when they're [teachers] acting the way they're acting," saying he was angry that teachers were "going to come [to the capital] and act like this after [they] got a raise."4 This sentiment that Oklahoma educators were ungrateful for their raises was reflected in similar statements by Mary Fallin, the governor at the time of the walkout. She compared the teachers' demands for increased funding to teenagers wanting a nicer car. Ultimately, no significant legislation was passed during the walkout to add funding to what had been secured before the walkout.5 So, when the teacher walkout ended on April 12th with a consensus among OEA members "that our formal efforts to lobby elected leaders have achieved all that we will be able to accomplish this legislative session."6 The decision OEA made, to end the walkout, angered many teachers who felt the walkout had failed to achieve its goals. This created a situation in which educators returned to their classrooms with raises, but still had significant concerns regarding the overall funding of public education. Many felt this concern was justified because, during the walkout, the legislature voted to repeal one section of a bill aiming to increase funding, a tax on hotels and motels, eliminating an estimated $50 million from a previous bill that would have provided $6,000 raises and $50 million in additional funding. While there were mixed opinions on the decision to end the walkout, there was agreement that educators would need to shift their focus to the November 2018 elections to achieve the desired change. Focusing energy on elections also contributes to the significance of the capitol because educators were hoping to change the culture within the building toward one they believed would be more supportive of public education.
The outcome of the elections brought more educators and people in support of public education into office, but there will continue to be debate over the success of the walkout.7 This debate is still relevant as there have been attempts made by current Oklahoma legislators to prevent future walkouts. One notable example includes a proposed bill by Rep. Todd Russ that would make it "illegal for the board of education or school district employees... to strike or threaten to strike or otherwise close schools or interfere with school operations as a means of resolving differences with... the Legislature;" this bill would also make it so that "any person engaging in a strike, shutdown or related activities shall be denied the full amount of his or her wages... and if the person holds a certificate issued by the State Board of Education, such certificate shall be permanently revoked." Another bill proposed by Sen. Mark Allen would require a payment of a $50,000 bond for anyone planning a protest at the state Capitol by 100 or more people."8 With these actions, it is clear that there are still efforts to prevent educators, and other citizens, from participating in their government. Though there are challenges being made against protesting on capital grounds, the act of staging a statewide walkout, where thousands of teachers left their schools and classrooms to demand better learning environments and resources for their students is significant. And the scale of this event makes it a perfect example of how citizens can use the physical space of a capital to address their grievances and demand change.
Furthermore, this type of demonstration has become a trend in the last couple of years as other states like Arizona and West Virginia, and cities like Los Angeles have also experienced teachers leaving the classroom to enter government grounds and demand change.9 With a mass movement of educators demanding political and financial support for public education, the importance and relevance of this issue with only continue through the rest of the nation. This is not a trend that is unique to Oklahoma, it is sweeping the nation as the state of education in the US becomes a focal point in public discourse. This highlights the significance and relevance of governmental buildings like capitals, as spaces that the public has access to in order to advocate change and hold elected officials accountable to their representative status and duties.
Ultimately, there is a reason the Oklahoma Capitol Grounds was chosen for this event. Not only does it make sense for educators to rally at the capital for political reasons, but it also further emphasizes the symbol of a capital as a key player in representative government. When a group of individuals is able to address their concerns to their government officials on government grounds, it reinforces the value of a government building like a capital. Even if the Oklahoma Teacher Walkout did not achieve all of its expressed goals, their demanding presence at the Oklahoma Capitol forced the legislature and the public to consider educators' concerns. When a capital functions as a grounds for debate, where citizens can bring forth their complaints, we can see its physical, symbolic and political significance under the U.S. system of representative government.
Sources
1. Savage, Cynthia. "Oklahoma Capitol." The Oklahoma Historical Society. Accessed February 22, 2019. https://www.okhistory.org/publications/enc/entry.php?entry=OK080.
2. "Timeline Of Oklahoma Teacher Walkout 2018." Newson6.com. April 13, 2018. Accessed March 7, 2019. http://www.newson6.com/story/37951490/timeline-of-oklahoma-teacher-walkout-2018.
3. Olmstead, Molly. "An Oklahoma Lawmaker Blasted the State's Teacher Walkout. Now a Teacher Is Running to Unseat Him." Slate Magazine. April 04, 2018. Accessed May 03, 2019. https://slate.com/news-and-politics/2018/04/oklahoma-teacher-cyndi-ralston-running-to-unseat-republican-kevin-mcdougle.html.

4. Pasquantonio, Victoria. "What You Need to Know about the Oklahoma Teacher Walkout." PBS. April 02, 2018. Accessed February 22, 2019. https://www.pbs.org/newshour/education/what-you-need-to-know-about-the-oklahoma-teacher-walkout.
5. Reilly, Katie. "The Oklahoma Teacher Strike Has Ended – Here's What They Got. And What They Didn't." TIME. April 13, 2018. Accessed March 7, 2019. http://time.com/5239548/oklahoma-teachers-walkout-ends/.

6. Campbell, Alexia Fernández. "The Oklahoma teachers strike is over. But many teachers refuse to go back to class." April 13, 2018. Accessed March 7th, 2019. https://www.vox.com/2018/4/13/17233500/oklahoma-teacher-strike-over.
7. Will, Madeline. "Election Night Brings Highs and Lows for Oklahoma Teachers." Education Week. November 07, 2018. Accessed April 03, 2019. https://www.edweek.org/ew/articles/2018/11/06/election-night-brings-highs-and-lows-for.html.
8. Eger, Andrea. "Political Payback for the Statewide Teacher Walkout? Slew of Newly Filed Bills Aim to Punish, Limit Future Protests." Tulsa World. January 22, 2019. Accessed May 03, 2019. https://www.tulsaworld.com/news/local/education/political-payback-for-the-statewide-teacher-walkout-slew-of-newly/article_55ab887d-d669-50cc-8dff-ca5af283d23e.html.
9. Reilly, Katie. "Other Teachers Are Striking for Raises. In Kentucky They're Walking Out to Protect Their Pensions." TIME. March 30, 2018. Accessed March 7, 2019. http://time.com/5222483/kentucky-teachers-pension-strike-matt-bevin/.
Additional Information