Washington Park
Introduction
Listed on the National Register of Historic Places, Washington Park has been a focal point for Dubuque since the city was founded. The park space was one of the original city blocks and was initially called Washington Square, a block notable for being the location where the first Methodist chapel in Iowa was built. A simple log building, the church was also used as a schoolhouse, courthouse, and community commons and meeting space. Among the many notable events that occurred here during those years was the meeting to incorporate the town Dubuque which occurred on March 25, 1837. Today, the park features walkways that lead to a gazebo in the center as well as a historical marker indicating the location of the chapel.
Images
Washington Park was officially established in 1877, though it was a public square since 1833 when the city was founded.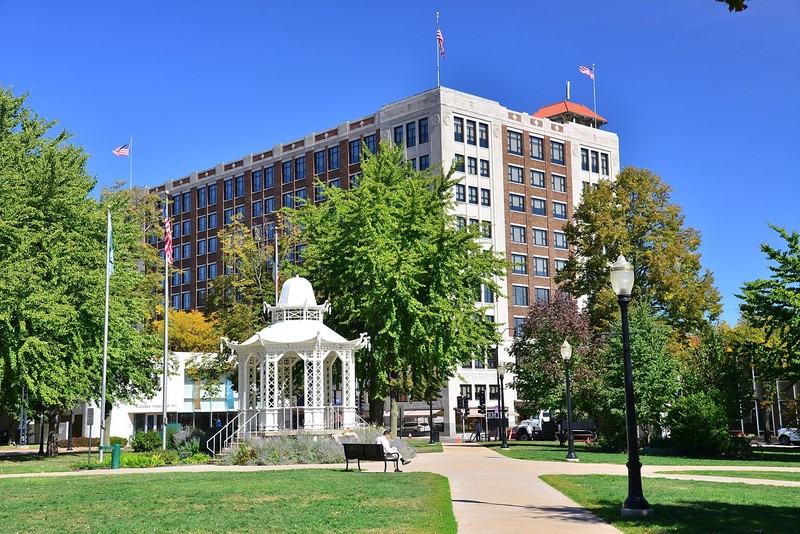 Backstory and Context
Washington Square was leveled in 1848 to prepare for its conversion into a park. However, it was not fully developed for several decades. Finally, in 1877, it was officially declared Washington Park. Improvements were made including planting trees, putting in flowers beds, installing walkways, and building the original gazebo (the one there today is a replica). A fence with turnstiles was built as well to keep out livestock which liked to graze in the park (it seems that some cattle got in despite the turnstiles).

A drinking fountain topped with a statue of dentist Dr. Henry Cogswell, who made strides in dentistry and became wealthy through investing in real estate, was installed in 1884. It is no longer there (vandals apparently tore it down) but it was one of several Cogswell had put up around the country. As a supporter of the Temperance Movement (the movement that called for the banning of alcohol), he wanted the public to enjoy free drinking water. As such, they were called Temperance Fountains. The one here was also dedicated to an Iowan Kate Shelley who, apparently, stopped the train Cogswell was riding on during a bad rain storm. Her actions saved many lives. Cogswell's detractors, including local brewers, criticized the fountain as being more a memorial to himself than Shelley.

Over the years, the park was used for a variety of public events and gatherings including concerts. In 1896, William "Buffalo Bill" Cody's Wild West was held in the park. In 1899, President William McKinley gave a speech from the gazebo.


Sources
Miller, James D. "Washington Park." National Park Service - National Register of Historic Places Nomination Form. July 14, 1977. https://npgallery.nps.gov/GetAsset/2cb86eb4-4960-4da1-996e-59c8c109ee9e.

"Washington Park." Encyclopedia Dubuque. Accessed March 14, 2019. http://www.encyclopediadubuque.org/index.php?title=WASHINGTON_PARK.

Photo: Wikimedia Commons
https://en.wikipedia.org/wiki/Washington_Park_(Dubuque,_Iowa)#/media/File:Washington_Park_Gazebo_Dubuque.JPG