Five Flags Theater
Introduction
Constructed in 1910, Five Flags Theater remains an important cultural landmark and stands on the of the site of the first theater erected in Dubuque back in 1840. What is now Five Flags opened as the Majestic Theater and was designed in the Flemish Renaissance style. The theater was among the first creations of the architecture firm, Rapp & Rapp, owned by brothers George and Cornelius Rapp. The Rapp Brothers would go onto design many noteworthy theaters around the country including the Chicago Theatre. The theater is now part of a large entertainment complex called the Five Flags Center that features an arena and two rooms for small event gatherings. The Center's name refers to the five flags that have flower over the city (see below to learn more). It is also worth noting that this location is the oldest parcel of land in Iowa to be home to a theater owing to the previous structure that this building replaced. Five Flags Theater was added to the National Register of Historic Places in 1972. It is home to the Dubuque Symphony Orchestra and hosts a number of productions throughout the year.
Images
Five Flags Theater was built in 1910 and is listed on the National Register of Historic Places.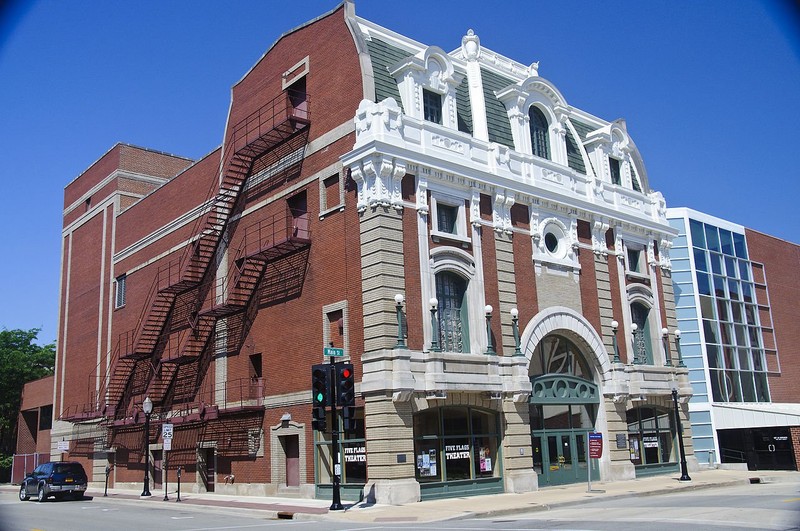 Backstory and Context
The Five Flags that have flown over the Dubuque are:
The Fleur de Lis of France (1673–1763)
The Royal Flag of Spain (1763–1803)
The Union Jack of Great Britain (1780, during a brief interruption of Spanish rule)
The French Republic Flag of Napoleon (1803)
The United State's of America's Stars and Stripe
Local businessmen Harker Brentnal Spensley, Sr. and C. H. Eighmey built Five Flags Theater after the previous theater located here burned down. It was converted into a movie house in 1920 called Spensley Theater and later Orpheum Theater. By the late 1960s, it had fallen into disrepair and was under threat of demolition. Fortunately, a group of concerned citizens came together to prevent this from happening. The theater became part of the Five Flags Center plans and was restored in 1976.
Sources
"History of Five Flags Center." Five Flags Center. Accessed March 14, 2019. http://www.fiveflagscenter.com/p/info/278.

Wittenberg, Gent M. "Orpheum Theatre and Site." National Park Service - National Register of Historic Places Nomination Form. November 14, 1972. https://npgallery.nps.gov/NRHP/GetAsset/NRHP/72000474_text.

Photo: Wikimedia Commons
https://commons.wikimedia.org/wiki/Category:Five_Flags_Center_(Dubuque,_Iowa)#/media/File:Five_Flags_Center.jpg

Additional Information