Portland Historical Society
Introduction
Located in the historic White-Overton-Callander House, the Portland Historical Society was founded in 1973. Its mission is to preserve and promote the city's rich history. To this end, a major function of the Society is to collect materials that shed light on the history of the city and surrounding area. These include newspapers, books, photographs, genealogies, letters, memorabilia, and other items. The house itself is significant in terms of its age and association with two of its owners, Captain Nathaniel White II (1685-1743) and General Seth Overton. White, who was among the first English colonists in what is now Portland, built it in 1714 in the Georgian style and lived here until he died in 1743. Overton, who married a granddaughter of White, lived in the house beginning in 1796. During the Revolutionary War, Overton helped procure supplies for the Continental Army and in the late 1790s commissioned the construction of the frigate the U.S.S. Connecticut, which saw action in the Caribbean engaging with French pirates.
Images
Established in 1973, the Portland Historical Society is located in this historic home built in 1714.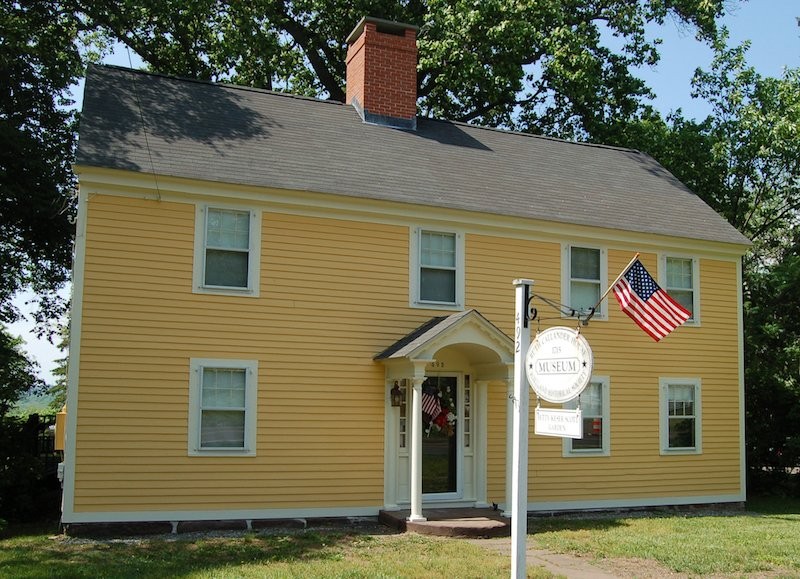 Backstory and Context
Captain Nathaniel White II
White's grandfather, Nathaniel, arrived in what is now the city of Cromwell (on the other side of the river) in 1650. It is not clear what is vocation was but it appears he was a businessman. His peers respected him and he served as the town's representative at the Connecticut General Court and General Assembly in the 1659 and 1695 sessions, respectively. Nathaniel White II inherited the land on which he built the house in 1711 after his grandfather passed away. White II was also involved in the process of establishing an ecclesiastical parish and it is believed that his decision to build the house played a role in that decision. His descendants owned the house until 1916.

General Seth Overton
Shipbuilding was a major activity in Portland from the mid-18th century through the 19th century. During the Revolutionary War, several warships were built here including the U.S.S. Connecticut. As stated above, Overton commissioned the Connecticut's construction. After the war, he continued to build ships for the government (he owned a shipyard) and also got involved in deep water fishing, and tobacco farming.

A number of owners lived in the house during the 20th century before it was finally bequeathed to the Portland Historical Society in 1997.

Sources
"History and Background." Portland Historical Society. Accessed March 11, 2019. http://portlandhistsoc.com/ndescription.htm.

Karmazinas, Lucas A. "White-Overton-Callander House." National Park Service - National Register of Historic Places Nomination Form. May 24, 2014. https://www.nps.gov/nr/feature/places/pdfs/13000896.pdf.

Photo: Portland Historical Society
Additional Information