Michael Cresap House and Museum
Introduction
This building was the home of frontiersmen and military leader Michael Cresap. His father, Thomas Cresap, was a Native American trader who founded Oldtown in 1741. Cresap cleared land for new settlements in the Ohio Valley near Wheeling, WV. The expeditions led to several small skirmishes between Cresap's men and Shawnee tribes; these fights eventually led to the murder of Mingo Chief Logan's siblings. This action in part led to Lord Dunmore's War in 1774. Though Cresap was chosen as a leader for the Continental Army, the resurfacing of a past illness led to his death before he saw any battles.
Images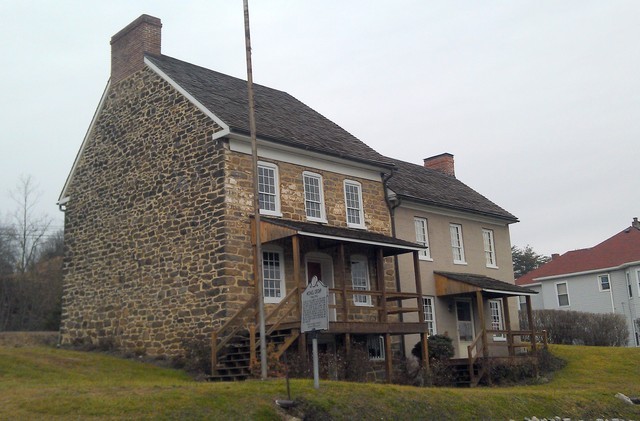 Historic marker in honor of Michael Cresap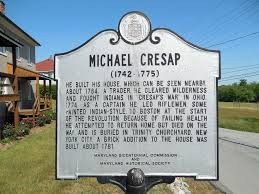 Backstory and Context
This building was home to Michael Cresap, Oldtown native and frontiersman who lived from 1742 to 1775. His father, Thomas Cresap, was a Native American trader who founded Oldtown in 1741 and built a trading post and home in the village. Michael Cresap built this building which served as his own home and trading post. Cresap's home is the oldest surviving building in Oldtown.
As a frontiersman, Cresap helped to clear land in the Ohio Valley for new settlers. Cresap led the expedition to clear land near the Muskingum River in 1774 to help develop a new settlement. During this mission, the men were involved with a number of small skirmishes with Shawnee villagers, though Cresap is reported to have prevented his men from attacking on at least two occasions. A group of men murdered a Native American family, including relatives of the Mingo Chief Logan, which sparked Lord Dunmore's War which lasted from April to October of that year. Though Cresap wasn't present at the murders, Thomas Jefferson blamed him for the killings in his Notes on Virginia. Cresap's expedition was put off as he served as a captain for the Virginia militia during the war. At the war's closure, Cresap was one of the leaders who signed the peace treaty.
At the opening of the Revolutionary War, Cresap was chosen by a group of Maryland volunteers to lead their men. Cresap's group was known as the Maryland Rifles. The troops joined the Continental Army in Boston in 1775. The men traveled 550 miles in 22 days to reach Boston on schedule, traveling about 25 miles a day. When they arrived to Boston, Cresap began to suffer symptoms of a recurring illness which is unknown. He was sent home but died in New York City in October of 1775 before he could reach Oldtown. Cresap's home in Oldtown became his widow's property until she remarried and passed the home to Cresap's son-in-law.
Though not well-documented, several important figures from the time are said to have known Cresap and visited the house. George Washington and Bishop Ashbury are among these. Today, the building serves as a museum dedicated to the lives of Cresap and his family. The home was added to the National Register of Historic Places in 1972.
Sources
Michael Cresap House. Department of Planning: Maryland Historical Trust. . Accessed March 10, 2019. https://mht.maryland.gov/nr/NRDetail.aspx?NRID=83.

Sturm, Philip. Michael Cresap. West Virginia Encyclopedia. October 08, 2012. Accessed March 10, 2019. https://www.wvencyclopedia.org/articles/1678.


Additional Information