Doughboy Statue
Introduction
The Doughboy Statue was dedicated in 1921 as a memorial to people from Highland Park who served in World War I. Today it is part of a memorial park.
Images
Dedication of the Doughboy Statue in 1921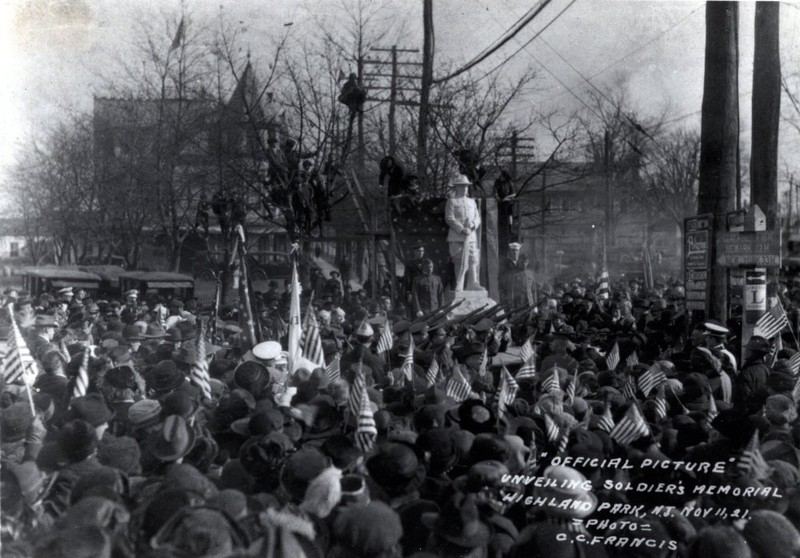 Backstory and Context
The memorial to Highland Park's World War I veterans was produced by L.L Manning & Sons Company in Plainfield. Funds for this statue were raised by residents and veterans. Mayor Robert Wood Johnson Jr. greatly aided the fundraising efforts of the Highland Park War Memorial Fund Committee, which was headed by G. Francis Eden and raised $1,300. The statue was installed at this intersection so it would become a landmark for the touring motorists who would pass through on the Lincoln Highway.
The grand unveiling took place after a lengthy parade closed Raritan Avenue for hours on Armistice Day, Friday, November 11, 1921. The brass plaque reads "A Memorial to Those Who in the Spirit of Self-Sacrifice Enrolled Themselves in the Service of Their Country in the World War 1914-1918, Highland Park, N.J." The soldier figure is depicted in a "doughboy" uniform like those worn by American soldiers in World War I. In 1989 the monument was rededicated when the Veterans Memorial Park behind it was created.
During the 1940's residents of Highland Park created an honor roll at the corner of Raritan and Fourth Avenues, which remained there until 1950. On Memorial Day 1950, a parade of 2000 honored all those that had sacrificed for the country. A bronze plaque which was engraved with the names of HP residents killed during World War II and affixed to a granite block was dedicated in front of the American Legion building at 808 Raritan Avenue. It was moved to the current memorial park in 2002. An additional marker honoring Jewish veterans was added to the park in 2006.