Hattiesburg Area Historical Society Museum
Introduction
The Hattiesburg Area Historical Society Museum is staffed by volunteers. Its collection consists of materials donated by members and friends and includes: city directories; high school annuals and composite pictures; uniforms; old photographs; furnishings; household goods; and information on homes, industries, and buildings.
Images
The Hattiesburg Cultural Center is home of the Hattiesburg Area Historical Society Museum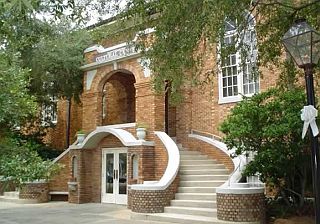 Backstory and Context
History of Hattiesburg
Captain William Harris Hardy, founder of Hattiesburg, was born on February 12, 1837. He received training in education, law, and surveying. During the War Between the States, he served as Captain of Company H of the 16th Mississippi Regiment.
In 1868, he conceived the idea of building a railroad from Meridian to New Orleans. The preliminary survey was completed in 1872, and the next several years were spent in promotion and organization.
Captain Hardy , a widower with six children, met Hattie Lott on a visit to Mobile in April of 1873. He was so impressed with Hattie's kindness of heart that he cultivated the acquaintance, and they married on December 1, 1873. The couple was extremely happy and made a home in Meridian, Mississippi, where their two sons and a daughter were born.

In August of 1880, during a survey trip from Meridian to New Orleans, Captain Hardy stopped to rest and have lunch. This lunch spot was on the north side or Gordon Creek near a large Oak tree and several Hickory trees. This location is now in the downtown section of Hattiesburg, across the street from the United States Post Office.

While resting, Captain Hardy spread a map of Mississippi on the ground and studied the surveyed line of the New Orleans and North Eastern Railroad. He was familiar with the harbor at Gulfport and believed that a railroad from the Gulf Coast to Jackson would be beneficial and would help develop southern Mississippi.
He drew a line through the virgin pine forest and intersected the New Orleans and North Eastern Railroad where the city of Hattiesburg is now located. Hardy decided to locate a train station here and named it "Hattiesburg" in honor of his second wife, Hattie Lott Hardy. Tragically, Hattie died in 1895 without ever visiting the city named for her.