Portland Brownstone Quarries
Introduction
Closed in 2012, the former Portland Brownstone Quarries are historically significant for being the source of a distinct reddish-brown sandstone (called "brownstone") used to construct countless houses and buildings in New York City, Boston, Philadelphia, and other cities on the East Coast from 1850 to around 1890. So widespread was its use—by 1880 nearly 80% of buildings in New York City were constructed with brownstone—that houses built with it became known as "brownstones." For this and other reasons, the quarries were declared a National Historic Landmark in 2000. Today, the quarries are filled with water and comprise the Brownstone Exploration & Discovery Park, which offers visitors the opportunity to participate in a variety of recreational activities including swimming, rock climbing, and cliff jumping.
Images
The old Portland Brownstone Quarries are now the Brownstone Exploration & Discovery Park.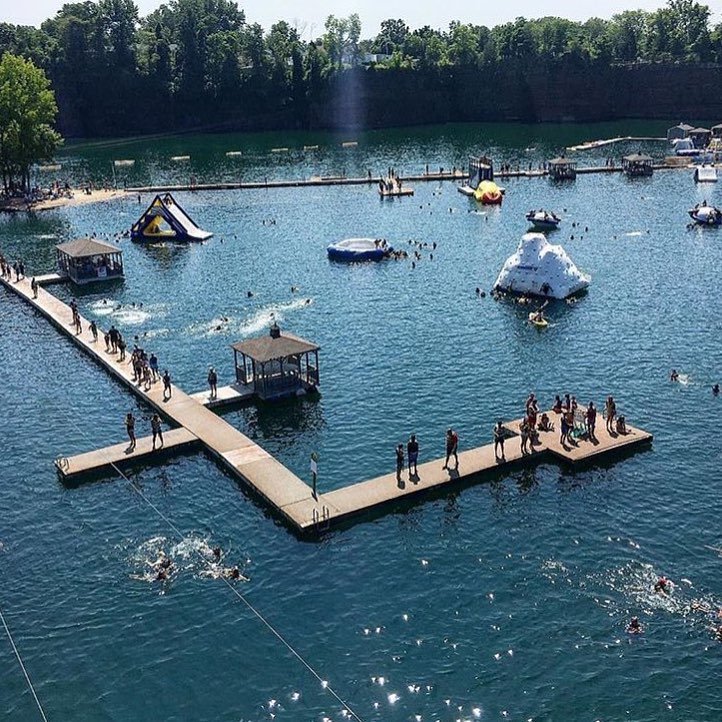 Backstory and Context
The brownstone is very old, dating back to the Jurassic Period. There is other brownstone in the Connecticut River Valley but the stone found here was found to be of much higher quality. People began to collect loose Portland brownstone in the mid-17th century; the first quarry opened in 1690 by mason James Stanclift.

Over time as demand for brownstone grew, more quarries opened. The workforce consisted of immigrants from Europe. By 1871, the majority of the workers were Irish; later Swedish immigrants comprised the majority. Until the 1850s when steam-powered equipment was introduced, the work was carried out primarily by hand, with oxen and horses helping haul rock away. The quarries operated almost continuously until the 1920s (they were closed during WWI).

Demand for brownstone declined due to a number of factors including the emergence of concrete as a building material. It was also a victim of its own popularity; people simply began to want something different. Additionally, floods in 1936 and 1938 filled the quarries with water and despite efforts to pump the water out, they could not be drained. Quarrying did continue until 2012 but at a far smaller scale. The park opened to the public in 2007.
Sources
Boyle, Doe. "The Quarry that built Boston and New York City." Connecticut Explored. Summer 2008. https://www.ctexplored.org/the-quarry-that-built-boston-and-new-york-city.

Kleussendorf, Dr. Joanne. "Portland Brownstone Quarries." National Park Service - National Historic Landmark Nomination Form. May 16, 2000. https://npgallery.nps.gov/GetAsset/6e055c1e-74e6-4ef5-ab9d-19d778bea967.

Photo: Brownstone Exploration & Discovery Park
Additional Information