Frank Robert's Home, Waukesha Wisconsin
Introduction
This Mediterranean-style home, located just up the hill from Carroll University's softball field, was once the home of Carroll alum and U.S. Army veteran Frank L. Roberts. The Kenosha native--and Christmas baby--left his position as assistant cashier at Waukesha's Teller National Bank Exchange to pursue a Carroll degree in 1915. Less than two years later, Roberts left Carroll to join the U.S. Army Signal Corps, which sent him to France in 1918.
Images
This house served as Robert's home for more than forty years.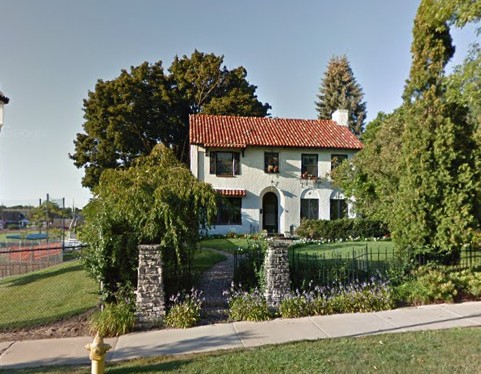 Frank Roberts, wearing an M1912 U.S. Army officer's garrison cap.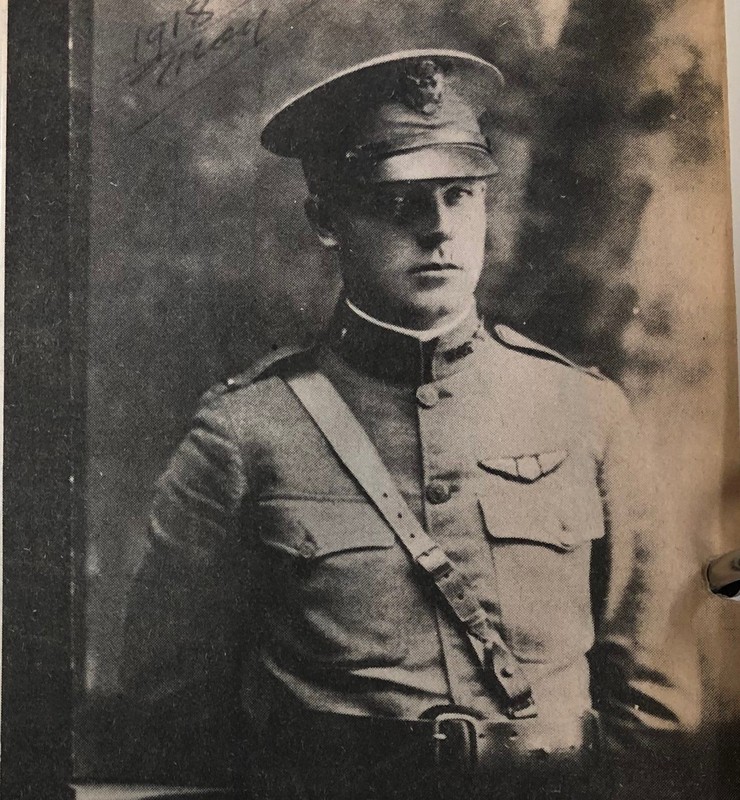 Frank Roberts (L) & Clinton Breese at the Experimental Aircraft Association Museum in Oshkosh.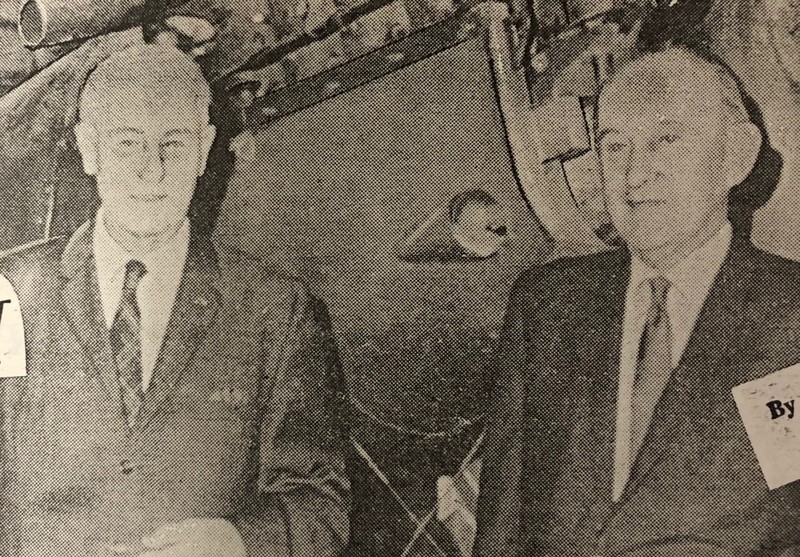 Backstory and Context
Frank Roberts was born on December 24, 1887, in Kenosha Wisconsin, a town about fifty miles southeast of Waukesha, Although not a lot is known about Roberts' childhood, his parents Louis and Fanny Roberts began their family life as dairy farmers. By 1910, the family had moved to Waukesha, although in a different house. As a young man, Roberts worked as an Assistant Cashier at the Teller National Bank Exchange in Waukesha.
In 1914 or 1915, Frank Roberts enrolled at Carroll College (now Carroll University). He, like other students, certainly felt the effects of the war. Historian Ellen Langill notes that Carroll, like most colleges, felt the impact of food and coal rationing; Roberts and his classmates likely shivered in Carroll's drafty buildings during the cold Wisconsin winters. More generally, Wisconsin felt the effects of war due to the state's large German population; nearly half of Wisconsin's first- or second-generation immigrants claimed German heritage (1910 census). Although Roberts was not German himself (his paternal grandfather came to the U.S. from Poland), he would likely have noticed anti-German sentiments, both in his own family and among classmates. This, as well as Waukesha's strong historical ties to aviation, may have influenced Roberts' decision to join the Air Service of the U.S. Army.
When Roberts left Carroll in the summer of 1917, he was technically under-qualified for the Signal Corps' officer training school, a prerequisite for flight training. Office candidates were supposed to be college graduates. Roberts, however, cited his mechanical background (likely from his family's dairy farm), and was allowed him to join as a rising junior. Officer training school took place at Cornell University in Ithaca, NY. Between academic and practical classes, Roberts seemed to have enjoyed a full social life, including parties with G. Hall Roosevelt, Eleanor Roosevelt's younger brother. Hall was, according to Roberts, quite the drinker; Roberts recalled driving the intoxicated Roosevelt home to the family estate on at least one occasion.
After OTS, Roberts pursued flight training in Mt. Clemens, Michigan. Roberts earned his wings under E. Hamilton Lee (one of the first pilots for United Airlines), then served as an aviator instructor at Gerstner Field in Lake Charles, Louisiana. This was not the romantic pilot's life Roberts had dreamed of; he later noted the instructors had neither planes nor level landing fields on which to land them. Another disappointment came when he finally got to France; the war ended before his plane he ever flew in combat.
Back in Waukesha, Roberts resumed his job at the bank. By 1935, he had moved into this home, married a local woman named Leola, and had four children—born in 1920, 1923, 1925, and 1927. According to census records and the Waukesha Freeman, the family lived here until at least April 1971. Roberts won significant recognition in the local business community—as a board member of Waukesha State Bank and a charter member of Waukesha's Rotary Club. He was an active member of the VFW, and probably helped found the Waukesha Aviation Club, of which he was treasurer. In later years, he enter politics, serving on the County Board and as a City Councilman. This beautiful home was undoubtedly the site of fundraisers and fervent discussions of aviation, local politics and even town-gown relations. 
Sources
A City's New Horizon. YouTube video, 1:10:24. Posted by "City of Waukesha," 9 Jun. 2015. https://www.youtube.com/watch?v=S0opUtc_6L8.
"Disgraced Tax List." Waukesha Daily Freeman (Waukesha, WI.), 24 Sep. 1949.
Engelbert, John. "WWI Volunteer Pilot, long-time resident dies." Waukesha Freeman (Waukesha, WI), 6 Jun. 1986.
Frederick, Randy. "He Never Had Fear of Flying." Waukesha Post (Waukesha, WI.), 8 Dec., 1976.
Grady, Lee. "America's Alien Enemies: Registering as German in Wisconsin during World War I." Wisconsin's Magazine of History, 2018.
Hamady, Theodore M. "Fighting Machines for the Air Service, AEF." Air Power History, vol. 51, no. 3 (2004): 24-37.
Koening, G. H. Once Upon a Prairie: Reflections of Waukeshesha's Yesterday. Waukesha: Waukesha Freeman, 1984.
Langill, Ellen. Carroll College: The First Century, 1846-1946. Waukesha, Wisconsin: Carroll College Press, 1980.
Paris, Michael. "The Dream of Civilized Warfare: World War I Flying Aces and the American Imagination." American Historical Review, no. 110 (2005): 1551-1552.
Rippley, La Vern J. The Immigrants Experience in Wisconsin. Boston: Twayne Publishers, 1985.
"Rohrer, Roberts Won't Run Again." Waukesha Daily Freeman (Waukesha, WI), 10 Jan. 1968.
Waukesha County War History. Military Service Record. Frank L. Roberts.
Worzalla, Len. "Flyers relive World War I." Waukesha Freeman (Waukesha, WI), Apr. 17, 1971.
Wright's Waukesha Directory, 1915-16. Milwaukee, Wisconsin: Wright Directory Co., 1916.
Wright's Waukesha Directory, 1919. Milwaukee, Wisconsin: Wright Directory Co., 1919.
Image Sources
Waukesha Post, 1976.

Waukesha Freeman, 1971

Additional Information