Arthur "Art" Erdmann: German-American Hero
Introduction
Art Erdmann was a decorated war hero and American patriot. Born to German immigrants, he faced the anti-German discrimination that was common in the American Midwest during the early 1900s, and even changed the spelling of his name in order to avoid persecution. Art Erdmann spent his whole life proving what a true American he was. He enlisted in World War I in 1917 and was deployed to France with the 32nd Division less than a year later. Only the allies' victory over the Central Powers in Europe allowed Art to return home and change his name back to its original spelling.
Images
This is just one of Arthur Erdmann's 1917 draft cards. this military record, believed to have been filled out after the war in 1919, shows his name spelled with two 'n's and represents his involvement in World War I, although the battles he fought in and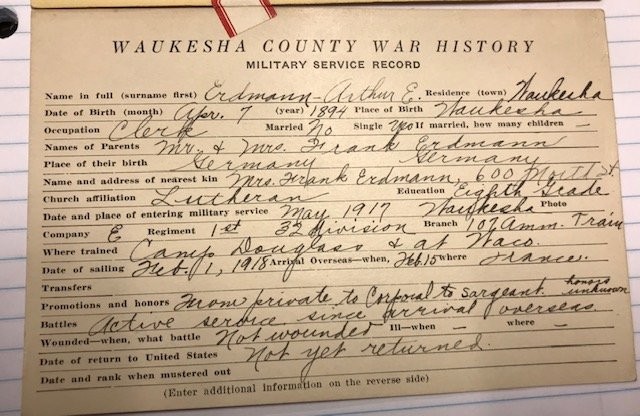 An image of the Waukesha Township in 1914, this map displays various names and locations of families and where they lived at the time. Directly East and on the border of the large gray area, believed to be farmland, you will see the name A. Erdman, of whe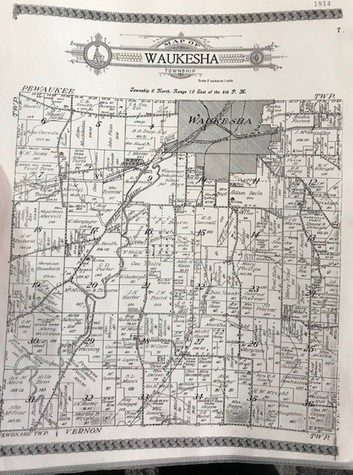 Backstory and Context
Born to German immigrants Augusta and Frank Erdman on April 7 1894, Arthur "Art" Erdman was raised in heavily German-populated, and highly anti-German Waukesha, Wisconsin. His Lutheran parents raised him to speak both German and English, and he received an eighth-grade education. The family seemed to have struggled financially, and Art left school to work as a shop clerk and supplement the family income. He later became a bartender at Waukesha's Fox River Hotel (227 Madison Street).
In 1917, hoping to do something more for his country, 23-year-old Art enlisted in the army alongside his father Frank. After training at Camp Douglas and in Waco, Texas, Art was assigned to Company E, First 32 Division of the 107 Ammunition Train. He was transported to France on February 1st, 1918. While actively serving in France, he was promoted to Corporal, then to Sergeant; incomplete records suggest he also earned additional honors.
Upon returning to the United States, Art Erdmann moved to 825 South St. in Oconomowoc Wisconsin with the rest of his family. His father, also a veteran, lived in Oconomowoc until his death in 1936. Frank Erdmann is buried in La Belle Cemetery.
From the year of his birth to post-WWI, the spelling of the veterans' last name has fluctuated from the more Americanized single 'n' of "Erdman" to the Germanic double 'n' of "Erdmann." Most likely, Art and his German-born parents did this to avoid the well-documented discrimination against people with German ties. During the Great War, of course, people in the United States identified Germans as the 'enemy.' Because German immigrants often continued speaking their native language, they often formed German churches and--particularly in Wisconsin--German-language newspapers and cultural organizations. This made them easy targets for harassment and discrimination. As the United States became more involved with the war in Europe, tensions grew between "native" (i.e. Anglo) Americans and the naturalized German-Americans.
Using a more Americanized form of their name, may have helped the Erdmanns appear more American and more patriotic. Contributing two men to the war effort was another way of deflecting antagonism.
Sources
Michaelis, Patricia. "Crisis of Loyalty: Examples of Anti-German Sentiment from Kansas Memory." Kansas History 40, no. 1 (Spring 2017): 20–29. http://search.ebscohost.com.pioproxy.carrollu.edu/login.aspx?direct=true&AuthType=cookie,ip,cpid&custid=s6222004&db=khh&AN=123632753&site=ehost-live&scope=site.
GÜNEY, Ülkü. 2015. "German Ethnic Identity in Chicago Before and During the First World War." Journal of Faculty of Letters / Edebiyat Fakultesi Dergisi 32 (1): 151–62. http://search.ebscohost.com.pioproxy.carrollu.edu/login.aspx?direct=true&AuthType=cookie,ip,cpid&custid=s6222004&db=hlh&AN=109277552&site=ehost-live&scope=site.
Smith, Jessie Carney. 2009. "Fellowship of Reconciliation (Est. 1914)." Freedom Facts & Firsts: 400 Years of the African American Civil Rights Experience, January, 204–5. http://search.ebscohost.com.pioproxy.carrollu.edu/login.aspx?direct=true&AuthType=cookie,ip,cpid&custid=s6222004&db=khh&AN=40074195&site=ehost-live&scope=site.
Waukesha County War History. Military Service Record. Arthur E. Erdmann.
Wright's Waukesha Directory, 1914-15. Milwaukee, Wisconsin: Wright Directory Co., 1915. 
Map of Waukesha Township. Scale 2 inches to 1 mile. Milwaukee: 1914.
Additional Information