Laurie T. Leonard Home/West Milwaukee Park
Introduction
World War I veteran Laurie T. Leonard's home stood in what is now West Milwaukee Park, one of two parks in the Village of West Milwaukee (just east of the better-known city of West Allis). Leonard was nine years old when West Milwaukee was incorporated in 1906. Both the neighborhood and Leonard's life story exemplify the rapid economic transformation of metropolitan Milwaukee in the late 19th and early 20th centuries.
Images
The county park--on land once farmed by the Leonard family.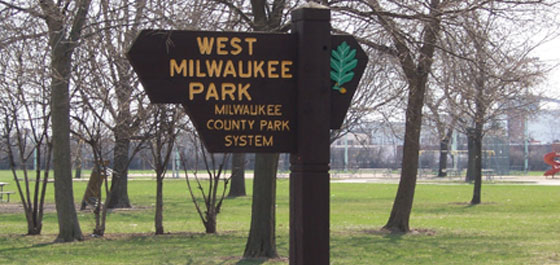 West Milwaukee Village Hall & Police Station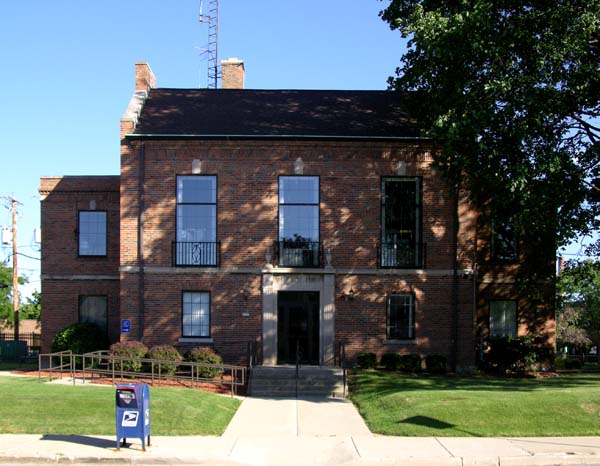 Backstory and Context
What is today West Milwaukee Park was once a cluster of single-family homes and small farmsteads. Laurie T. Leonard was likely born in one of them, as at-home births were the norm in the 1890s. Quite possibly, parents Thomas and Sarah Leonard enjoyed taking their young son on walks around the neighborhood.
The Leonards moved to Muskego, in Waukesha County. Growing up, Laurie worked on his father's farm and secured an eighth grade education. He went into the U.S. Army when he was 21 years, and was assigned to the artillery. He trained at Camp Shelby in Mississippi, Camp Logan in Texas, and Fort Sill in Oklahoma. Laurie served as a supplier in the 8th brigade. At some point, likely because of his farming background, Laurie became a Wagoner. In this role, he was responsible not only for transporting supplies, but also grooming and feeding the horses, maintaining harnesses, wheels and other equipment, and overseeing all loading/unloading. 
The highlight of Laurie's military carrier was being selected as a guard for President Wilson's party during an official state visit to when to Brest, France. Unfortunately, Laurie was not among the members of the party named by first-lady Edith in her recollections of the trip.
Laurie Leonard came back to Wisconsin in Jan. of 1919. He married Bess E. Leonard and had three children, Kennith, Jeanne, and Duane. Thereafter, like so many veterans, Laurie's life blurred with that of his neighbors and coworkers. Records from the 1930s list his as a wage worker at an unnamed auto-accessory factory in Milwaukee, and by the 1940s, he had become a qualified machinist.
West Milwaukee also changed during that time. In the 1930s, the street name was changed to Summit Avenue. In the 1940s it was renamed W. Lapham Stree, likely in honor of local engineer Increase Lapham, longtime deputy surveyor for the WI territory, whose 1844 Geographical and Topical Description of Wisconsin drew many immigrants to the region.
Both Laurie Leonard and Increase Lapham would likely be pleased to know that the neighborhood is now a well-kept county park, where local residents play baseball, tennis and soccer--or just enjoy the outdoors.
Sources
1930s United States Federal Census. Laurie T Leonard. . . www.ancestry.com.
1940s United States Federal Census. Laurie T. Leonard. . . www.ancestry.com.
1900s United States Federal Cencus. Laurie T. Leonard. . . www.ancestry.com.
Wilson, Edith B. "As I Saw It "Vive Vilson"." The Saturday Evening Post. The Saturday Evening PostJanuary 31, 1939. , 18, 56, 58-60.
World War 1 draft card of Laurie T. Leonard.
Image Sources
Lubbad85 [CC BY-SA 4.0 (https://creativecommons.org/licenses/by-sa/4.0)], 2019.

By Patriarca12 - Own work, CC BY 3.0, https://commons.wikimedia.org/w/index.php?curid=12780111

Additional Information