Rancho de Las Cabras Historical Marker
Introduction
Rancho de Las Cabras is a historical site outside of Floresville, Texas of Wilson County. Rancho de Las Cabras ranch once served as a ranching outpost to one of the San Antonio Missions: Mission Espada. This one ranching outpost is credited by some as the home of the cowboy culture that was brought over by the Vaqueros, contributing to the large cattle industry Texas still has today. The ranch is now owned by the National Parks Services and a World Heritage Site.
Images
Photo of Historical Marker for Mision De Las Cabras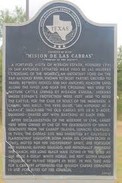 Map of Mission Trail including Rancho de las Cabras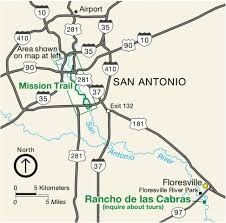 Artwork of Maria del Carmen Calvillo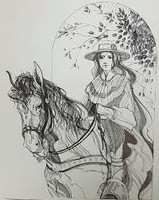 Backstory and Context
The Canary Islander Settlers came to establish Presidio de San Antonio de Bejar and soon found that the cattle were overrunning the mission and destroying the land the settlers were trying to cultivate. The settlers establish the ranching outpost Rancho de las Cabras in 1731. Rancho de Las Cabras was home to both missionaries and Native Americans. The outpost was left to defend themselves from different raiders because of how far it was from the presidio. The ranching outpost was closed in 1794 due to the secularization of the missions. 
Ygnacio Francisco Xavier Calvillo acquired the ranch. In April 1814, Ygnacio Calvillo was murdered by his grandson and others but disguised it as an "Indian raid." Maria del Carmen Calvillo, the eldest of Ygnacio Calvillo six children, inherited the control and ownership of the land, which was unheard of during this time. It is said that Maria Calvillo contributed much success to the ranch land. She attempted to mend the relationships with the local Native American tribes by trading with them and providing produce from the ranch. Folklore says she would ride with her hair down on a white horse, that can still be seen today. Her will passed ownership of the property to two of her adopted children, María Concepción Gortari and Antonio Durán. María Calvillo died on January 15, 1856.
Today little of the original structures of the buildings remain. The Texas Parks and Wildlife Department bought the land and established it as the Rancho de las Cabras Historic Site in 1976 and 1977. In 1995, The National Park Service acquired Rancho de las Cabras, and the site became part of the San Antonio Missions National Historical Park. In 2015, UNESCO granted the land to become a World Heritage Site along with the other missions. 
Sources
Long, Christopher. RANCHO DE LAS CABRAS. Texas State Historical Association Online. June 15, 2010. Accessed March 07, 2019. https://tshaonline.org/handbook/online/articles/ghr01
Rancho de las Cabras. Texas Independence Trail. Accessed March 08, 2019. http://texasindependencetrail.com/plan-your-adventure/historic-sites-and-cities/sites/rancho-de-las-cabras.
Rancho de las Cabras. Texas Beyond History. September 18, 2016. Accessed March 08, 2019. https://texasbeyondhistory.net/st-plains/images/he4.html.
Ivey, James E. Fox, Anne A. Archaeological Survey and Testing at Rancho de las Cabras, 41WN30, Wilson County, Texas. Archaeological Survey Report 104.. San Antonio, TX. Center for Archaeological Research , University of Texas at San Antonio., 1981.
December 15, 2015. Accessed March 07, 2019. https://www.nps.gov/saan/index.htm.
Image Sources
https://commons.m.wikimedia.org/wiki/File:Floresville-tx2016-18(mision-de-las-cabras).jpg

https://commons.wikimedia.org/wiki/File:NPS_san-antonio-missions-regional-map.gif

http://thestardayfoundation.org/wp/wp-content/uploads/2016/07/VOLUME-2-ARTICLE-13-DONA-ANNA-MARIA-DEL-CARMEN-CALVILLO-1765-1856-TAMBRIA-READ-THE-TEXAS-BISON-STUDENT-STUDY-GROUP-JOURNAL.pdf

Additional Information