Palace Theater
Introduction
Palace Theater is one of Waterbury's important landmarks. It was built in 1922 using a design of Thomas W. Lamb, who was one of the country's leading theater architects of the early 1900s. It was built by Italian native Silvester Z. Poli, who, at the height of his career owned 30 theaters; this was the largest number of theaters owned by a single person at the time. In terms of architecture, the exterior was designed in the Second Renaissance style, featuring elements such as Corinthian columns. The interior, however, is far more lavish; Federal, Egyptian, Classical, Arabic elements are combined to give the theater a highly embellished, gaudy appearance, which was typical for theaters of the time. Added to the National Register of Historic Places in 1983, the theater has been in almost continuous operation since it was built.
Images
Palace Theater was built in 1922 and is an important cultural and arts center in Waterbury.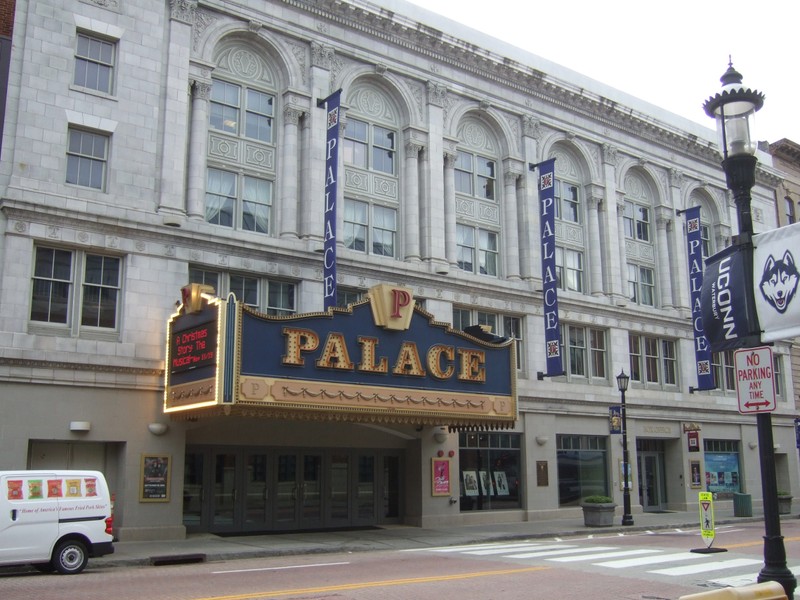 Backstory and Context
Poli was born in 1858 and was trained as a sculptor in Paris. He arrived in America in 1881 and earned recognition for his works. After moving to New Haven, CT, where he exhibited his sculptures, he started to promote vaudeville shows and started showing films using a French cinematograph, which was an early type of film projector. In the coming years, he bought theaters in New England, including three in Waterbury. Beginning in 1920, he started to build Palace Theater, which served as the model for other elaborate theaters he would build in the coming years. For the next 70 years, the theater was used for movies, musical performances, and other shows. From 1987-2005, the theater sat vacant. It was renovated into a theatrical facility in 2005.
Sources
Clouette, Bruce. "Palace Theater." National Park Service - National Register of Historic Places Nomination Form. June 30, 1983. https://npgallery.nps.gov/NRHP/GetAsset/NRHP/83001284_text.

"History of the Theater." Palace Theater. Accessed March 6, 2019. https://www.palacetheaterct.org/about-us/history-theater.

Photo: Wikimedia Commons


Additional Information