James M. Nederlander Theatre
Introduction
The James M. Nederlander Theatre originally opened as the Oriental Theatre in 1926. Owned by Balaban and Katz, the theatre was one of Chicago's grand movie palaces of the Roaring '20s. It was designed by Rapp and Rapp, an architectural firm known for outlandish, almost gaudy designs; the interior was inspired by an East Asian theme, with mosaics, exotic animals, and golden figures. The Oriental Theatre showed movies and hosted live performances until it closed in 1981. The building remained largely vacant for several years, finally undergoing an extensive renovation project in the mid-1990s. The theatre reopened in 1998 as the Ford Center for Performing Arts. In 2019, it was renamed the James M. Nederlander Theatre.
Images
The inside of the James M. Nederlander Theatre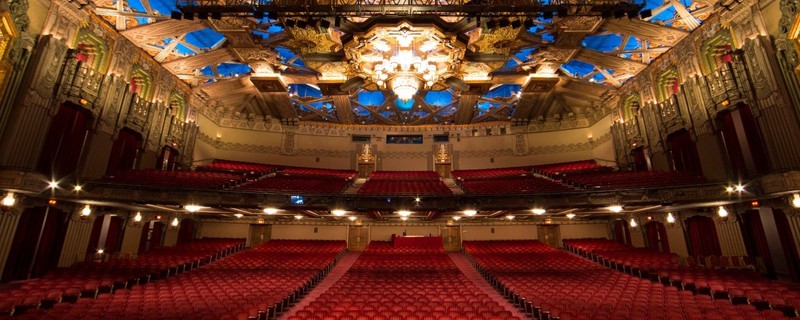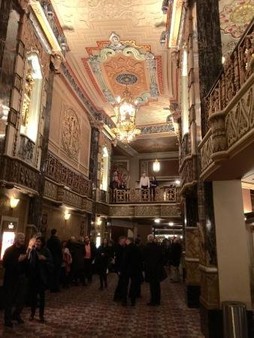 James M Nederlander and his son, Jimmy Nederlander smile for a picture while watching one of the shows in their theatre.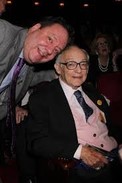 An historic photo of the theatre when it was known as the Oriental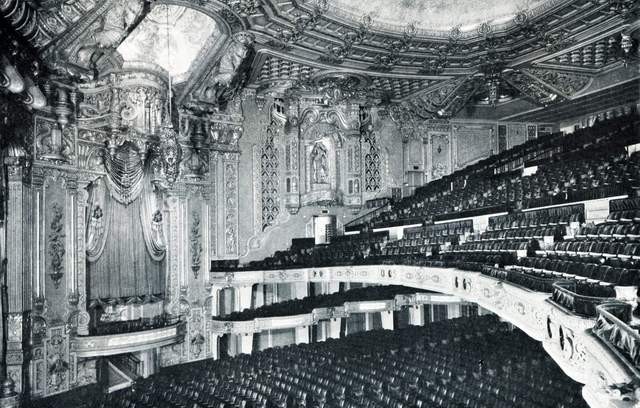 Details of the ornate decor of the theatre, designed by Rapp and Rapp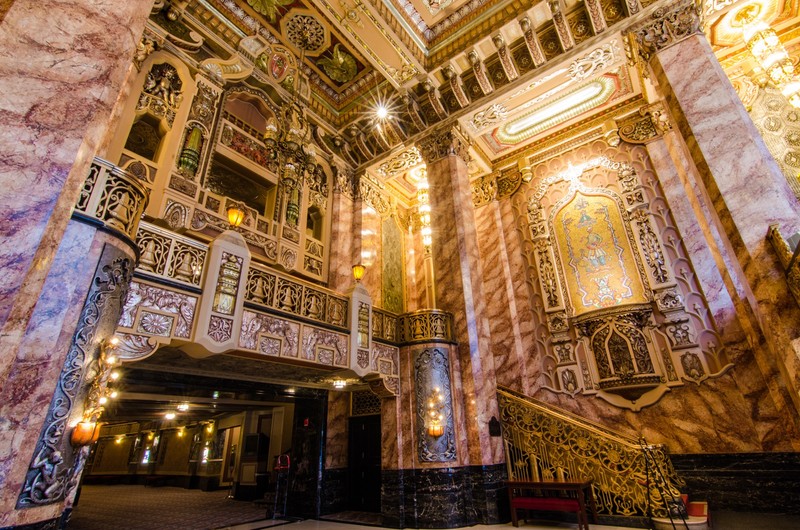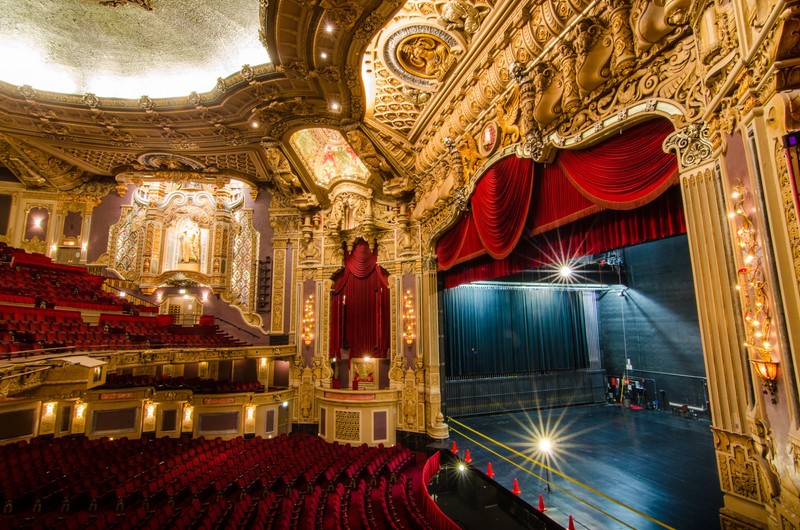 Backstory and Context
The Oriental Theatre opened on May 8, 1926. It could originally seat 3,238 patrons. [1] In its first years, patrons came to watch silent films, which were accompanied by an ornately decorated Wurlizter organ. It also hosted vaudeville performances, and Paul Ash, known as "The Rajah of Jazz", worked for a time as the house band manager. Although movies eventually became the main focus of the theatre, it continued to host live shows and musical performances starring the likes of Ella Fitzgerald, Judy Garland, and Duke Ellington.
The Oriental Theatre was owned by Balaban and Katz, a successful theatre management company that operated dozens of Chicago's most popular theatres around the greater metropolitan area. Balaban and Katz frequently hired Rapp and Rapp architectural firm to design their theatres, which were known for their opulent interiors. The Oriental Theatre, with its East Asian theme, was exceptionally lavish. The theatre has been described as "a virtual museum of Asian art", where "[t]urbaned ushers led patrons from the lobby, with polychrome figures and large mosaics of an Indian prince and princess, through an inner foyer with elephant-throne chairs and multicolored glazed Buddhas, to the auditorium's 'hasheesh-dream décor.'" [2]
The Oriental Theatre would be a landmark in Chicago's Theatre District for decades. However, attendance began to decline in the 1960s. For a brief time in the 1970s, the theatre hosted live musical performances by Stevie Wonder, Gladys Knight, Little Richard, as well as kung-fu movies. [1] The theatre was nominated for the National Register of Historic Places in 1978. Immediately, a campaign in opposition to its nomination was launched because a redevelopment project had proposed razing the theatre and constructing an indoor shopping mall in its place. Preservation efforts were ultimately successful in stopping the redevelopment project, and the theatre was added to the register in September 1978. [3] Despite the fact that the building was saved from being torn down, there were no funds to renovate it. The theatre closed in 1981, and the building remained largely vacant for another 15 years.
In the mid-1990s, it was announced that the theatre would finally undergo restoration. It reopened on October 18, 1998 as the Ford Center for the Performing Arts. [1] Live musical productions shown at the theatre, such as Ragtime, Wicked, and Billy Elliott, were wildly popular. In 2000, Broadway in Chicago was launched to host touring productions at theatres around Chicago, including at the Ford Center. The founder of Broadway in Chicago, James M. Nederlander, would win 10 Tony nominations in his lifetime for his company's productions. In February 2019, the theatre was renamed James M. Nederlander Theatre in his honor. [4]
Sources
1.      Schiecke, Konrad. Downtown Chicago's Historic Movie Theatres. Jefferson, NC: McFarland & Inc Publishers, 2011. Accessed January 22, 2020. https://books.google.com/books?id=WZcZDgAAQBAJ&dq.
2.      "James M. Nederlander Theatre." The Broadway League. Accessed January 22, 2020. https://www.broadway.org/theatres/details/james-m-nederlander-theatre,197
3.      Lampert, Donald K. and John V. Corliss. "National Register of Historic Places Inventory Nomination Form: New Masonic Lodge and Oriental Theater." The National Archives Catalog. October 4, 1977. Accessed January 22, 2020. https://catalog.archives.gov/id/28892456.
4.      Gans, Andrew. "Broadway in Chicago's Oriental Theatre Will Be Renamed James M. Nederlander Theatre." Playbill.com. November 13, 2018. Accessed January 22, 2020. http://www.playbill.com/article/broadway-in-chicagos-oriental-theatre-will-be-renamed-james-m-nederlander-theatre.
Image Sources
http://cinematreasures.org/theaters/254

Eric Allix Rogers: https://openhousechicago.org/sites/site/broadway-in-chicagos-james-m-nederlander-theatre/

Eric Allix Rogers: https://openhousechicago.org/sites/site/broadway-in-chicagos-james-m-nederlander-theatre/

Additional Information