Avalanche of 1911 Historical Marker
Introduction
This marker shares the story of a deadly avalanche that wiped out the small town of Jordan on the morning of March 7, 1911. The avalanche roared down the east slope of Copper Mountain and ten people were killed. Only the wife of Robert Mason, the chief engineer of the local power plant, survived the avalanche.
Images
This historical marker was dedicated in 2011, the 100-year anniversary of the avalanche.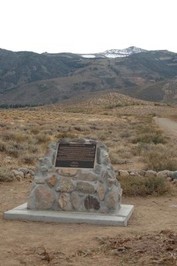 Press Democrat March 10, 1911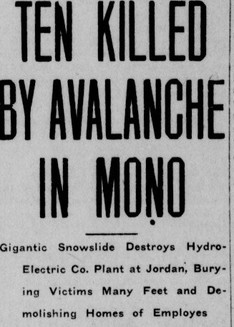 Backstory and Context
The small community known as Jordan was home to a few workers and engineers of a local mine. On the morning of March 7th, 1911, the largest and deadliest avalanche in Mono County history occurred at this locaton. That morning, a huge pack of ice slipped down from the mountain above the town, fully engulfing every home and every person in the town. There was only one survivor and it took rescue crews days to trek into the area because the roads were untravellable. Today, all that's left from the town of Jordan is old home seats and debris, along with the eight graves that are organized together off the road leading into the town.
Sources
Swackhamer, Barry. THE HISTORICAL MARKER DATABASE. Avalanche of 1911. December 02, 2011. Accessed March 03, 2019. https://www.hmdb.org/marker.asp?marker=50074.

Genealogy Trails History Group. Genealogy and History. . Accessed March 03, 2019. http://genealogytrails.com/cal/mono/disasters.html.


Additional Information