The Capehart House
Introduction
One of the oldest Queen Anne-style houses in Raleigh, the Capehart House was completed in 1898. The historic home is adorned with dormers, turrets, and towers as well as tan brick, ornate woodwork, and stained glass. The home was originally located at 403 North Wilmington Street and was designed by architect Adolphus G. Bauer. Today, the Capehart House is located on Raleigh's Blount Street and is home to the Historic Preservation Foundation of North Carolina.
Images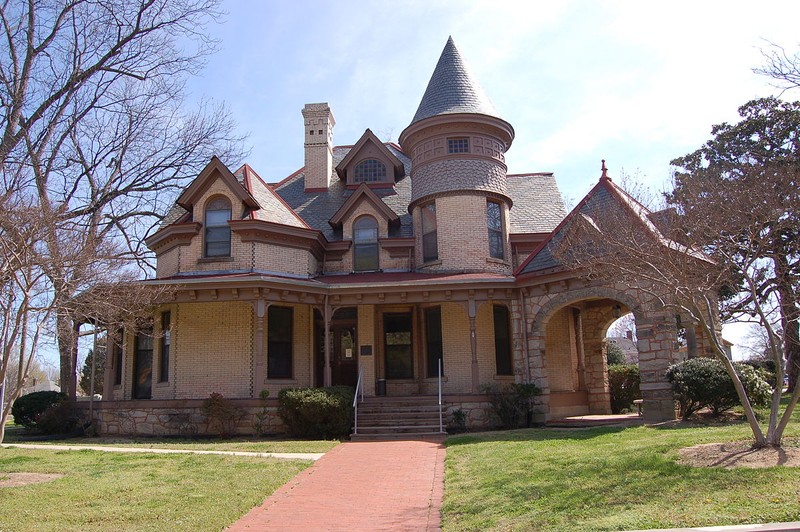 Backstory and Context
The home's original owners were Lucy Catherine Capehart and her second husband B.A. "Baldy" Capehart. Lucy inherited wealth from both her father and her first husband, Peyton Henry, who was a leading physician in Raleigh during the late 19th century. Baldy died in 1899, shortly after the couple moved into their home. Lucy continued to live here until her death nine years later. Sheriff H. H. Crocker then resided in the house until 1947. At that time, the structure was divided into apartments.

In 1971, state offices moved into the building. In 1979, the neighborhood around the Capehart house was being demolished for the construction of the state capitol complex. Thanks to preservationists and others, the Capehart House was saved and transported to its current location on Blount Street.
Sources
Capehart House. National Park Service- Raleigh: A Capital City. Accessed March 01, 2019. https://www.nps.gov/nr/travel/raleigh/cpe.htm.

Capehart House. Raleigh Historic. Accessed March 01, 2019. https://raleighhistoric.org/items/show/56?tour=7&index=20.