Former Kaiser Steel Mill
Introduction
Built in 1942 to augment American shipbuilding efforts during World War II, the Kaiser Steel Mill in Fontana was the largest integrated steel-making facility on the West Coast and the crown jewel of tycoon Henry J. Kaiser's industrial empire. Despite state-of-the-art upgrades and expansions in the 1970s, however, the mill struggled to compete with an influx of cheap foreign steel and was sold in 1983. The Kaiser Steel Mill's cultural impact has nevertheless lived on through its role in the creation of the Kaiser Permanente health group, its use in a number of Hollywood films including the 1991 blockbuster Terminator II, and a Nascar racetrack (the Auto Club Speedway) that now occupies a portion of the former mill. Part of the original steelmaking facility is still operated by California Steel Industries.
Images
A present-day view of the remaining 400-acre California Steel Industries facility with the Auto Club Speedway in the background. The Speedway, operated by NASCAR, occupies about 568 acres of the 1,800 acre site.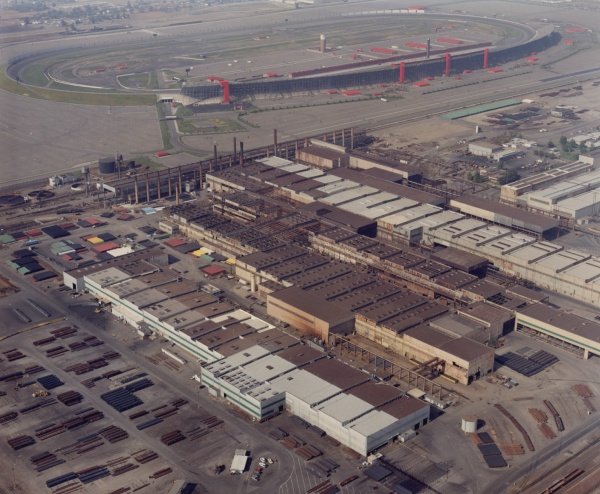 Henry J. Kaiser and his wife Bess at the opening of the Fontana facility. Kaiser was reportedly particularly proud of opening the first fully integrated steel facility on the Pacific coast (San Bernardino Sun).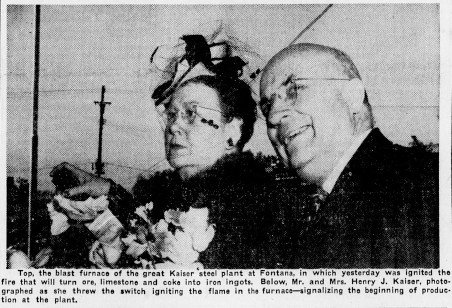 Workers with part of the massive mill in the background in 1952. At its height, the plant had over 10,000 workers on payroll (USC Digital Archives).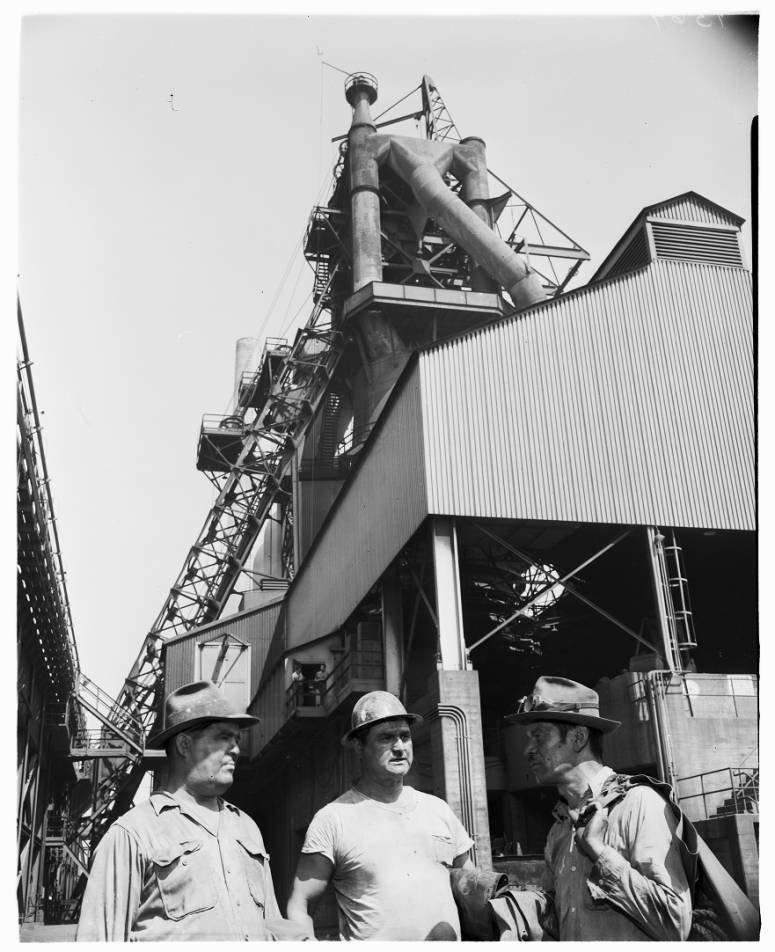 A worker inspects steel beams produced at the mill, 1952 (USC Digital Archives).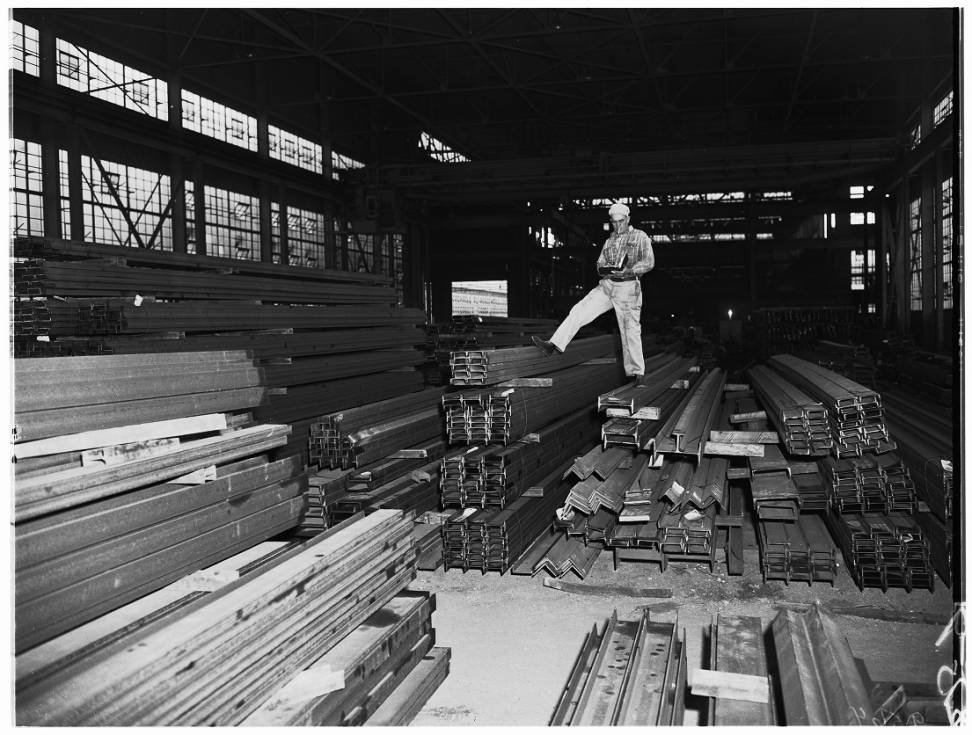 Tugs tow a section of the Bay Area Rapid Transit's (BART) underwater Transbay Tunnel into place in the 1960s. Kaiser Steel produced the structural steel for the undertaking (Kaiser Steel Archives).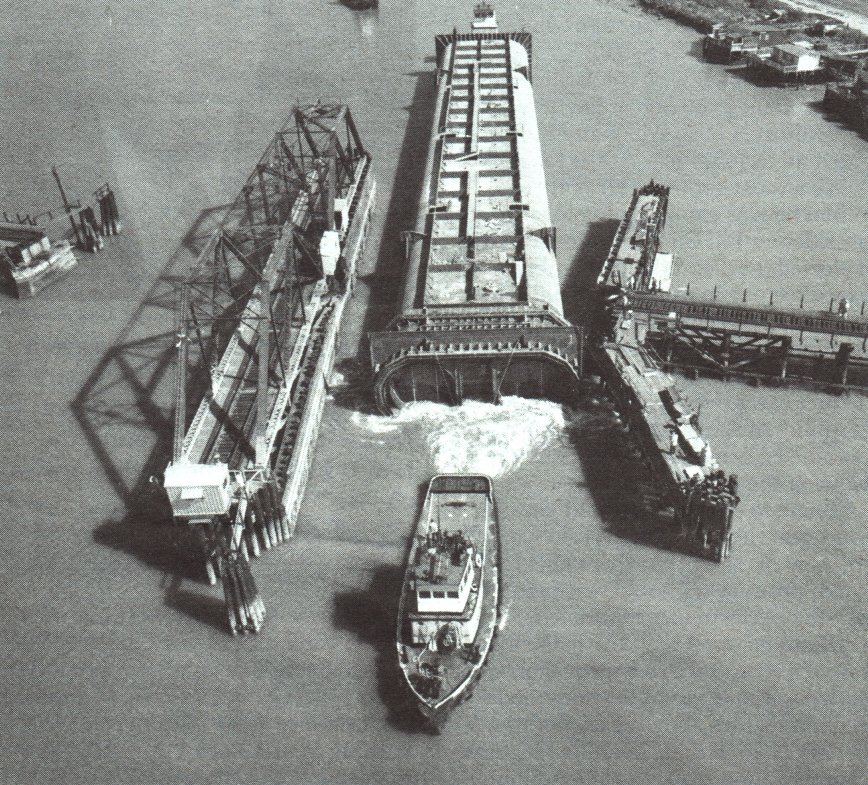 During World War II, most of the plant's steel went to Kaiser's West Coast shipyards for the production of Liberty ships (above) and Victory ships, inexpensive cargo ships that transported war goods.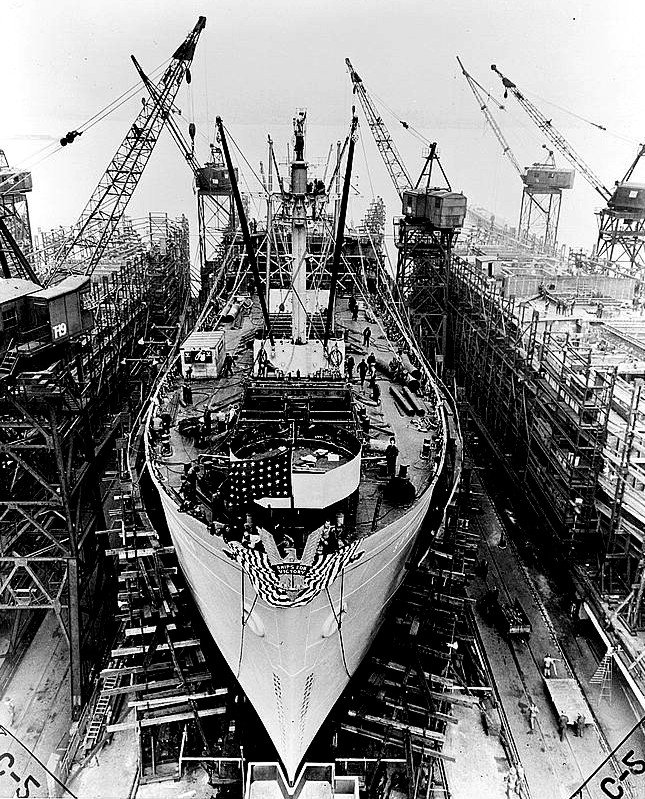 Part of the mill as it appears today (CLUI).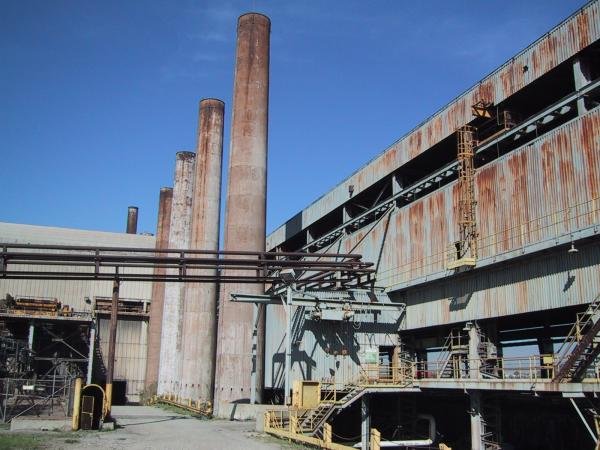 Parts of the mill have been used in multiple Hollywood films, including the climactic final fight of Terminator II in 1991.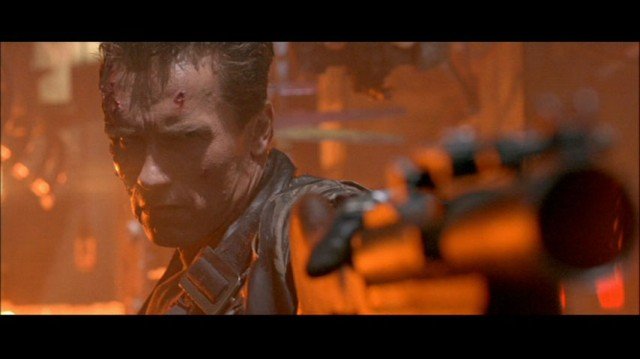 Backstory and Context
"Out in Fontana another of the miracles by America's miracle man, Henry J. Kaiser, is rising. In a field where a few months ago farmers were growing walnuts and grapes, chickens and hogs, hundreds of hastily mobilized workers are building a towering blast furnace, a block of coke ovens and an enormous rolling mill--the Pacific coast's first steel plant."
The California town of Fontana, founded in 1913, was a little-known settlement in Los Angeles' Inland Empire region until it was selected as the site for the Kaiser Steel Mill in 1942. Now that the United States had entered fully into World War II in December 1941, after the Japanese attack on Pearl Harbor, shipyards along the West Coast were steaming toward maximum production to support that national war effort. As the owner of seven of these shipyards (including the largest in Richmond, California), industrial mogul Henry J. Kaiser needed a cheap, abundant supply of steel to reduce production time and costs of Liberty Ships and Victory Ships--the product for which his shipyards would become most famous.
Kaiser's new steel mill faced obstacles from the very start. First, large-scale steelmaking was primarily the purview of massive corporations in the east, such as U.S. Steel, which sought to block the entry of a nascent competitor in the west. The second, more pragmatic challenge was military in nature: fear of enemy attack. Kaiser would have preferred to build his mill on the coast, where transportation of goods and materials was cheapest, but concerns about Japanese naval and air assault required him to build 55 miles inland, in Fontana.
Despite these hangups, construction began in spring of 1942 at an astonishing pace. Estimated at a cost of $50 million and covering 1,400 acres, by August the project employed 2,500 construction workers and was projected to double in manpower by October.1 Part of the plant became operational in January 1943, with the rest coming online in May. The day after the plant's opening on December 30, 1942, the San Bernardino Sun featured a two-page spread on the ceremony and included a full transcription of Henry Kaiser's remarks.2
The mill was expected to have a permanent workforce of 1,500, some of whom lived in dormitories constructed on the campus. Though Kaiser built a second mill in Napa, California during the war, the Fontana facility remained the largest. In addition to its massive output in steel, waste products from the various processes were utilized to make agricultural fertilizer, synthetic rubber, explosives, and plastics. The first shipments of iron ore (from which the mill's blast furnace could produce up to 1,200 tons of pig iron every twenty-four hours) were purchased from an old mine already owned by Kaiser at nearby Kelso, in San Bernardino County, and it was estimated that reserves of iron ore in the surrounding area could supply the mill for fifty to seventy-five years. Unfortunately, coal is also an essential ingredient in industrial steel-making, and this often had to travel over 800 miles by train from Utah and New Mexico.13
Despite its auspicious beginnings and wartime payrolls topping out at 10,000 employees, the mill began to encounter hardships at war's end. In 1950, Kaiser cobbled together $125 million to pay off the federal loans that had made construction possible...and a decade later the intrusion of cheaper foreign steel into American markets made it difficult for the Kaiser Mill to compete. By 1970, environmental concerns were being raised about airborne pollutants at the plant (though Kaiser's archives suggest that this was motivated by ambitious land developers eager to raise property values in the area), and a 43-day workers' strike at the plant further complicated matters. In 1976, Kaiser agreed to fully modernize the plant and bring it into line with the latest environmental standards, but by then the writing was on the wall--despite Kaiser Steel's winning of key contracts such as the San Francisco Bay Area's Transbay Tube (BART's underwater tunnel) in the 1960s and the iconic pyramidal Transamerica Building in 1972.7
Seven years and $250 million later, Kaiser sold its Fontana mill in 1983. Two years later, an investment group sold the plant's most modern section to California Steel Industries, which continues to operate the plant today with a workforce of under a thousand on roughly 400 acres. In 1994, a portion of the plant was sold to Shaogang Steel of Beijing, which dismantled approximately 76 acres of the facility and shipped the equipment and structures to China. A large portion of the now-empty land was then sold to business mogul Robert Penske for the construction of NASCAR's Auto Club Speedway, which remains today.
The remainder of the plant as operated by California Steel Industries no longer produces raw steel from iron ore, but instead manufactures finished steel products from imported slabs. Nevertheless, its legacy lives on in popular culture: as one of the few surviving heavy industrial sites in southern California, it has been featured in a variety of Hollywood productions spanning the lifetime of the facility, from 1952's Steel Town, to Black Rain and Terminator II in the 1990s. Director Michael Bay's 2001 World War II epic Pearl Harbor was not allowed to film at the site, since some of California Steel's parent companies are Japanese. The fictional Rearden Steel plant from Ayn Rand's famous novel Atlas Shrugged was inspired by Kaiser Steel Mill; Rand visited the plant on several occasions to take notes.
Another lasting impact of the Mill was its hospital. First opened as a staffed facility with fifty beds for the plant's workers during World War II, it was one of several hospitals at Kaiser factories used to pilot what later became the Kaiser Permanente health group, one of California's largest health care providers today. The hospital proved so popular that it was made public after the war, and a second facility was added nearby in 1954 as part of a growing network that continues to operate in California today.14
Sources
1. Buie, Earl E.. "Great Kaiser Steel Mill to be in full production in January." San Bernardino Sun(San Bernardino)August 02, 1942. 1,8,9. Accessed through the California Digital Newspaper Archive

2. Buie, Earl E.. "Steel Plant Begins Production." San Bernardino Sun(San Bernardino)December 31, 1942. , 9-15. Accessed through the California Digital Newspaper Collection.

3. "Kaiser's Steel Plant Rising in Fontana District." San Bernardino Sun(San Bernardino)March 28, 1943. 21. San Bernardino County War Industry Edition ed. Accessed through the California Digital Newspaper Collection

4. Brooks, Nancy Rivera. "The Long Winter of Kaiser Steel : The industrial empire it once anchored is gone, and the firm struggles to survive, beset by an internal battle for control and a hostile economy.." Los Angeles Times(Los Angeles)February 09, 1987. . http://articles.latimes.com/1987-02-09/business/fi-1840_1_kaiser-steel

5. Mydans, Seth. "Steel Mill Is Shadow Of What It Once Was." New York Times(New York)September 06, 1994. . https://www.nytimes.com/1994/09/06/us/steel-mill-is-shadow-of-what-it-once-was.html

6. Kaiser Steel Plant Site, California. Center For Land Use Interpretation. . Accessed February 28, 2019. http://clui.org/ludb/site/kaiser-steel-plant-site.

7. Cushing, Lincoln. Tunnels, Trains, and Tubes: Kaiser's Role in Building an Accessible Transit System. Kaiser Steel Archives. July 14, 2017. Accessed February 28, 2019. https://kaiserpermanentehistory.org/latest/tunnels-trains-and-tubes-kaisers-role-in-building-an-accessible-transit-system/.

8. Cushing, Lincoln. Henry J. Kaiser's environmental stewardship. Kaiser Steel Archives. April 20, 2016. Accessed February 28, 2019. https://kaiserpermanentehistory.org/latest/henry-j-kaisers-environmental-stewardship/.

9. Cushing, Lincoln. Strikes, smog, and steel – a case study of Kaiser Fontana Steel. Kaiser Steel Archives. November 25, 2013. Accessed February 28, 2019. https://kaiserpermanentehistory.org/latest/strikes-smog-and-steel-a-case-study-of-kaiser-fontana-steel/.

10. Walters, Donna K.H.. "How the Former Kaiser Companies Have Fared : Steel: Fontana Mill Is Still Operating--but It's Only a Shell of Its Former Self." Los Angeles Times(Los Angeles)August 04, 1985. . http://articles.latimes.com/1985-08-04/business/fi-4724_1_steelmaking

11. Peltz, James F.. "Thriving Auto Club Speedway has history of peaks, valleys." Los Angeles Times(Los Angeles)March 25, 2017. , Sports sec. https://www.latimes.com/sports/la-sp-nascar-fontana-advance-20170325-story.html

12. Facilities Overview. California Steel Industries. . Accessed February 28, 2019. https://www.californiasteel.com/index.php?c=facilities.

13. Miller, David. "Kaiser Steel was dream that died." San Bernardino Sun(San Bernardino)November 19, 1983. , Business & Financial sec. Accessed through California Digital Newspaper Collection.

14. Cushing, Lincoln. Clarence Mayhew – early Kaiser Permanente architect. Kaiser Steel Archives. May 31, 2016. Accessed February 28, 2019. https://kaiserpermanentehistory.org/latest/clarence-mayhew-early-kaiser-permanente-architect/.


Additional Information