Nathanael Greene Monument
Introduction
This Savannah monument dates back to 1825 and honors American Revolutionary War officer Nathanael Greene. Greene's friend Marquis de Lafayette laid the original cornerstone in that year, but it was not until architect William Strickland became involved that work was completed in 1830. Greene was originally buried in Savannah's Colonial Park Cemetery. His remains were later moved to this historical monument where he was reinterned in 1902.
Images
The monument in Savannah Georgia is surrounded by other monuments and massive trees.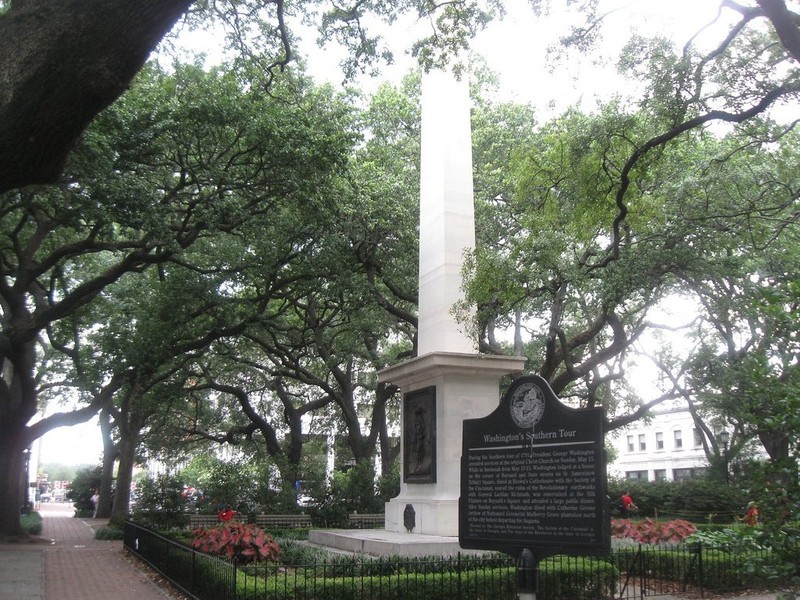 This plaque is located near the monument and describes Greene's career.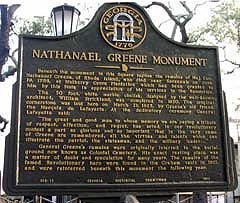 Portrait of Nathanael Greene while he led the Colonial Army.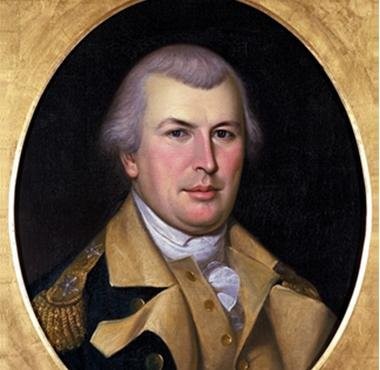 Backstory and Context
Nathaniel Greene was born in 1742 into a Quaker family in Rhode Island. During the war, Greene fought with George Washington and played a significant role in several battles that served as turning points in the American Revolution such as the Battle of Trenton. Encamped at Valley Forge while the British were in Philadelphia, Washington and Greene led the men in training and held the army together despite low supplies and morale.
Marquis de Lafayette paid tribute to Greene as he laid the cornerstone slab. "The great and good man to whose memory we are paying a tribute of respect, affection, and regret, has acted in our revolutionary contest a part so glorious and so important that in the very name of Greene are remembered, all the virtues and talents which can illustrate the patriot, the statesman, and the military leader"

Sources
Nathanael Greene Monument. Visit Historic Savannah. December 25, 2006. Accessed February 19, 2019. https://www.visit-historic-savannah.com/nathanael-greene-monument.html.

Weiser, Kathy. Nathanael Greene – Revolutionary War Hero. Legends of America. . Accessed February 25, 2019. https://www.legendsofamerica.com/ah-nathanaelgreene/.


Additional Information