New Canaan Historical Society
Introduction
Founded in 1889, the New Canaan Historical Society is dedicated to preserving and promoting the town's rich history. To this end, it operates and maintains eight museum and historical sites, and offers exhibitions and a variety of educational programs and events. Its headquarters are located in an 1825 Town House, which features a research library that contains 3,500 volumes, manuscripts, deeds, newspapers, photographs, and other items. Many of these materials date to the colonial era. Most of the buildings are located in the Society's grounds including the Rogers Studio & Museum, the Hanford-Silman House, and the one-room Rock School (learn about these below).
Images
The Town House serves as the headquarters for the New Canaan Historical Society.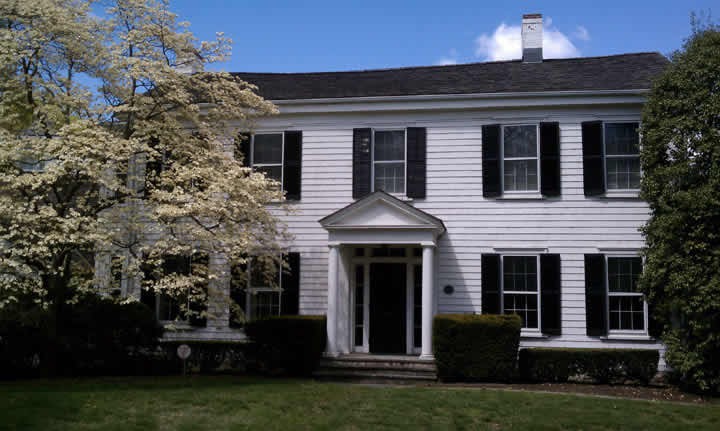 The Rock School features replica old-fashioned desks.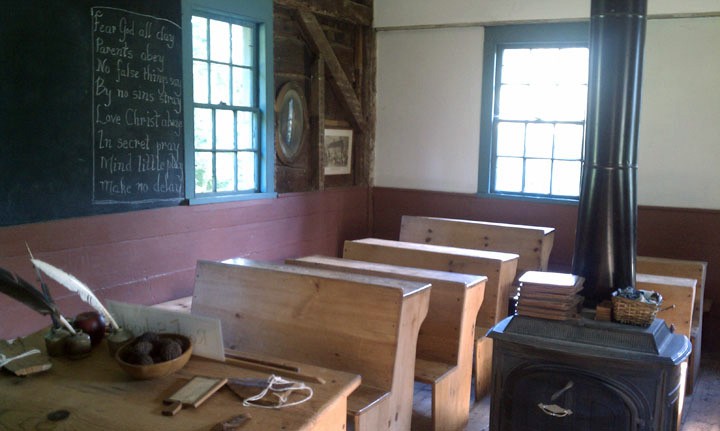 The Hanford-Silman House is used for the Society's educational programs.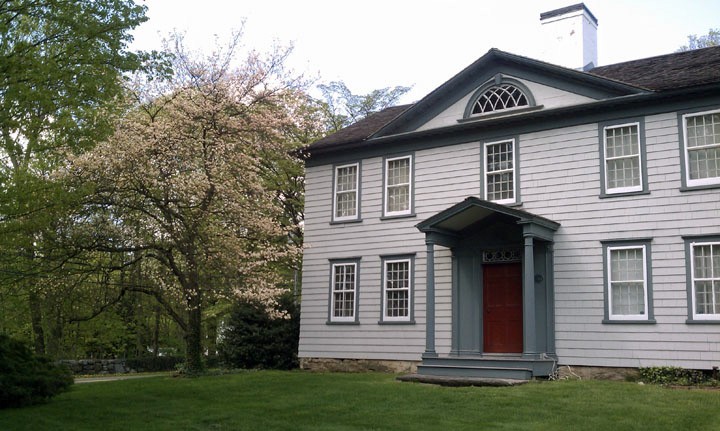 Backstory and Context
Rogers Studio & Museum
This small but attractive house was once the home and studio of popular American sculptor John Rogers (1829-1904). Over his three-decade career, he created and reproduced around 100,000 small statues of "Rogers Groups" depicting two or more people together. Some of his favorite subjects included scenes of the Civil War, an organ grinder with a monkey, or churchgoers sitting in pews. There are 60 of these groups on display in the museum and family memorabilia as well. Today is a museum operated by the New Canaan Historical Society. It was declared a National Historic Landmark in 1965 and added to the National Register of Historic Places a year later.

Hanford-Sillman House
This 19th (or 18th)-century home was bought by the Society in 1957. It was built by weaver and the town's first licensed tavern keeper, Stephen Hanford. The next family who lived in the house, the Sillmans, remained here until the 1920s. Today, the Society uses the house for its educational programs. The house is furnished with period items that reflect what a colonial inn may have looked like and what life was like for a family of the period.

Rock School
Built around 1799, Rock School was relocated here until 1973, saving it from demolition. It operated until 1933 when it was moved across the street from its original location and converted into a house. The Society uses it for its history programs and is furnished with old-style desks, a Blackboard, and an old stove.

Sources
"About." New Canaan Historical Society. Accessed February 25, 2019. https://nchistory.org/about.

Photo: New Canaan Historical Society
Additional Information