Pratt Veterans Memorial and Pratt Army Air Field
Introduction
This memorial complex is located at the site of the former Pratt Army Air Field and consists of over a dozen memorials as well as static displays of military aircraft and weaponry. The former B-29 base is now the location of Pratt's civilian airport.
Images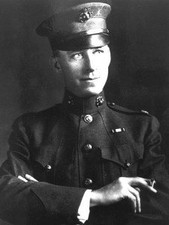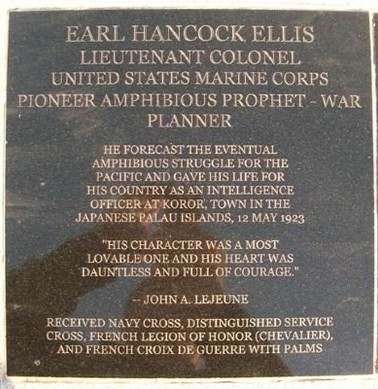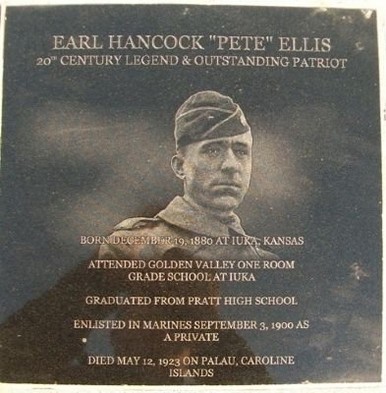 This memorial complex was dedicated in 2003, 60 years after the dedication of Pratt Army Air Field.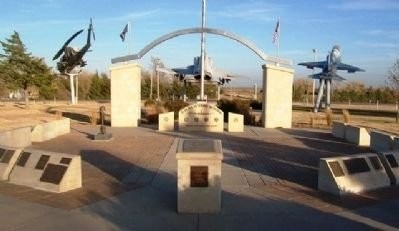 Backstory and Context
Located among the various displays is a memorial honoring Earl Hancock "Pete" Ellis. Ellis was born on December 19, 1880 in Iuka, Kansas and died on May 12, 1923 at the age of 42. It is believed that he died from chronic alcoholism, a tragic but far too common illness affecting many veterans. Ellis is best known for his service as a strategist during and after World War I and was awarded the Navy Cross for actions during World War I.
Ellis enlisted in the United States Marine Corps in 1900 and rose to the rank of lieutenant colonel by the end of his military career. Before World War I he was assigned to service in the special terrain and intelligence service in the West Indies and in Guam.Ellis supported the change of small group land defending to amphibious battalions on the offensive. He is regarded as a brilliant planner during World War I and was a staff officer to General John A. Lejeune.
After his service in World War I, Ellis was the first American to get gain a foothold in Micronesia. In 1920, he authored a 30,000-word report, "Advance Base Operations in Micronesia." This document detailed the process the island bases would have to be taken in order to take American power in the sea within striking distance of Japan. The United States Navy would use this document to gain Japanese control twenty-three years later.
Sources
Earl Hancock Ellis. Arlington National Cemetery. . . http://www.arlingtoncemetery.net/ehellis.htm.

LTC Earl Hancock "Pete" Ellis. Find A Grave. . . https://www.findagrave.com/memorial/13626575/earl-hancock-ellis.

Earl Hancock Ellis. The Hall of Valor Project. . . https://valor.militarytimes.com/hero/8681.

Earl Hancock "Pete" Ellis. The Historical Marker Database. . . https://www.hmdb.org/marker.asp?marker=65085.


Additional Information