The Robbins Museum
Introduction
The Robbins Museum displays the Massachusetts Archaeological Society's artifacts that tell the history of the area, particularly as it relates to Native American life. The Robbins Museum first opened on Jackson Street, in the old Robertson Factory Building, in 1988. Prior to that, the museum's collection had been housed at the Bronson Museum in Attleboro. However, the collection was expanding quickly and growing too big for the space. The society also desired to have a place to provide public education. The new museum was named for the Massachusetts Archaeological Society's founder, Dr. Maurice Robbins.
Images
The Robbins Museum, 17 Jackson Street, Middleborough, Massachusetts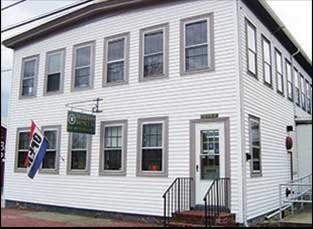 Backstory and Context
Today, The Robbins Museum offers visitors a glimpse at more than 3,000 artifacts on display (some of them over 12,000 years old). The collection is spread out over 4,550 square feet of display space. Several exhibits are particularly noteworthy, such as the diorama of a 4,300 year old Native American New England village, the Doyle collection of Native American dolls, a Handcrafted mishoon (dugout canoe), a display entitled "The Walk Through Time: 12,000 years in the Northeast," and the Native American portrait gallery. There is also a Research library and a gift shop at the museum. 
Sources
The Robbins Museum. Massachusetts Archaeological Society. Accessed February 24, 2019. https://massarchaeology.org/robbins-museum/about/.
Additional Information