Worlds Largest Pheasant
Introduction
The worlds largest pheasant was dedicated in 1959 and reflects a local legend that dates back to the 19th century and the city of Huron's tourism industry which includes pheasant hunting. The numbers of pheasants were declining back in late 40s early 50s due to hunting and decline of the natural habitat. The creation of this statue was part of an effort to raise awareness of conservation as well as celebrating the legend of the giant pheasant. From beak to tail feathers the bird is forty feet long and stands twenty-eight feet tall while weighing twenty-two tons. In 2010, local artists and residents began an effort to restore the statue. In 2011 with help from the city, twenty thousand dollars was raised to restore the statue.
Images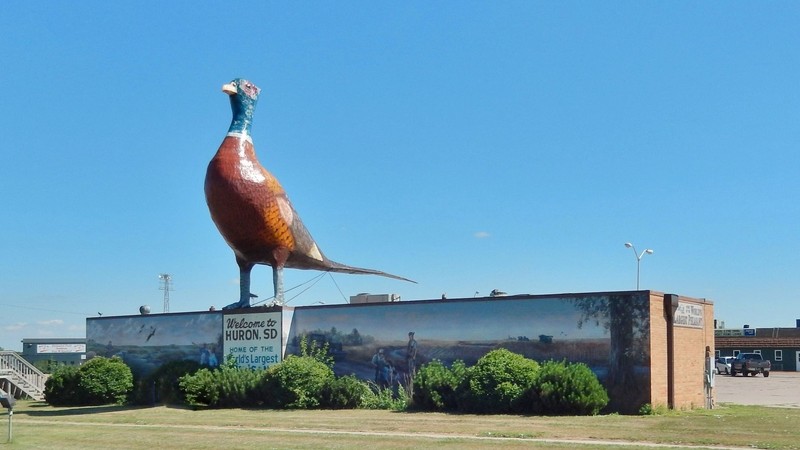 Backstory and Context
Huron became home to a conservation effort in the 1940s in hopes of saving the pheasants from extinction. South Dakota named the pheasant the state bird and this statue was created to raise awareness. Laws were changed to limit hunting the birds to two seasons a year instead of four and the numbers began to climb back to the sustainable range.
For the people of Huron, it's still a yearly tradition to observe the release of a ringneck pheasant because of the strong history within the town. In 2011 twenty thousand dollars was raised in order to restore the pheasant statue. Schaun Schnathorst and his brother Bob Carlson repaired the fiberglass and repainted the bird which remains a symbol of the community.
Sources
History of the World's Largest Pheasant. THE HISTORICAL MARKER DATABASE. . . https://www.hmdb.org/marker.asp?marker=123909.

help center, Huron. World's Largest Pheasant. . Accessed February 22, 2019. https://www.huronsd.com/visiting-huron/points-of-interest/worlds-largest-pheasant.


Additional Information