Hotel Bentley
Introduction
Hotel Bentley, also known as "The Crown Jewel of Cenla" is a historic hotel located in Alexandria, Louisiana. Over 100 years old, it several famous individuals have stayed here including John Wayne and Roy Rogers. Joseph Bentley built the hotel in 1907 amd otl officially opened on August 10, 1908. In 1933, an eight-story building was added, which increased the number of rooms to 80. The hotel was a meeting place for army commanders during World War II, and a WWII museum is now in the hotel's lobby. The Bentley was closed by the late 1960s and reopened in the early 1980s. Afterward, it was sold in the late 1990s and closed in 2004. It only recently reopened in 2014. It is listed on the National Register of Historic Places and is a fine example of Renaissance architecture.
Images
Hotel Bentley was built in 1907 by wealthy lumber industrialist Joseph Bentley.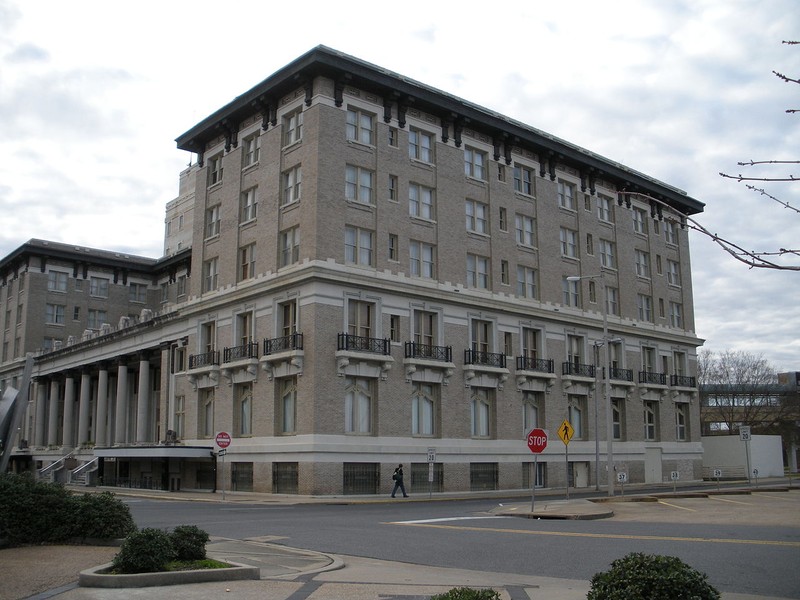 Backstory and Context
Joseph Bentley was a Pennsylvanian native who found wealth in Central Louisiana's lumber industry. He built the hotel, as the story goes, because the Ice House Hotel rejected his request to stay there. As a result, he decided to build his own hotel. He liked the Capitol Hotel in Little Rock, Arkansas and hired architect George R. Mann to design a hotel. The hotel first opened on August 10, 1908. He later added a new wing in 1933, which are now condominiums. Bentley created his living quarters on the top floor and had his own personal elevator, which still remains.
Hotel Bentley's connections with the Louisiana maneuvers is what gives it most of its historic significance. The training maneuvers consisted of hundreds of thousands of soldiers being trained for the upcoming war in Europe. The hotel was a meeting place for the military officials to formulate plans against the Axis powers. Several well-known military officials stayed in the hotel, including Dwight Eisenhower and George S. Patton. There is currently a museum display in the first lobby which showcases the history of the Louisiana maneuvers. It includes artifacts such as uniforms and soldier's equipment.
Not only is the hotel one of the most historically significant places in the region, it is also one of the most haunted. Joseph Bentley is said to have died in his third-floor suite and there have been rumors about his ghost roaming about the hotel. There are several other rumored ghosts: a girl who fell down an elevator, a man who fell down the lobby stairs, and ghosts looking over the balcony. The ghost stories have gotten so notable that the Bentley was featured on the Syfy show, Ghost Hunters.
Sources
"About US." Hotel Bentley. Accessed February 21, 2019. https://www.visithotelbentley.com/about
"Bentley's Rich History Kept Alive." Hotel Bentley. October 17, 2015. Accessed February 21, 2019. http://www.hotelbentleyandcondos.com/press/bentleys-rich-history-kept-alive/.
Bolton, Peg. "Hotel Bentley." National Park Service - National Register of Historic Places Nomination Form. November 15, 1979. https://npgallery.nps.gov/GetAsset/81019487-95ac-44f8-8a48-6742ec16dd20.
HauntedPlaces.org. "Bentley Hotel." Haunted Places. Accessed February 21, 2019. https://www.hauntedplaces.org/item/bentley-hotel/.
Image Sources
Wikimedia Commons: https://commons.wikimedia.org/wiki/File:Bentley_Hotel.JPG

Additional Information