Ida L. Reed Historical Marker
Introduction
This highway marker stands in honor of Philippi native, Ida L. Reed, whose family home and birthplace one stood near this spot. Reed was a well-known hymnist and writer in the Christian community. Today, Reed's most famous hymn, "I Belong to the King" is still often included in Protestant hymnals. Her books and stories illustrate her Methodist values and lifestyles.
Images
Ida L. Reed Photo courtesy of The West Virginia Encyclopedia

Cover of Reed's 1940 book Songs of the Hills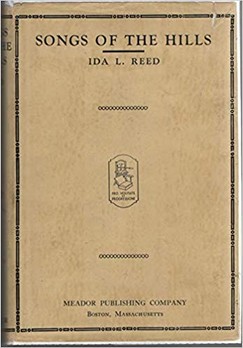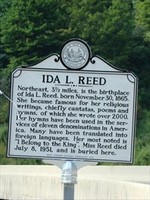 Backstory and Context
  Born in 1865 to a Methodist family living outside of Philippi, WV, notable hymnist Ida L. Reed was one of eight children. The family constantly struggled with poverty, hunger, and illness throughout Reed's life. The Reeds' financial limitations meant that each child was self-educated. The Reed family home was on the National Register of Historic places until it was destroyed in the 1990s. 
  Reed's hymns are characterized by themes of simple devotion and persistence in times of trial. Though Reed was a prolific writer and published often, she never earned any royalties. She would instead earn a few dollars for each piece by selling them outright. Ida Reed never married and instead dedicated herself to her work. She wrote over 2,000 songs during her career. The most popular was "I Belong to the King" which is still sung today. Reed's hymns are used in hymnals for 11 different denominations and many have been translated into foreign languages. 
  In addition to writing music, Reed also wrote children's poems and stories which all had Christian themes. Reed wrote several books. Her first was titled The Story of a Song: What it Means to Belong to the King and was published in 1911. An autobiography titled My Life Story followed in 1912. Her last book was published many years later, in 1940, and was titled Songs of the Hills. Reed was also a frequent contributor to the Christian journal West Virginia Protestant. 
  Reed died at the age of 85 in 1951. She is buried close to her family home in Philippi. 
Sources
Smith, Barbara. Ida L. Reed. e-WV. December 08, 2015. Accessed February 20, 2019. https://www.wvencyclopedia.org/articles/44.
Thornhill, Gail. November 30, 1865: Composer, Author Ida L. Reed Born Near Philippi. WV Public Broadcasting. November 30, 2017. Accessed February 20, 2019. http://www.wvpublic.org/post/november-30-1865-composer-author-ida-l-reed-born-near-philippi#stream/0.
West Virginia Highway Markers Database. West Virginia Department of Arts, Culture, and History. . Accessed February 20, 2019. http://www.wvculture.org/history/wvmemory/hmresults.aspx?County=Barbour&Title=&Words=&Op=AND.
Image Sources
"Ida L. Reed." Waymarking.com. Accessed September 16, 2020. https://www.waymarking.com/waymarks/WMCFM5_Ida_L_Reed.

Additional Information