Marietta and Cincinnati Railroad Culvert near Cutler
Introduction
The Marietta and Cincinnati Railroad constructed the Cutler Culvert as part of its line between Athens and Marietta, which opened in 1857. This large sandstone culvert sits immediately west of the community of Cutler on Big Run Road. It is made of large sandstones, cut and shaped into an arched tunnel. The structure closely resembles the culvert tunnel on Roddy Road, also built by the Marietta and Cincinnati Railroad.
Images
Northern opening of the culvert, February 15, 2019.
Letters carved into interior stone, February 15, 2019.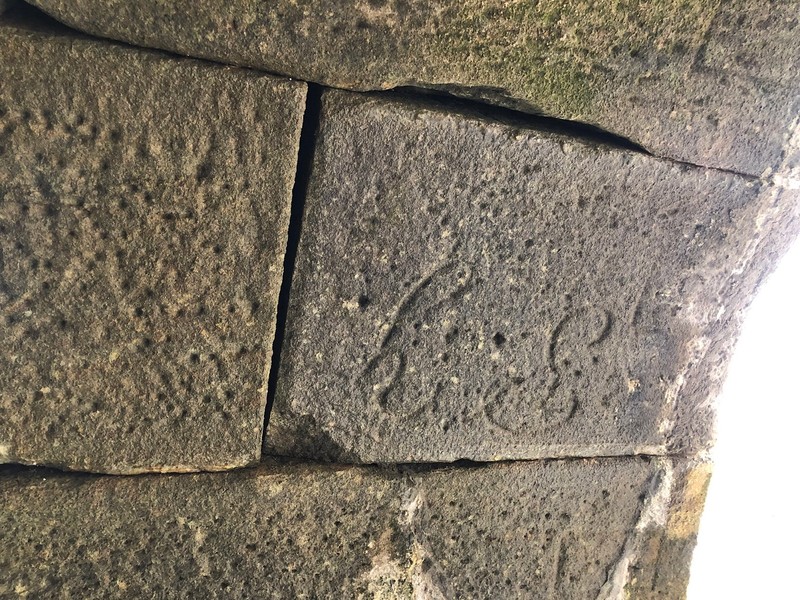 Decorative carving on stone face, southern opening, February 15, 2019.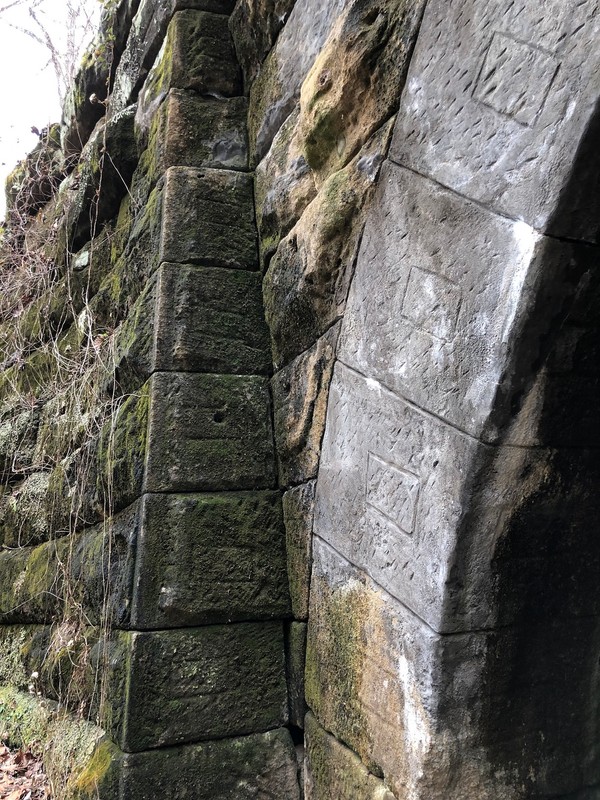 Southern opening of the culvert, February 15, 2019.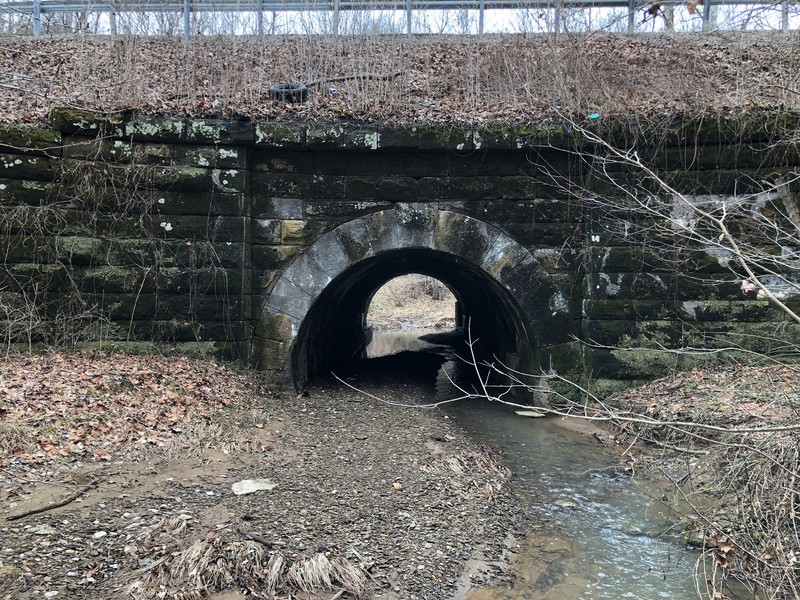 Southern retaining wall, February 15, 2019.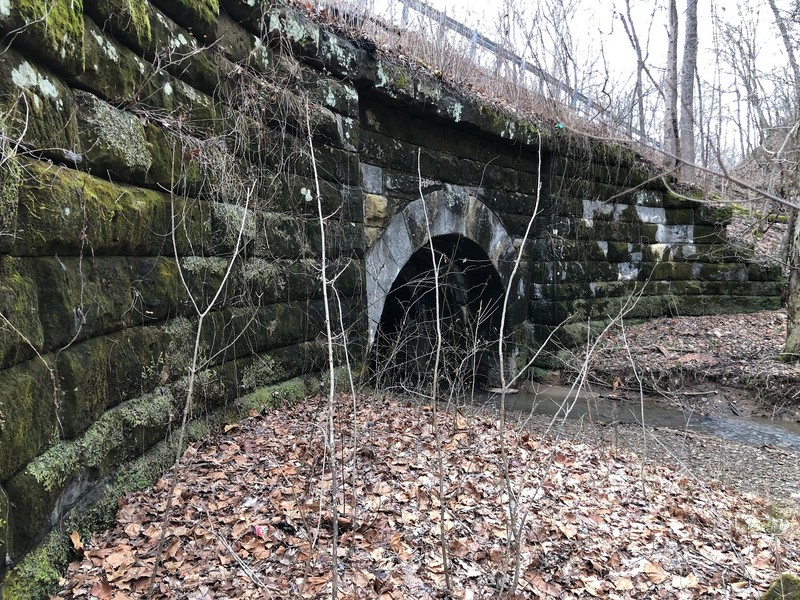 Backstory and Context
Incorporated in 1845 as the Belpre and Cincinnati, the Marietta and Cincinnati Railroad (M&C) began constructing a line from Marietta through Southeastern Ohio in the 1850s with the goal of connecting Marietta with Cincinnati. The railroad's founders envisioned a line that would carry passengers and freight across the lower portion of Ohio, as well as connect to the Baltimore and Ohio (B&O) and larger railroads to the east. The Appalachian Foothills posed a challenge to early railroad engineers, who were forced to design and construct many tunnels, trestles, and culverts in order to maintain the railroad's grade. Despite financial setbacks, the Marietta and Cincinnati railroad accomplished its goal; the first train ran the complete distance between Cincinnati and Marietta in 1857.
The culvert near Cutler was likely completed shortly before the line opened between Athens and Marietta. Big Run flows through the culverts sandstone arched tunnel, and the former railbed is held up by curving sandstone walls. There are no dates carved in the stone, although two sets of initials may be marks of stonemasons or engineers.

Though the Cutler culvert remains in excellent condition, the many tunnels and culverts were expensive for the Marietta and Cincinnati to maintain and repair. The line became unnecessary after the Baltimore Short Line Company laid rails along a new route from Belpre to Athens. The new line opened in 1874 and was not only short but easier to maintain without as many trestles and with no tunnels. Not long after, when the Marietta and Cincinnati came under the control of the Baltimore and Ohio Railroad, the old line that ran through Cutler was abandoned.
The section of the old Marietta and Cincinnati line between Cutler and Kilvert, in Athens County, remained abandoned, even when the Marietta Mineral Railroad and the Marietta and Vincent Railroad began using parts of the old line again in the 1880s. Eventually, the line between Cutler and Big Run became the basis of Big Run Road, which now runs over the culvert.

Additional Information