Camp Devin
Introduction
This historical marker in Alzada shares the history of Camp Devin, a temporary United States Army camp that was established on June 30, 1878, and abandoned two months later. The camp's main mission was to establish a much-needed telegraph line between the Montana, Wyoming and the Dakota territories. Camp Devin was founded by Lieutenant Colonel Luther P. Bradley and named for Brevet Brigadier General Thomas C. Devin who had died in April of 1878. The soldiers and military engineers stationed here were successful in installing the Fort Keogh -Deadwood Telegraph Line.
Images
The marker of Camp Devin located of the highway to the right when traveling north on WY-112 N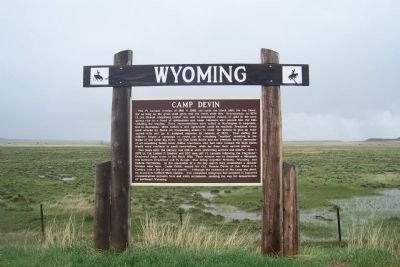 The founder of Camp Devin General Luther P. Bradley. He founded the temporary camp on June 30, 1878.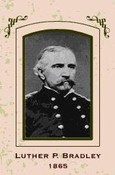 Backstory and Context
In June 1878, the 9th U. S. Infantry which consisted of 520 men and was led by Lieutenant Colonel Luther P. Bradley was given the mission to construct a telegraph line. The line was needed to tie together Berger communications between the territories Deadwood and Fort Keogh. Bradley and his men left Fort Laramie and followed the Cheyenne-Deadwood stage route to the Black Hills. They traveled for 30 days and found the area where the built Camp Devin. Although the camp was short-lived, the men succeeded in establishing a telegraph line that improved communications between the forts and white settlements. It opened the way for northeast Wyoming to become domesticated. 
Lieutenant Colonel Luther P. Bradley was born December 8, 1822, in New Haven, Ct. He served with the U. S. Army from 1861-1865 and from 1866-1872. Bradley commanded various posts in Nebraska and Wyoming. In 1877, Bradley was in Nebraska when members of the Sioux Tribe surrendered. He was also present when Indian fighter Crazy Horse was killed. In 1878, he established Camp Devin for the telegraph line. Bradley died March 13, 1910, and is buried at Arlington National Cemetery.
Camp Devin was named after Brevet Brigadier General Thomas C. Devin. He was known as either "Old War Horse" or "Buford's Hard Hitter". He gained much of his service under John Buford. Ulysses S. Grant stated that Devin was one of the best Cavalry officers in the union service. Devin was very knowledgeable about cavalry tactics. Devin died on April 4, 1878. He is buried at Calvary Cemetery. One thing that was always said about him was "Colonel Devin knew how to take his men into action and also how to bring them out."
    Today the actual location of Camp Devin is unknown. It is in private property in Carter County near Alzada, Montana. Alzada doesn't get much attention due to its remote location. Alzada was in the news in 1997, a B-1 bomber crashed killing four crewmen including the pilot due to pilot's error. On Montana Highway 326, there is a historical marker giving information on Camp Devin. The marker is located near the Montana-Wyoming border.
Sources
Schmidt, Volker. Camp Devin. The Historical Marker Database. April 23, 2011. Accessed February 16, 2019. https://www.hmdb.org/marker.asp?marker=42556.
Camp Devin. Revolvy. . . https://www.revolvy.com/page/Camp-Devin.
Determined to Serve: General Luther P. Bradley. Army Heritage Center Foundation. . . https://www.armyheritage.org/75-information/soldier-stories/251-determined-to-serve-general-luther-p-bradley.
Additional Information